A dad from Fort Wayne, Indiana, was mortified when he took a dip into a swimming pool and realized moments later he was actually skinny dipping.
Unbeknownst to him, he was wearing dissolvable swimming trunks provided by his wife, who was filming him for the devilish prank.
The TikTok duo, @mr_mrs_wash, posted the hilarious clip on the video-sharing platform where it received a whopping 24.8 million views.

"When your husband doesn't know you got him dissolvable swimming trunks," read the caption.

The result is pure comedy gold.
@mr_mrs_wash

Had to repost cause this is wayyyy too funny. #dissovableshorts #foryou #prank #fyp #husband #trustissues #imsorry
The song, "Into the Thick of it!" by The Backyardigans was an appropriate tone to accompany the wife's shenanigan.

"How the water feel?" asked Mrs. Wash.
As he tested the water temperature with his feet, the unsuspecting husband figuratively replied, "hot."
"Go ahead," she encouraged him while quietly giggling in anticipation of his reaction to the dissolving beachwear.

It didn't take long for him to realize his shorts were quickly dissolving by the time he was fully submerged and bobbing in the water.
"Oooh!" he exclaimed while covering his crotch area with both hands.

"What happened?" she asked, rhetorically, of course, before giving in to fits of laughter.
"It split," he said of his trunks, adding, "it's kids out here!"

@mr_mrs_wash/TikTok
According to their TikTok page description, Mr. & Mrs. Wash are a "family of 9."
While none of the youngsters were seen in the video, the chances of one of them being in the vicinity were highly probable.

He frantically looked around to make sure his sudden transformation into a birthday suit was not witnessed by their kids, or by anyone else, for that matter.
"Get out the water," she said, laughing uncontrollably.
He got out of the pool with his hands in front of privates and pranced towards the door to the house as if he had to go to the bathroom.
@mr_mrs_wash/TikTok
From what viewers could see in the video, his swimsuit was reduced to the drawstring around his waist and a tattered remnant of the dissolved material barely clinging on.

@mr_mrs_wash/TikTok
The clip garnered over 32 thousand comments with many TikTokers laughing along with the devious wife.


@mr_mrs_wash/TikTok

@mr_mrs_wash/TikTok

@mr_mrs_wash/TikTok

@mr_mrs_wash/TikTok
People were also enlightened over the existence of the prank trunks, which are typically used at bachelor parties.

@mr_mrs_wash/TikTok

@mr_mrs_wash/TikTok

@mr_mrs_wash/TikTok

@mr_mrs_wash/TikTok
The crafty Mrs. even thought ahead to elevate the prank.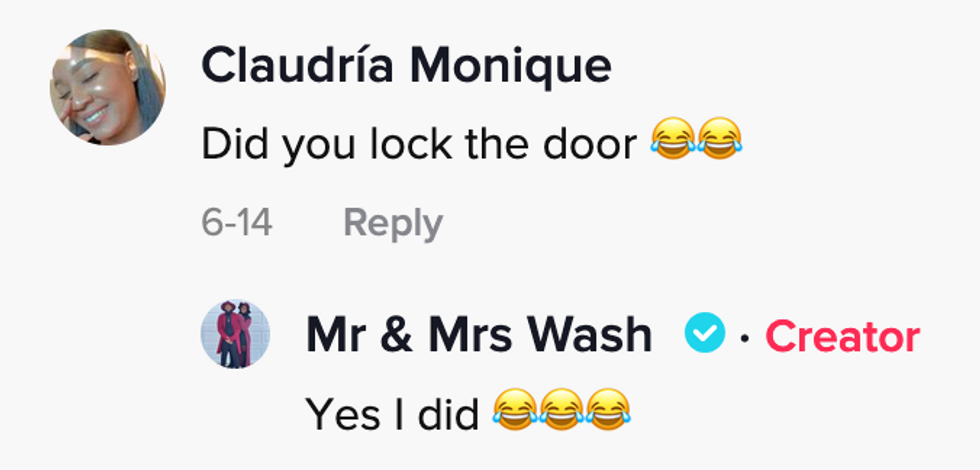 @mr_mrs_wash/TikTok
She's good.
Will Mr. Wash plot some sort of sweet revenge? With so many of the family's hijinks shared on their TikTok page, it could be a matter of time.
Until then, we will just have to wait and see and watch this video on repeat.