popular
Dec. 10, 2018 12:49PM EST
News
Dec. 08, 2018 01:53PM EST
Courtney Love has announced she'll be selling items from her personal wardrobe with part of the proceeds going to charity. You can now own a piece of the glamour grunge queen's legendary collection.
Love's collection will be sold on the website Heroine, a community-driven resale site. It is the women's counterpart to the site Grailed.
The items up for grabs include her suit from the Saint Laurent's Fall 2013 campaign by Hedi Slimane, a pink Dior gown she wore in 2011, and a black Vivienne Westwood pouf.
Fans are excited for the opportunity to own one of her legendary outfits.

Facebook.com

Facebook.com

Facebook.com
Love explained,
"It gets scary, because I have a lot of clothes and I don't always get rid of things. I collect stuff—accidentally, sometimes. So when I moved to New York the second time, in 2009, I had to cull my wardrobe for the first time in a decade. I felt my wardrobe heaving, and I had to hire someone to help me de-clutter."
Part of the proceeds for this sale will go to Stand for Courage, a non-profit that tries to stop bullying in school. It is run by love's sister, Nichole.
"I love fashion and I love sharing with others, so, while I certainly hold some pieces more dearly than others, I will not grasp tightly to material possessions. When it's time to pass something along, I will do that with pleasure, as I believe that clothing should be worn or displayed in a way that allows its beauty to be seen."
And it looks like fans want to be seen in these outfits.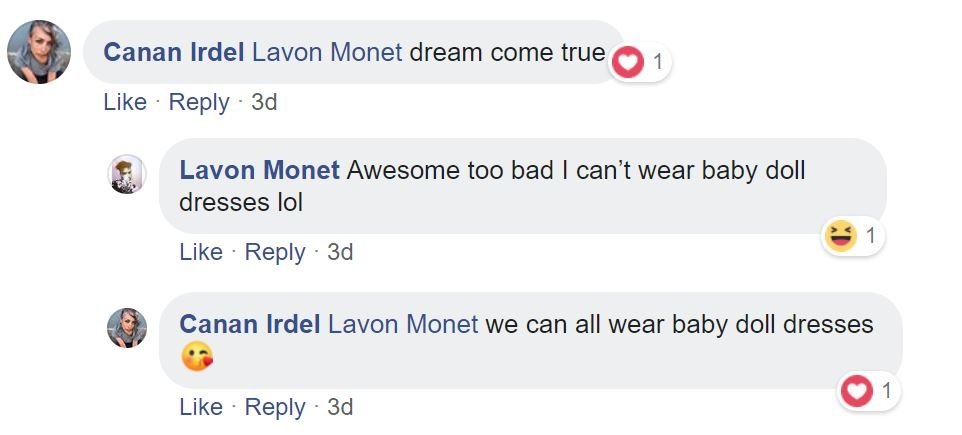 Facebook.com

Facebook.com

Facebook.com

Facebook.com

Facebook.com
The collection is currently on sale on Heroine, with pieces ranging from $50 to $1400.
H/T: Elle Magazine, Paper Magazine, NY Post
popular
Dec. 08, 2018 06:36AM EST
News
Dec. 02, 2018 01:29PM EST
The West Side Story remake has been quietly moving forward. However, with the announcement of an original cast member joining the new production, it's about to get a lot louder, with the cheers of fans.
Rita Moreno, who played Anita in the original film, has been brought into the remake. She will be playing a character named 'Valentina' described as an expanded version of the store owner for whom Tony works.
Fans could not be more excited.
The return of Moreno has been praised by fans, who've taken it as a sign the remake wishes to respect the original film and Broadway show.
West Side Story was a tale adapted from Shakespeare's Romeo and Juliet. The stage musical was first produced in 1957, being adapted into a film in 1961. The film was critically acclaimed and was the second highest grossing film that year.
It has retained a massive fanbase since its release.
Moreno, currently starring on the Netflix show One Day at a Time, is a prolific actor in her own right. She is one of the few entertainers to have ever earned an EGOT (Emmy, Grammy, Oscar, and Tony awards) and one of only two to have also received a Triple Crown of Acting, winning an Oscar, Emmy, and Tony for acting categories.
To say she's talented is an understatement.
The new film is set to begin production in 2019, with Ansel Elgort as Tony.
H/T: Vulture, Geek Tyrant, Variety
It's such a tantalizing thought, fans can't help but get worked into a frenzy. Musical star, Cher posted a tweet earlier this week about her ideas for a second ABBA album.
Cher released the album Dancing Queen earlier this year, following her appearance in the musical film Mamma Mia! Here We Go Again, which was based on the music of ABBA. The album is filled with covers of the Swedish pop group's biggest hits.
People are throwing in their suggestions for the next album too!
The first album has been a hit, so we can see why another is being considered. This also matches the first album's release which was also teased on Twitter before being officially announced.
In an interview with Kathie Lee Gifford, Cher had announced the first album, saying,
"After I did 'Fernando,' I thought it would really be fun to do an album of ABBA songs, so I did!"
Even celebrities desperately need a sequel in their lives.
Dancing Queen has been critically acclaimed, with an average Metacritic score of 79 out of 100. The album has been praised for its fun and light-hearted renditions of the ABBA hits. It debuted at number one on the US Top Album Sales list for Billboard.

All the more reason to listen to fans and make another!
The pop star is in the middle of her "Here We Go Again Tour" for the first album's release, so it's unknown if a new album is in the works at all. For now, all we can do is hope this is more than a tease.
© 2017 Comic Sands. All Rights Reserved.