Peter Karleby
Peter Karleby is a writer, content producer and performer originally from Michigan. His writing has also appeared on YourTango, Delish and Medium, and he has produced content for NBC, The New York Times and The CW, among others. When not working, he can be found tripping over his own feet on a hiking trail while singing Madonna songs to ward off lurking bears.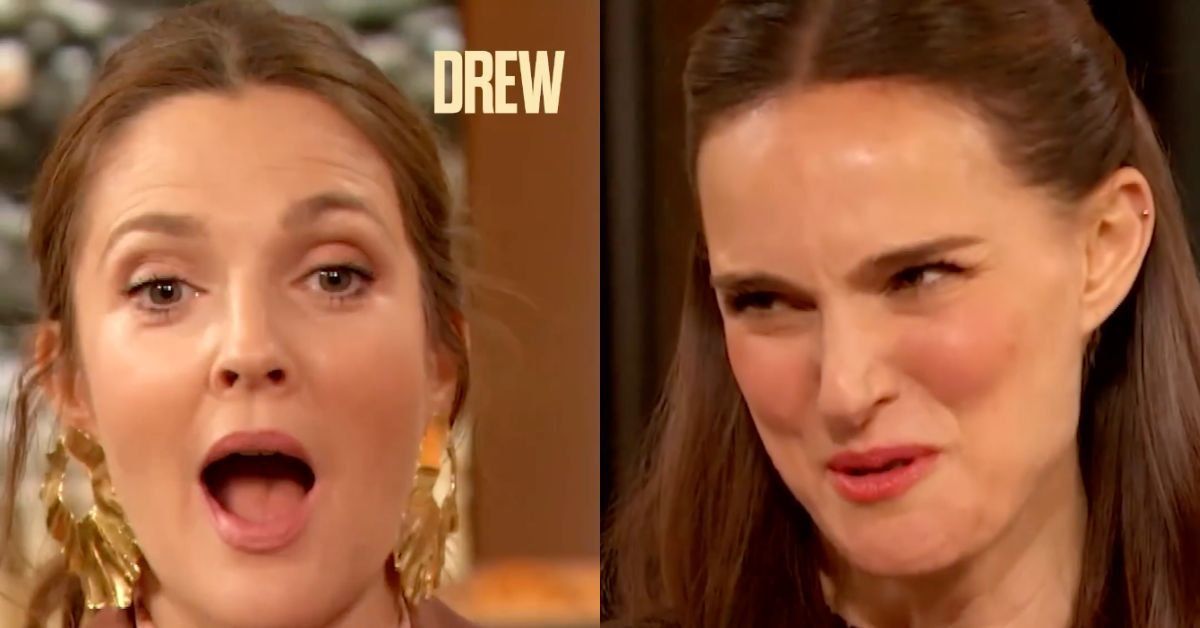 @thedrewbarrymoreshow/Instagram
Drew Barrymore has gone viral with her reaction to actor Natalie Portman describing how she chooses acting roles.
During a visit to The Drew Barrymore Show, Barrymore asked Portman the "one thing she'd never do for a role." Portman's answer was similar to many female actors': she won't do nudity.
But Barrymore, rather famously, rarely shied away from such things in her younger days. And her response to Portman's answer was nothing short of hilarious.

Portman's answer to the question was itself rather humorous. After thinking for a moment, she sheepishly and wincingly admitted:
"That's a good one. Umm...show my boobs? Is that really prude?"
Portman went on to cringe and elaborate that her decision is all about two things: the internet, and her children Aleph, 12, and Amalia, 6.
"I'm just always like, 'I don't want my kids to see pictures online.'"
Barrymore, of course, has been appearing nude in films since she was 18, starting with the movie Doppelgangers, and she has also appeared in Playboy.
And her response to Portman's sheepishness hilariously showed just how much times have changed since the days of Barrymore's image as one of the wildest girls in Hollywood. She quipped:
"I didn't know there'd be an 'online' when I did it. I was like, 'Good luck finding that magazine under some weird guy's bed in some random house!'"
People on social media found Barrymore's reaction hilarious, and loved the lighthearted moment with Portman.

@meredith.g.guerra/Instagram
@monica.farbstein/Instagram
@book_tv_collide/Instagram

@regirae/Instagram

@emma_and_natalie/Instagram
@the.atypical.therapist/Instagram
@rachellejohansendough/Instagram

@tegrooop4/Instagram

@91candywishes91/Instagram
Portman has appeared nude in films before, most recently in Wes Anderson's 2007 short Hotel Chevalier.
But it was that project that made her swear off going nude ever again, having noticed that to this day the only thing she ever hears in reference to the film is about her nudity, not the film itself. As she told The Guardian:
"That's the thing that makes me think maybe I shouldn't have done it."
Barrymore, likewise, swore off nudity after an infamous 1995 appearance on The Late Show With David Letterman in which she flashed the titular host, describing the moment in her 2015 memoir Wildflower as "the end of an era for me."
Keep reading...Show less