John Sundholm
John Sundholm is a writer, content producer and performer originally from Michigan. His writing has also appeared on YourTango, Delish and Medium, and he has produced content for NBC, The New York Times and The CW, among others. When not working, he can be found tripping over his own feet on a hiking trail while singing Madonna songs to ward off lurking bears.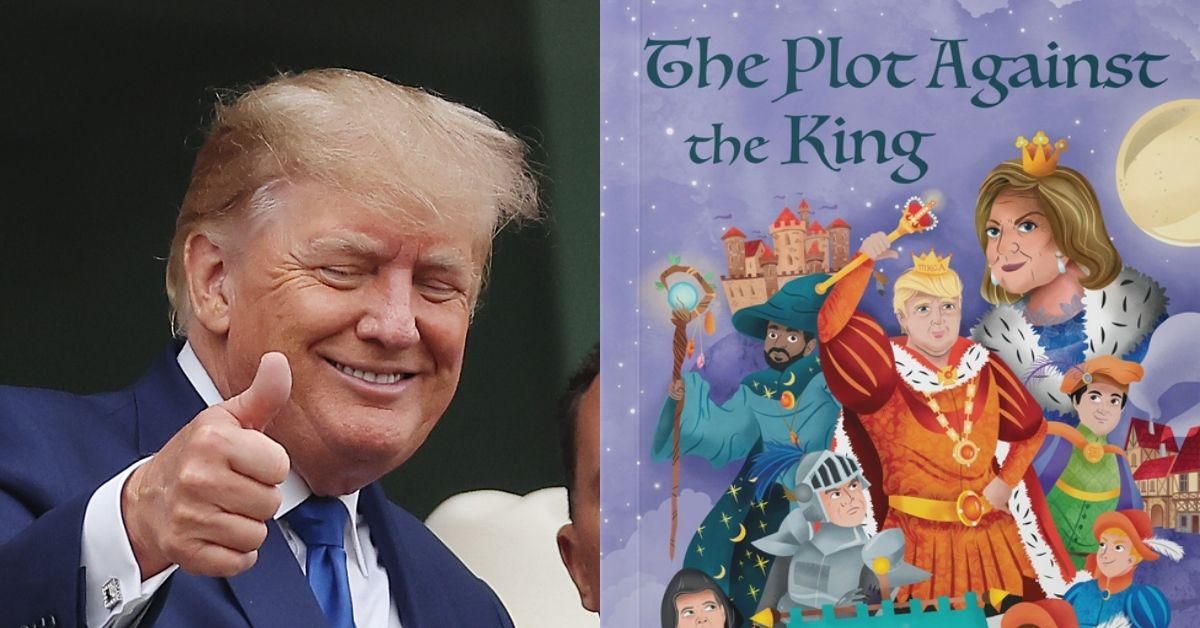 Jamie Squire/Getty Images; Brave Books
For his latest post-White House move, Kash Patel, a member of former Republican President Donald Trump's administration and one of his most outspoken fanboys, is releasing a children's book.
A children's book about the Russia-gate lie. With a main character named King Donald and an arch-nemesis named Hillary Queenton.
We wish this was a joke, but we are sorry to report it is not.
At least not deliberately.
Patel's book, titled The Plot Against the King, centers on the fallacious claim the explosive Steele Dossier was the genesis of the FBI's Trump-Russia investigation, part of a plot on behalf of Democratic Secretary of State Hillary Clinton to take him down.
And as you might guess, while most of the internet is rolling its eyes, one man in particular is very excited about the book—Donald Trump himself.
Whether it's the subject or the reading level he loves isn't specified.
It does have a lot of pictures.
In a post on his beleaguered Truth Social platform, Trump posted a gushing and self-praising review of the book that has people rolling their eyes so hard they're going blind.
See a screenshot of the post below.
Trump wrote, apparently without irony:
"...Live the tale thru the eyes of great characters like the handsome King Donald and Kash the Wizard.
"This story showcases how Hillary Queenton and a Shifty Knight tried to destroy our democracy, but truth and the MAGA King prevailed..."
"Order yours now..."
No thanks, we're good.
We are now in the sixth year of Trump claiming the sprawling Trump-Russia investigation was sparked by the Steele Dossier, the passel of opposition research commissioned by Clinton's campaign that allegedly contains the infamous "pee tape," among other things.
In reality, the FBI never even saw the Steele Dossier until more than a year after the election, and even the then-Republican-led House Intelligence Committee--where Patel himself worked at the time--agreed Trump's claims about the Dossier were baseless.
The investigation was actually sparked by a member of Trump's campaign telling an Australian diplomat that the Russians had "dirt" on Clinton.
Independent Counsel Robert Mueller's subsequent investigation found that Trump and his campaign did in fact illegally collude with Russia in an attempt to sway the 2016 election his way.

The book, of course, tells a different story--one where Patel is actually the hero who saves the day and defeats the efforts of Hillary Queenton and Keeper Komey, a stand-in for former FBI director James Comey, to take King Donald down.
If this all has you rolling your eyes so hard you can see your own optic nerve, you are not alone.
The internet could not believe this was real.
Given that Patel's career is owed almost exclusively to flattering Trump, who promoted him from the House Intelligence Committee to chief of staff at the Department of Defense after he endorsed Trump's false claims about the FBI wiretapping his phones, it will be interesting to what new position in Trumpworld this book will land him. Time will tell.