Koh Mochizuki
Koh Mochizuki is a New York-based actor and writer. Originally hailing from Los Angeles, he received his B.A. in English literature and is fluent in Japanese. Disney parks are his passion. Instagram: kohster Twitter: @kohster1 Flickr: nyckmoe
@timjhogan/Twitter
Rudy Guiliani was mocked online recently for his appearance at a press conference alleging voter fraud in the 2020 presidential election.
During Thursday's press conference, viewers cringed after noticing what appeared to be dark streaks of perspiration running down the sides of Guiliani's face that many believed was hair dye.
But a new discovery from the same press conference had people gagging on the internet.
The former New York City mayor and Donald Trump's personal attorney blew his nose into a handkerchief and proceeded to use the same side of the cloth to wipe his face.

A video of Guiliani's health and hygienic impropriety was shared on Twitter.
Warning: may cause dry-heaves.

oh my god I missed this https://t.co/OGFzvC80Fy

— Tim Hogan (@Tim Hogan)1605827412.0
People did not hold back in the comments.
This is disgusting!! I mean we're in the middle of a pandemic and this guy is wiping boogers all over his fingers and face?!
— Brooke (@ChooseFresca) November 20, 2020
Dude even folded it snot side out!!!!

Must be how he maintains that sexy lizard skin
— JackJustJack (@jaxpack64) November 20, 2020
@timjhogan Did he get his runny hair color on the kerchief as well? https://t.co/YRReWAB6NE

— ScooterBelle 🐾🐾 (@ScooterBelle 🐾🐾)1605834789.0
@timjhogan @sk45202 🤢🤮🤢🤮he rubbed his snot all over his mouth and face and put it in his pocket. Who does that?!?!

— Sil911 (@Sil911)1605848220.0
@timjhogan @yashar Probably scrubs his butt and then uses the washcloth to scrub his face afterwards too.

— Christian Scott (@Christian Scott)1605828170.0
I apologize to my country but if I had to see it everyone has to see it

— Tim Hogan (@Tim Hogan)1605828385.0
@timjhogan That is gross. He'll be shaking someone's hand or kissing someone on the cheek. He's pitiful.

— We Got Our Country Back (@We Got Our Country Back)1605839436.0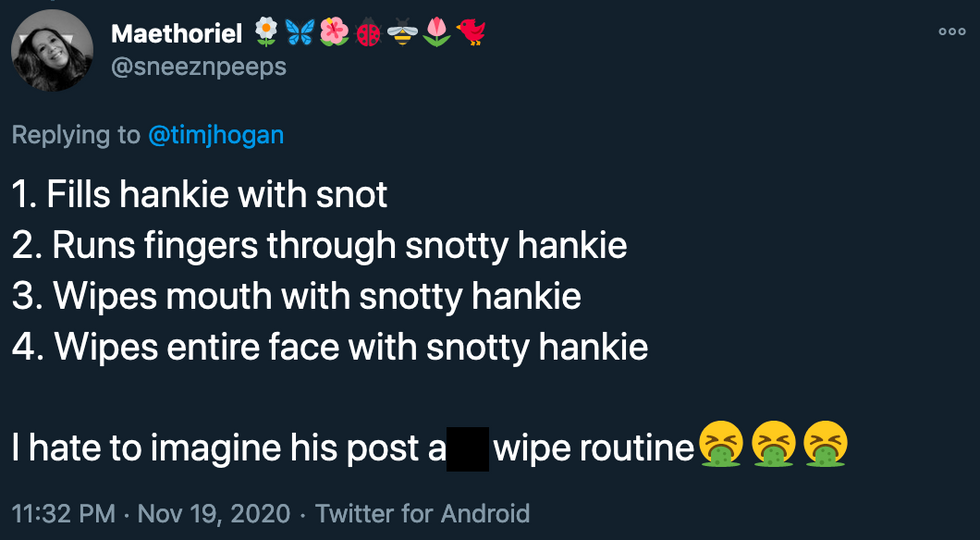 @sneeznpeeps/Twitter
This was not Guiliani's first handkerchief caper.
@timjhogan This might be even more disgusting than his previous handkerchief malfunction: https://t.co/lQOiIz0rjU

— Oren B. (@Oren B.)1605829840.0
Guiliani's son – Andrew Guiliani, who also works for the President as his Public Liaison Assistant – announced on Twitter he had tested positive for the virus on November 20.
Contact tracing would reveal the 34-year-old political aide was around White House staff – including his father – at the press conference the day before he tested positive.
Andrew Guiliani wrote in his tweet:
"I am experiencing mild symptoms, and am following all appropriate protocols, including being in quarantine and conducting contact tracing."

@timjhogan https://t.co/NO0qH4dv8o

— MommaT (@MommaT)1605893482.0
I wish this could be a funny joke. Rudy Giuliani wiping his nose onto a handkerchief yesterday, then wiping his fin… https://t.co/V19dKpTf0A

— Swimmingly (@Swimmingly)1605919773.0
There has been no mention of whether Rudy Guiliani was tested for the virus.