Tag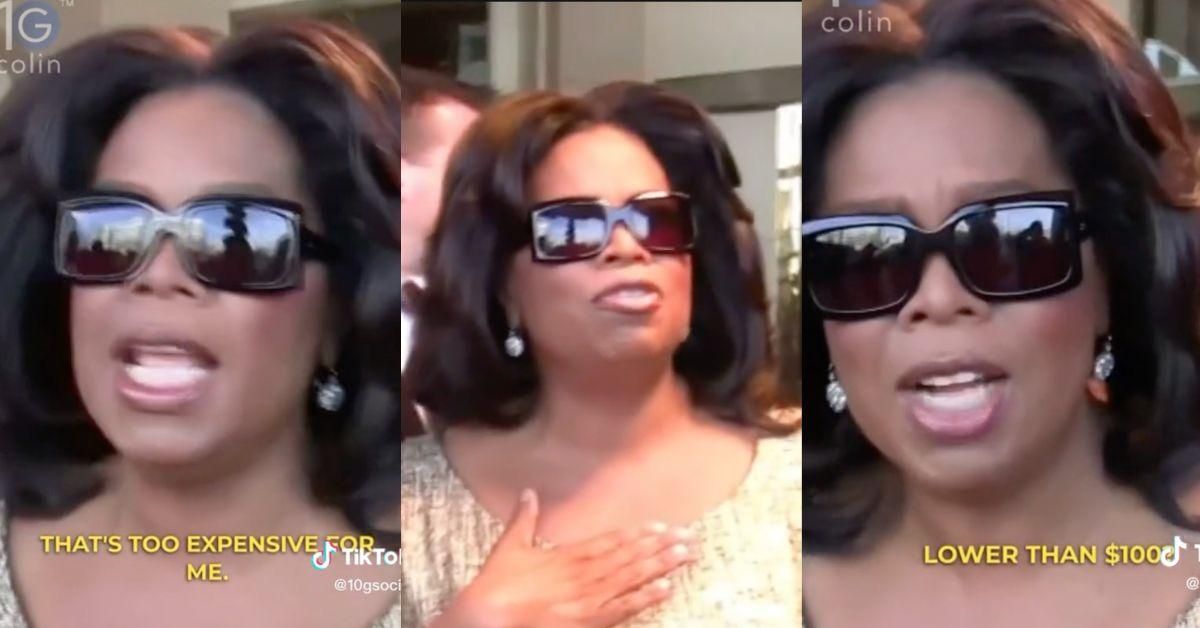 @10gsocial/TikTok
An old video of Oprah Winfrey giving Christmas gift advice is raising eyebrows all over TikTok.
Winfrey is of course famous for her yearly "Oprah's Favorite Things" list released each holiday season, a tradition that began on her long-running talk show The Oprah Winfrey Show and now appears on her website "Oprah Daily."
The list grew famous for Oprah's frequent inclusion of big-ticket items, which one year included a Pontiac G6 gifted to every member of her audience, spawning the "You get a car and you get a car!" catchphrase that remains a popular meme to this day.
So perhaps it's unsurprising that Winfrey's idea of an affordable gift is... well, not affordable at all for a lot of people, including a person who filmed Winfrey recommending a gift for his mother several years ago.
Winfrey's surprised reaction to the man filming telling her that a jewelry box costing "a hundred and some dollars" was too expensive has people accusing her of being out-of-touch.
See the video below.

In the video clip, the man filming told Oprah his mother was "not doing well" and that he wanted to give her something special.
Winfrey told the man:
"A wonderful thing is that jewelry box I had on 'favorite things.'"
When the man countered it was too expensive for him, Winfrey replied:
"It's not. It's really not. It's like a hundred and some dollars."
When the man again told Winfrey the jewelry box was over his budget, she looked incredulous and responded:
"Lower than $100?!"

Yes, Oprah, some of us need gifts "lower than $100." We're not all billionaire media moguls!
On TikTok, Winfrey's reaction didn't go over very well with many commenters.


@choolah20/TikTok

@stephaniefalconib/TikTok

@laurenpeertackett/TikTok

@megtingz/TikTok

@jessfel1/TikTok

@hisuian.voltorb/TikTok

@llfoodluv/TikTok

@lyllaa5/TikTok

@jim_casey/TikTok
To her credit, Winfrey did come up with a very sweet alternate idea for the man that cost nothing at all--a "list of the top 10 reasons you love her" along with a handmade card. What mom wouldn't love that?
She may be a billionaire, but at least Winfrey still has a heart.