Supply chain issues have finally gone too far—at least for one unnamed woman who really, really, wanted some McDonald's.
Unfortunately for her, the McDonald's she arrived at for her late-night snack couldn't help her. They had food and power, the computers were running, the ice cream machine might even have been working.
None of that mattered, because they had no gloves and couldn't safely touch anything.
Employees tried to explain they weren't taking orders and why, but the woman was not about to be denied.
Alcohol, flexibility and a craving for fries is a powerful combo, fam.
The clip shows the woman, fabulously frocked in hot pink, as she tried to negotiate the terms of her meal. Eventually she decides she's going to try making it herself and climbs through the drive-thru window.

Once through, she looks for a manager—not lodge a complaint, but so she can be properly trained.
She approaches someone about "a training thing"—yes, with air quotes—before trying to put them at ease.
Clearly skilled in overcoming objections, she tells the employee:
"It's my first day training and I came inaptly dressed so you are not responsible."
No gloves? Not a problem.
No training? Not a problem.
No uniform? Not a problem.
Liability? Not a problem.
Safety? Never heard of it.
As far as this woman was concerned, the only thing that mattered was getting some McDonald's in her belly but whether or not she gets it isn't answered in the clip.
It cuts out with her still trying to talk her way into a combo meal with the employees totally caught off guard by her particular brand of McTipsy.
You almost have to admire the determination.

@greergreer/TikTok

@greergreer/TikTok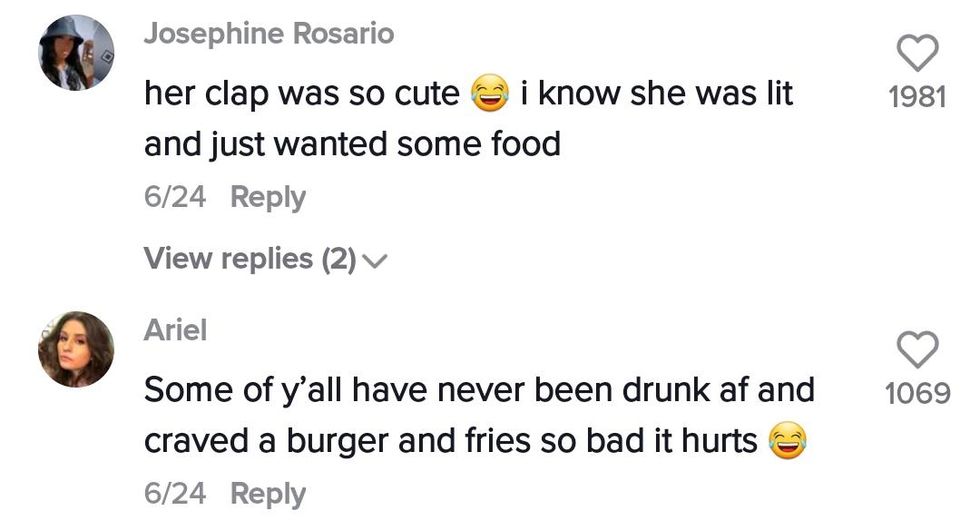 @greergreer/TikTok

@greergreer/TikTok

@greergreer/TikTok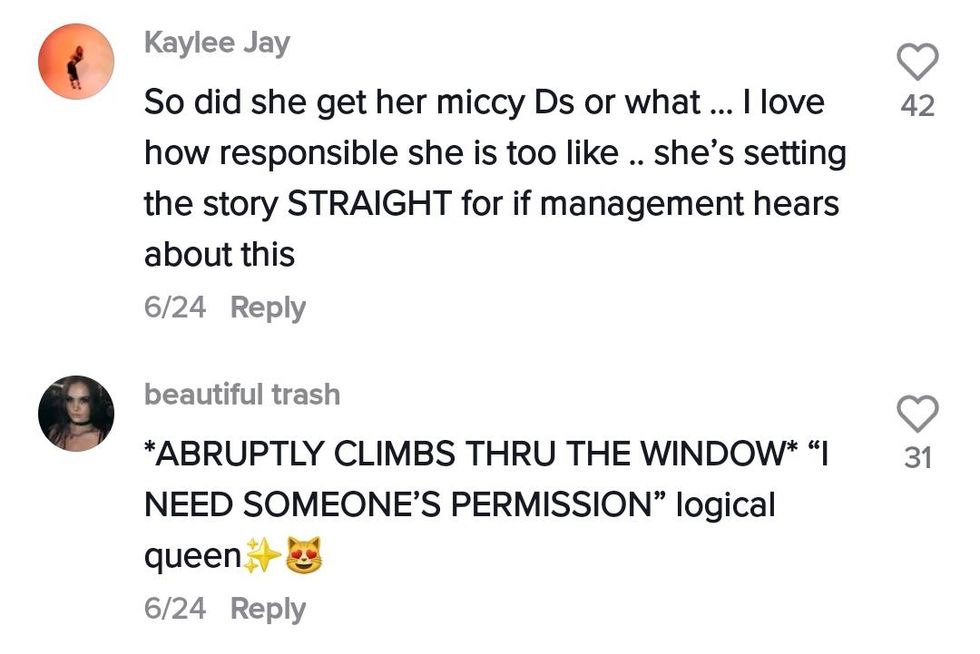 @greergreer/TikTok

@greergreer/TikTok

@greergreer/TikTok
Yes, the woman's actions were entitled, dangerous and completely illogical but haven't we all done some dangerous and illogical stuff for some fries before?

We don't judge.