Tag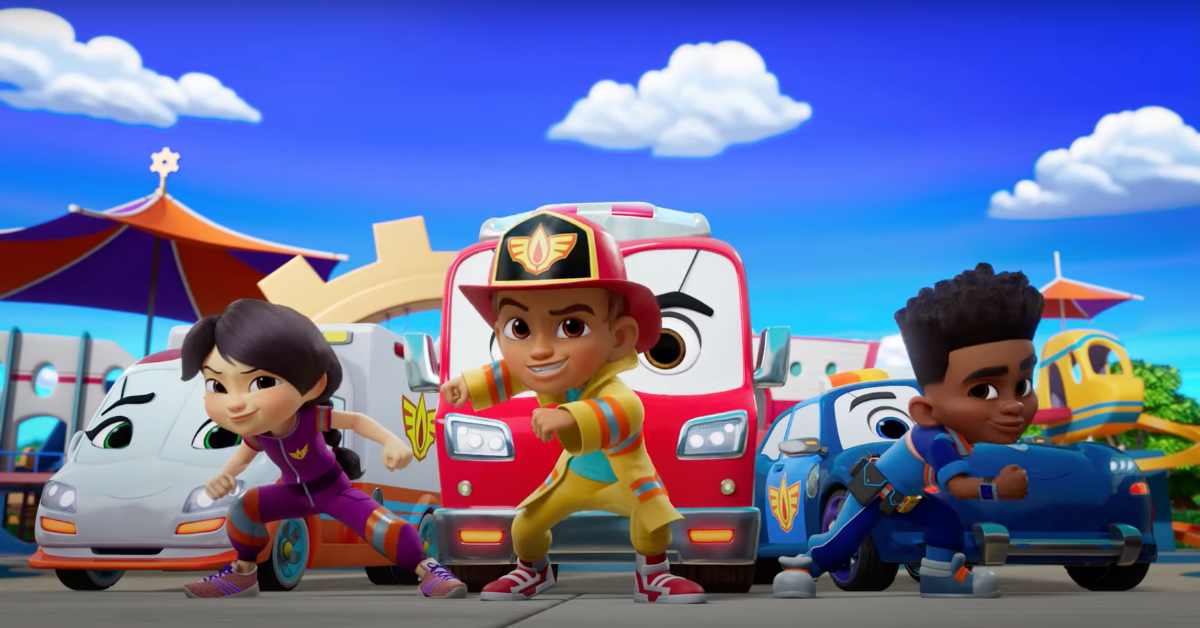 Disney Junior/YouTube
The conservative group One Million Moms (OMM)—an arm of the Christian fundamentalist nonprofit American Family Association (AFA)—is calling for a boycott of the animated Disney Jr. show Firebuds because it is "pushing an agenda" by including gay parents.
Firebuds is a show about young first responders and their talking vehicle sidekicks. But OMM—via its executive director and only visible member Monica Cole—said "Disney Junior is no longer safe for young children" because the studio "has added a same-sex couple to the program."

Cole referred to the reveal one of the main characters, aspiring paramedic Violet Vega-Vaughn, has two mothers.
\u201cSource: https://t.co/yTvQzH0zfy\u201d

— Rainbow Youth Project USA (@Rainbow Youth Project USA) 1673936102
Cole noted the show's creator Craig Gerber said Disney "supported" the inclusion of Violet's two mothers from his first pitch.
\u201cAfter I sold the #firebuds pitch, my 1st detailed show overview included Violet\u2019s 2 moms. Disney gave us 100% full support from day one. Thrilled to be making an inclusive show that reflects the diverse world we live in w/ folks who care as much as I do.\u201d

— Craig Gerber (@Craig Gerber) 1664135763
After complaining Disney included two lesbian mothers in an episode of the show Doc McStuffins, Cole called on her fellow conservatives to boycott Disney entirely.
She wrote:

"Conservative families will continue to have no choice but to stop watching the Disney Channel network or Disney+ in their homes so they can avoid previews, commercials, and reruns. Families will be unable to allow Disney in their homes since the network continually veers away from family-friendly content."
"1MM is so concerned with the normalization of a sinful lifestyle choice during a children's animated show designed for preschoolers. This type of sexuality should never be included in a children's cartoon, much less praised."
Discussion of such controversial topics should be left up to parents. Disney should not introduce this information to young children. Therefore, Disney should stick to entertaining and providing family-friendly programming instead of pushing an agenda.
OMM also put up a petition on their website where users can vow not to support Disney because of the cartoon.
"I am outraged that Disney Junior is using the children's cartoon Firebuds to promote same-sex marriage. It is offensive to me and my family that Disney is glorifying the homosexual lifestyle."
"Until Disney agrees to no longer air episodes of Firebuds that include same-sex couples such as Violet's two moms or any other LGBTQ content, conservative families (including my own) will continue to avoid watching Disney, including network shows, previews, commercials, and reruns."
"Please cancel this controversial content immediately. Your company will not have my support or business as long as you continue to veer away from family-friendly entertainment."
Many expressed their support for Disney and called out OMM's homophobia since their latest petition went viral.
Good for them. Some preschoolers have two moms and now they get to see a family like their own on tv.
— OlllO (@__OlllO__) January 16, 2023
For my gay child to see a same sex couple in cartoons would have made them feel normal as a kid & easier "come out."
We shouldn't just normalize heterosexual relationships. We should try to normalize all relationships validity. The next generation will be better for it!
— Gwen♡⚛ (@HeathenJen) January 17, 2023
Show me where Jesus protested people with two moms.
— Liz (@kentuckyliz2) January 17, 2023
It's called inclusion, not targeting.

It's the 21st Century. Get used to it.
— Doug E. Stile (@Doug_E_Stile) January 17, 2023
Ironic coming from the supposed 'non-snowflakes'
— (Sh-yiang) 宇祥 - Dragstrip Demon (he/him/his) (@Sh0wnie_Bantzy_) January 17, 2023
\u201cWith all the issues in the world, they are upset that a cartoon character has two mums. Kinda like other kids in the real world. These people are just horrible.\u201d

— \ud83c\udde8\ud83c\udde6Ringmaster of Shenanigans and Tomfoolery\ud83c\udde8\ud83c\udde6 (@\ud83c\udde8\ud83c\udde6Ringmaster of Shenanigans and Tomfoolery\ud83c\udde8\ud83c\udde6) 1673960578
\u201cThey are so ridiculous.\ud83d\ude21\u201d

— LoriMar I stand with Ukraine (@LoriMar I stand with Ukraine) 1673936340
\u201c@RainbowYouthUSA My god. How to we start the Ten million women for diversity and equality in America??\u201d

— Rainbow Youth Project USA (@Rainbow Youth Project USA) 1673936102
\u201c@RainbowYouthUSA Man! Those One Million Moms should get a life and grow up!\u201d

— Rainbow Youth Project USA (@Rainbow Youth Project USA) 1673936102
OMM has made headlines for opposing efforts to recognize LGBTQ+ people and better represent them in media.
Last year, the organization had a meltdown over an ad by jewelry company Kay Jewelers that showed couples kissing, one of which is two men who have a small child.
In a statement, OMM denounced the ad for its "attempts to normalize sin," calling it "inappropriate on so many levels" and charging it was designed to "desensitize viewers."