Losing a wallet instantly feels like a lost cause and we frantically cancel our credit cards and call our banks.
But sometimes, not all hope is lost.
---
Tim Cameron, 30, was cycling home from his office in Shoreditch—a district in the East End of London—when he lost his wallet.
But thanks to a good Samaritan's clever instincts, Cameron was able to be retrieve his wallet that contained his bank card.
After retracing his steps proved futile, he went home before going to the police and logged onto his bank account. There, he found key information hidden within recent transaction notes.

Someone wrote a series of short messages by making four online deposits, one penny at a time.

Cameron wrote:
"I just lost my wallet on the way home from work. I didn't have much identifying info in there so a good Samaritan got in touch with me via my... bank account."
I just lost my wallet on the way home from work. I didn't have much identifying info in there so a good Samaritan g… https://t.co/9Kt8KtmlSD

— Tim Cameron (@Tim Cameron) 1571070818.0
The attached screenshot reveals that the good Samaritan wrote Cameron short messages. But because the reference field had an 18-character limit, he made four deposits to get his message across.
When read together, all four messages (shown in reverse order from the top in the screenshot) read:
"Hi, I found your / wallet in the road / 07XXXXXXXXX / Text or call!"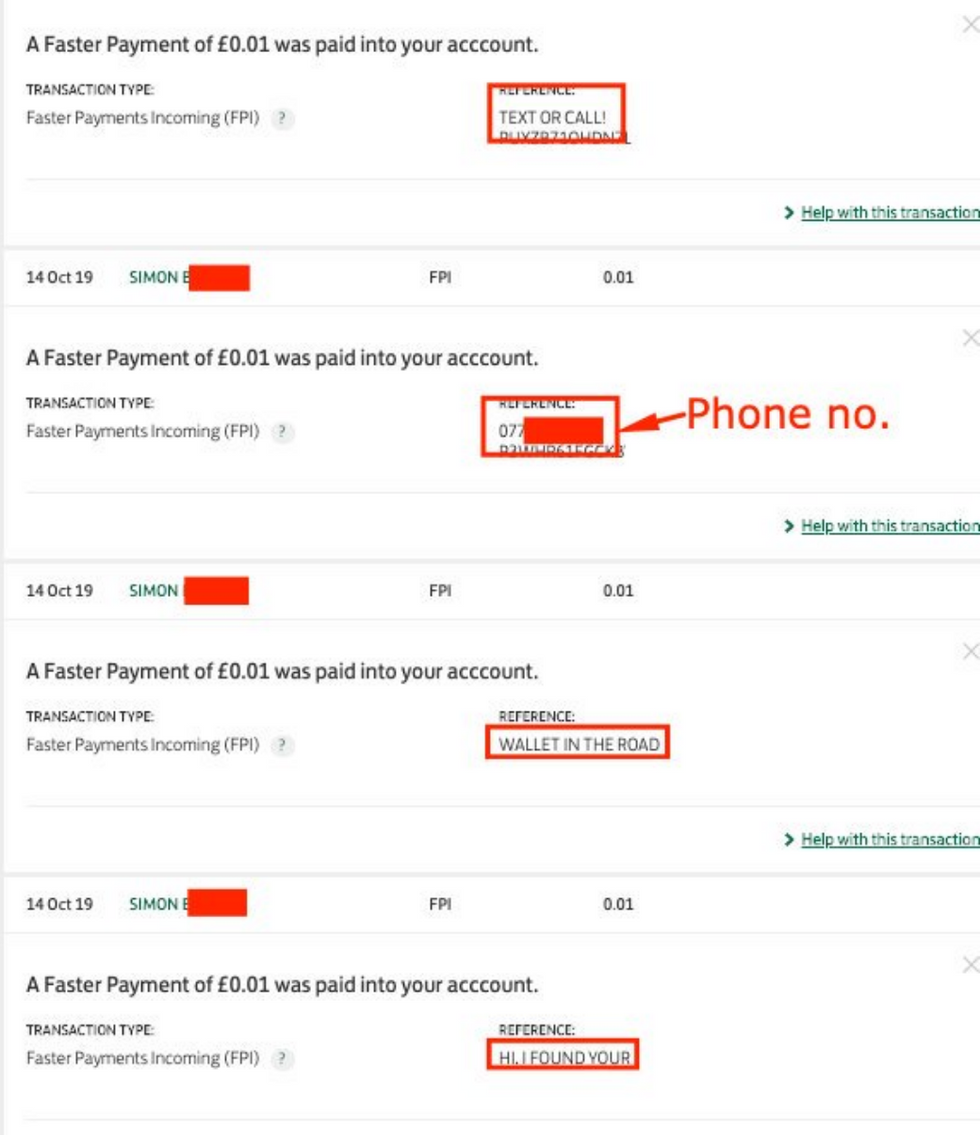 @Timcammm/Twitter
Cameron told the Evening Standard he retrieved his wallet within minutes.
Although he never mentioned paying the guy back the four pennies, he rewarded him with a bottle of red wine.

Now that's a bonus.
"I noticed the references so I gave the guy a call and it turns out he lived only 20 minutes from me."
"I cycled round, got my wallet back and gave him a bottle of red wine. It had all my bank cards and ID cards in it so it would have been an absolute disaster."
The wallet could have gone to the wrong hands.
Fortunately, this guy was not only decent, he was also brilliant.

"He was a nice bloke. He was going to hand it in to the police and he had tried to find me on Facebook. I was going to go to the police after I had retraced my steps but this happened first.
"It all happened within 90 minutes of getting home, it was crazy how quick it was. It was very clever."
Cameron's tweet went viral for the clever ploy and has since racked up 25K likes.
@Timcammm My first reaction is holy crap this is cool! Dying for more context here. Please indulge me. How did the… https://t.co/FolNhR2C9h

— G. Taylor McKnight (@G. Taylor McKnight) 1571073066.0
@gtmcknight Haha. In the UK it's standard for your bank account details to be printed on your bank card.

— Tim Cameron (@Tim Cameron) 1571073536.0
@Timcammm What an absolute legend, this restores faith that there are still genuine decent people out there, I was… https://t.co/UA4dQRyH0m

— James Dartnell (@James Dartnell) 1571079872.0
The Standard learned the good Samaritan was a software engineer by the name of Simon Byford, 30.

"It was right in the middle of the road and a few cars had run over it. I stopped to pick it up then I tried to find him on Facebook but Tim Cameron is such a common name I didn't have any luck, so I cycled home."
For Byford, figuring out a way to contact Cameron was a challenge, but he was game for it.

"I had a little think about what information I had and I had his bank cards. It's an odd way of getting in touch but it was like trying to work out a puzzle, which I liked. I had a little bit of information about him but not enough."
There are enough decent human beings still left in the world.
Others shared their anecdotes about being reunited with missing personal belongings.
@LesleyHustler1 @Timcammm @jimallthetime My daughter lost her bag with purse in while on holiday in Portugal. Someo… https://t.co/c8snT7gUXg

— Hannah ⭐ (@Hannah ⭐) 1571090764.0
@Timcammm @_bronni Lost my car and house keys once, had a library card fob, person brought it into the library and… https://t.co/OV99b9soIk

— Jessica Willis (@Jessica Willis) 1571080545.0
@Timcammm Car on my tail blowing horn, waving. I'm thinking it can't be my "Vote Whedon/Minear for a Vampire Free A… https://t.co/H5bXQqr3eZ

— JacksonSugarNovels (@JacksonSugarNovels) 1571086529.0
Not all lost items make their way back to their owners.
However, this user shared an unusual twist to the narrative.
@Timcammm Someone stole my purse once, including my phone. I called my phone and they answered. We actually had a p… https://t.co/tVW56HPrna

— Rhonda (@Rhonda) 1571088670.0
And then there is this:
@Timcammm @JohnPaulRipple I lost my fake ID when I was 16 and the police sent it back to me 😂😂

— justine 🔕🔚 (@justine 🔕🔚) 1571090336.0
With the exception of the oddball stories here, Cameron's is a good reminder that when you lose personal items, you don't have to lose all hope in humanity in the process.

Want to be able to find your wallet's location? The Innway Card - Ultra Thin Rechargeable Bluetooth Tracker Finder, available here, will help you find your wallet, bag, backpack, keys, laptop or tablet.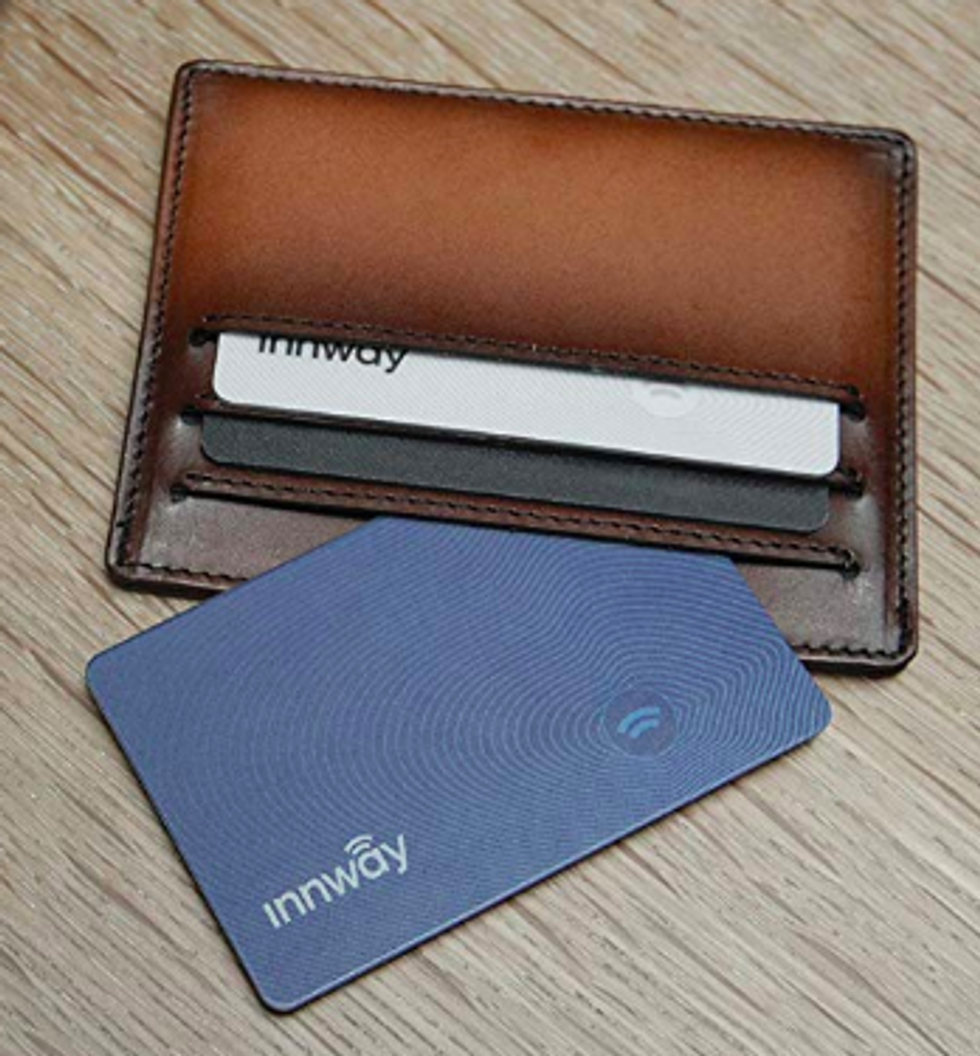 Amazon
******

Have you listened to the first season of George Takei's podcast, 'Oh Myyy Pod!'?
In season one we explored the racially charged videos that have taken the internet by storm.
We're hard at work on season two so be sure to subscribe here so you don't miss it when it goes live.
Here's one of our favorite episodes from season one. Enjoy!