Oprah Winfrey was well known for her giveaway "Favorite Things" episodes on her 1986-2011 TV show, especially the time each audience member got a car.
But unless you were in the audience for one of those shows, you probably don't know what actually goes on when the cameras are off.
Recently TikToker Candi Davis—@alwayscandid—talked about what went down when the cameras were off during one of those iconic episodes.
Davis was in the audience in November 2010 when Winfrey gifted everyone Volkswagen Beetles during the last "Favorite Things" episode in its original format.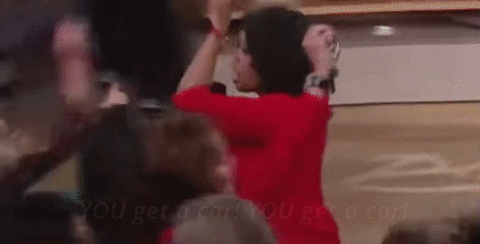 Giphy
While the lawyers ironed out the details of paying all the taxes on the vehicles, Davis said Winfrey sat down at the edge of the stage to have a conversation with the audience.
"She said, 'I know you don't feel like you deserve any of this stuff, and you don't—none of you deserve it. But you are worthy of it, and I want you to remember that'."
You can watch Davis' The Oprah Winfrey Show giveaway behind the scenes video here:
After several comments said Winfrey's words sounded like a back handed compliment, Davis made a followup video.

You can see the video here:
People had a lot to say in the comments.

Many commented on the fact Winfrey paid the taxes on the vehicles.

@alwayscandid/TikTok

@alwayscandid/TikTok

@alwayscandid/TikTok

@alwayscandid/TikTok
Others gushed about the show itself.

@alwayscandid/TikTok

@alwayscandid/TikTok

@alwayscandid/TikTok
For a bit of nostalgia, you can see clips from The Oprah Winfrey show here: