Are you ready for it?
Magic Mike stud Channing Tatum is a Swiftie.
It became official in the form of a video of him having the time of his life with his 10-year-old daughter Evie at Taylor Swift's Eras Tour concert at L.A.'s SoFi Stadium Saturday night.
Tatum was spotted wearing glitter makeup around his eye in the shape of a heart–as Swift appeared on the cover of the Lover album–and shaking his booty off appropriately to the iconic 2014 bop, "Shake It Off," from Swift's chart-topping 1989 album.
He also sported a T-shirt with the phrase, "It's me, hi, I'm the daddy, it's me," which is a nod to the lyrics in Swift's "Anti-Hero" from the Midnights album released last October.
Here is a clip of the actor living his best life–courtesy of footage taken from Gayle King who also attended the show with her daughter, Kirby Bumpus.
It's no surprise Tatum displayed his natural free-style ability so smoothly.
While he has no formal dance training, he impressed moviegoers with his moves in Magic Mike and in past films like Step Up and Hail, Caesar!

While at the Eras Tour concert, Tatum also demonstrated fierce one-handed voguing while sporting the LED wristband given to all audience members which elevates the immersive experience using radio frequency to create changing light patterns in the crowd.

Fans got a kick out of watching Tatum channeling his dad energy to shake his cares away along with the lively crowd.
King, who filmed Tatum bopping along to "Shake It Off," also got a photo together with him at the concert–which you can see here.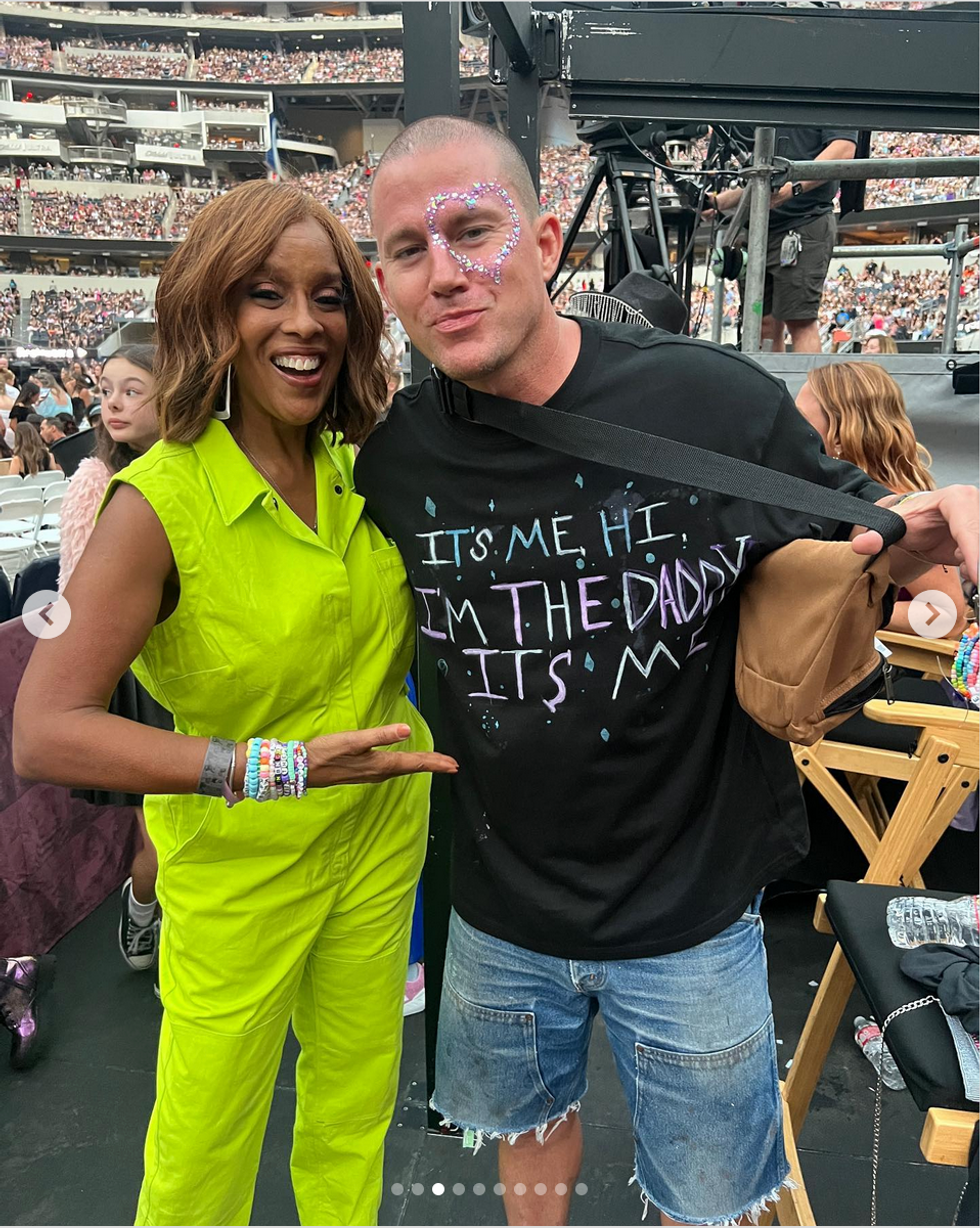 @gayleking/Instagram
King wrote in her post:
"Saturday night! @taylorswift in LA w/fav daughter @kirbybump!"
"Our 4th Taylor concert together over the years & she has taken things to another level!"

"A round of applause to @channingtatum & @karomobrown who went all in!"
The Eras Tour is described as a journey featuring all the "eras" of Swift's expansive catalog of music.
The show clocks in at over three hours with 44 songs divided into 10 acts portraying each musical concept, style, and aesthetic of her studio albums.

Others attending the wildly popular concert at SoFi Stadium the same night were Sarah Michelle Gellar, James Marsden, Simon Cowell, Jesse McCartney, Lily Rabe, and Xochitl Gomez.
L.A. is the last stop on the 1st leg of the Eras Tour after it kicked off in Glendale, Arizona on March 17, 2023.
More US dates were announced in June to include Miami, New Orleans, and Indianapolis next year.
International stops in 2024 would be at cities throughout Latin America, Europe, Asia, and Toronto, Canada–where the tour concludes on November 23, 2024.