las vegas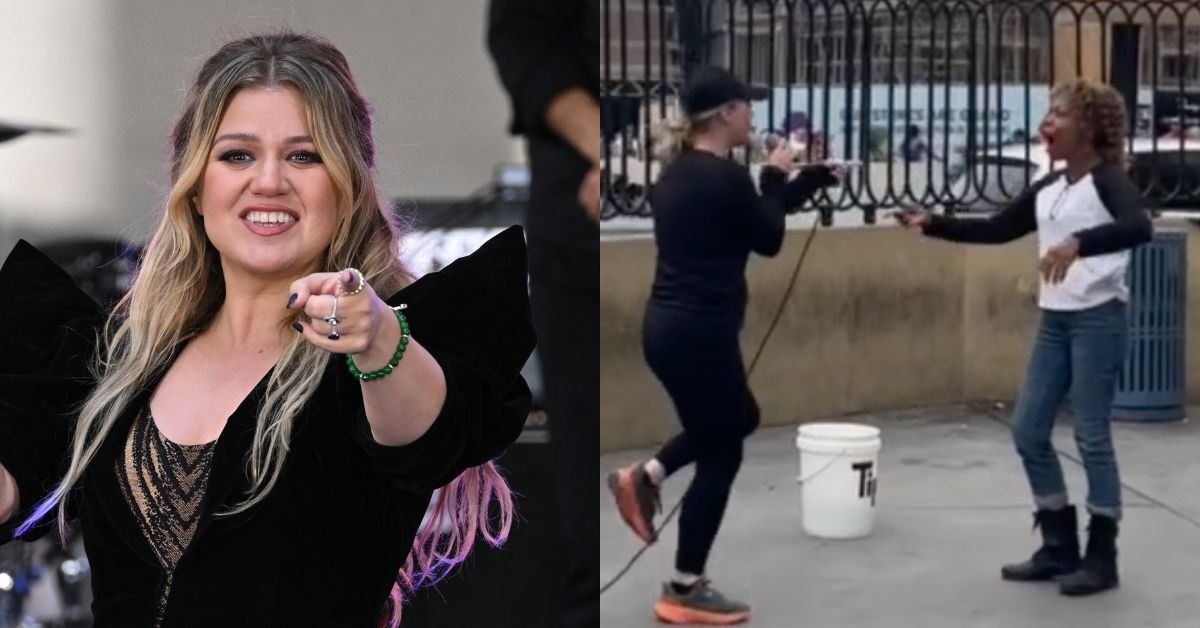 NDZ/Star Max/GC Images, @kellyclarkson/Instagram
Kelly Clarkson gave a street performer in Las Vegas an impromptu performance for the ages.
The American Idol alum was walking to her soundcheck for the iHeartRadio Music Festival when she passed by a female busker who impressed Clarkson with her vocal chops.
When Clarkson tipped the performer, who was belting out a Tina Turner tune, the woman encouraged her to sing—unaware that the generous passerby was the three-time Grammy winner and the eponymous host of The Kelly Clarkson Show.
When Clarkson started singing the Tina Turner classic "What's Love Got To Do With It," the performer clapped and danced along.
But as Clarkson started really going for it vocally, the performer realized that this was no amateur and that she was in the presence of music greatness.
Her reaction to Kelly Clarkson singing to her was priceless.

You can't make up a moment like this.

As luck would have it, the moment was captured on video, which you can see here.
Clarkson told the woman, "I was like, 'You sound so good!'"

After the two joyfully hugged each other, the woman had to take a moment to assess what was actually happening.

She then yelled:
"Are you f'king kidding me?"
To which Clarkson laughed and hugged her again.

Clarkson shared the video on her Instagram page and explained what happened.
The "Since U Been Gone" singer wrote:

"I was on my way to soundcheck for @iHeartRadio tonight in Vegas and was tipping this incredible woman killing some Tina Turner and then she asked me to sing and had no clue who I was, and then it hit her, and it made my day!"

Clarkson said of her new friend:

"She gives the best hugs and sings her tail off!"

"See ya tonight Vegas."
Fans were living for the impromptu Kelly-oke moment.

@kellyclarkson/Instagram
@kellyclarkson/Instagram

@kellyclarkson/Instagram
@kellyclarkson/Instagram

@kellyclarkson/Instagram

@kellyclarkson/Instagram
@kellyclarkson/Instagram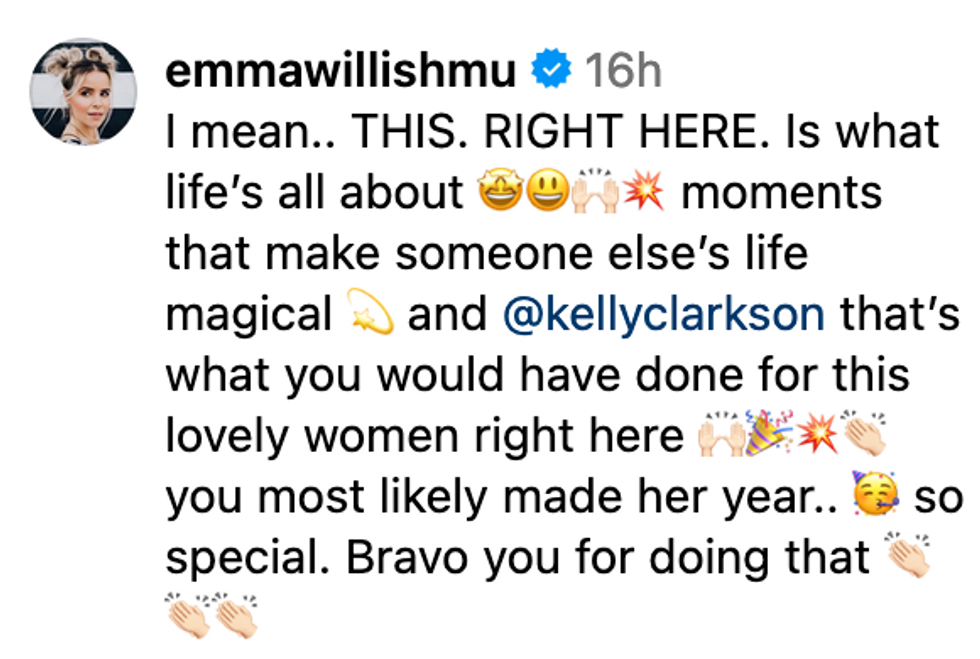 @kellyclarkson/Instagram
Even the original American Idol host, Ryan Seacrest, gave his approval.
@kellyclarkson/Instagram
Clarkson recalled the fun interaction in a backstage interview withiHeart Radio, saying:
"I was like, 'Oh, we gotta dip into the pocket for that."
"So I got my wallet out and I was gonna just go tip her, and then she was like, 'Sing with me, baby.' I was like, 'Alright' and then I started singing.

"Then she literally went, 'Are you Kelly Clarkson?'"
"And I was like, 'Yes, but I didn't want to be a tool about it.' She was really funny. She looked like a good time."
You can hear her interview, below.
Kelly Clarkson talks about her viral singing moment while walking to her #iHeartFestival2023 soundcheck \ud83d\ude4c #iHeartxAudible

— iHeartRadio (@iHeartRadio) 1695532555
Clarkson rose to fame after winning the first season of American Idol in 2002.
The reality competition victory led to her being signed by RCA Records, which led to her debut single "A Moment Like This," which topped the US Billboard Hot 100 and became the best-selling single of 2002.

Following her debut album, Thankful, Clarkson has released nine other albums, including Breakaway, All I Ever Wanted, Stronger, and this year's Chemistry.
In addition to her three Grammys, Clarkson is the recipient of numerous other major accolades, including three MTV Video Music Awards, four American Music Awards, two Academy of Country Music Awards, five Daytime Emmy Awards, and a star on the Hollywood Walk of Fame.
Keep reading...Show less