Paras Griffin/Stringer via Getty Images
Rihanna spent the last couple of days shouldering internet outrage.
People across Twitter claimed the pop superstar appropriated Islamic culture when she included a Hadith in the background of a musical performance during the annual fashion show for her lingerie line, Savage X Fenty.
A Hadith, as defined by Oxford Islamic Studies Online, is an extremely sacred element of the Islamic faith:
"Report of the words and deeds of Muhammad and other early Muslims; considered an authoritative source of revelation, second only to the Quran (sometimes referred to as sayings of the Prophet)."
At Rihanna's Savage X Fenty show, an audio reading of a Hadith about judgment day was used as the backing narration during singer Coucou Chloe's performance of her song "Doom."
i can't let Rihanna have a pass w appropriating Islam like for her first show the models wore a scarf around their heads and it looked like HIJAB and her second show she used a track that remixed a HADITH....why is no one talking about this, my religion is not y'all's aesthetic
— . (@reversecocunut) October 4, 2020
like I LOVE IT when y'all appreciate islam and use Arabic words but I am not okay with it being appropriated and belittled for things like this. The last thing y'all should be doing is remixing versus of the quran for your music like wtf it's absolutely disrespectful
— . (@reversecocunut) October 4, 2020
Others also expressed anger or upset over the choice.

@reversecocunut im shaking. My heart is pounding so hard. How can they do this. This is so sickening.

— jace⁷₁₃🤍 (@jace⁷₁₃🤍)1601850865.0
@reversecocunut The fact that some people are defending this is gross. It really shows that some people look the ot… https://t.co/USpGLtjuTJ

— mia🎃 (@mia🎃)1601859213.0
Some people called attention to the fact this was not an isolated incident for Rihanna.
this isn't even Rihanna's first time, i'm disgusted, the level of disrespect is absurd, cancel her for good.… https://t.co/rWPo6tTbTM

— #blacklivesmatter (@#blacklivesmatter)1601875015.0
Some people recalled a 2013 moment when Rihanna was accused of appropriating Islamic culture during a photo op when she wore a hijab in front of the Sheikh Zayed Grand mosque in Abu Dhabi.

Rihanna was asked to leave the mosque.
Not at Rihanna disrespecting an entire religion but some of you still defending her..... https://t.co/Y1xlJU8pqO

— Sina 𖧵✜⁵ (busy) (@Sina 𖧵✜⁵ (busy))1601870113.0
Given all the backlash since the Sunday night event, Rihanna addressed the incident and apologized in an Instagram story.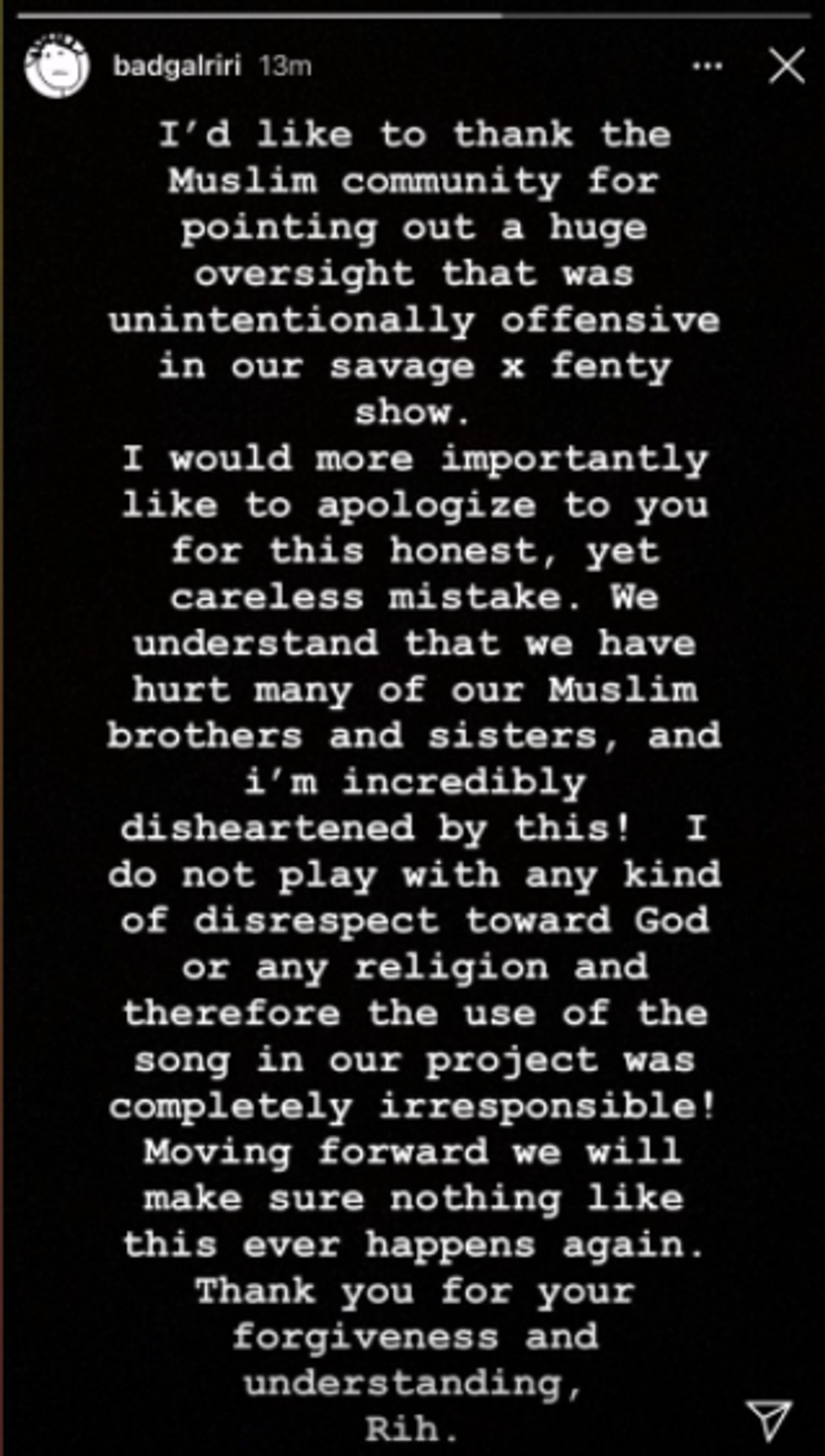 @badgirlriri/Instagram
In addition, Rihanna apologized directly to a fan who raised their concerns in a direct message to the singer.
She responded directly back with a long message that, once screencapped, made the rounds on Twitter.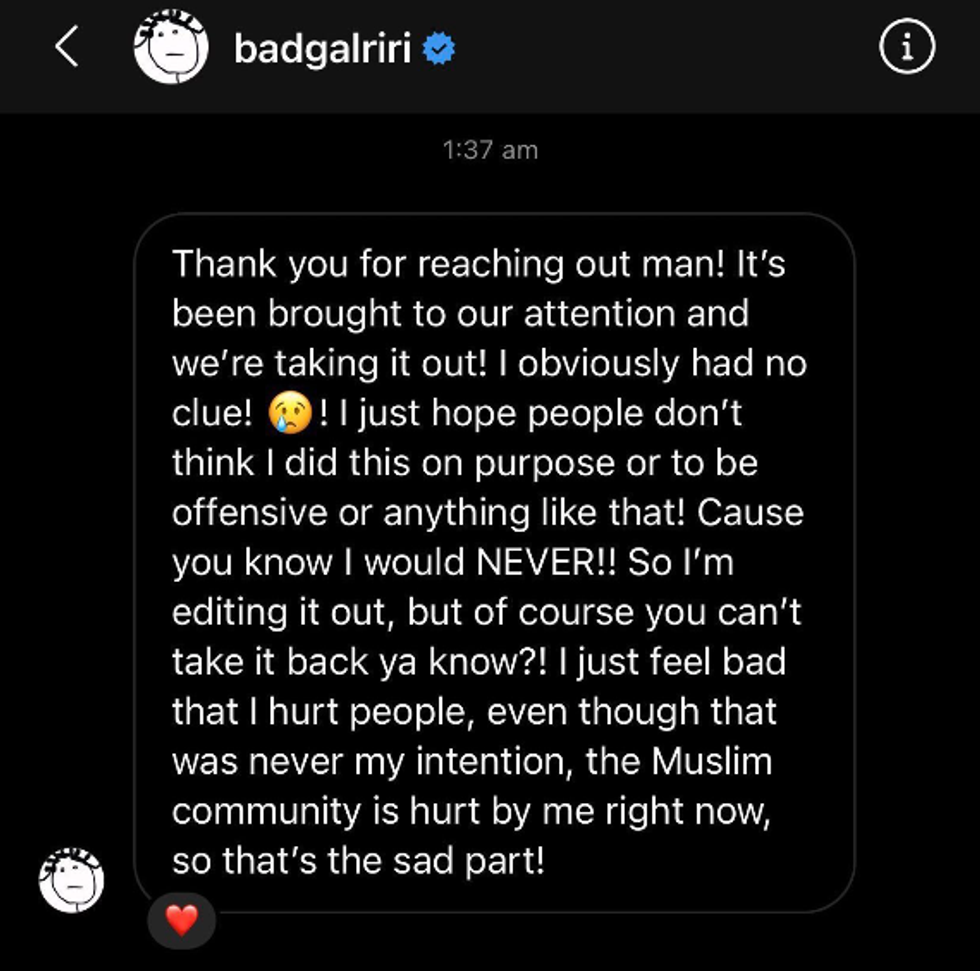 @badgirlriri/Instagram
Coucou Chloe also apologized for her part in the performance with a pair of Twitter posts.

I take full responsibility for the fact I did not research these words properly and want to thank those of you who… https://t.co/sKS28LkYtM

— COUCOU CHLOE (@COUCOU CHLOE)1601911385.0
Rihanna's apology was accepted by some and deemed insincerely reactionary by others.

Hopefully future Rihanna-produced show content will be researched before it hits the stage.