rihanna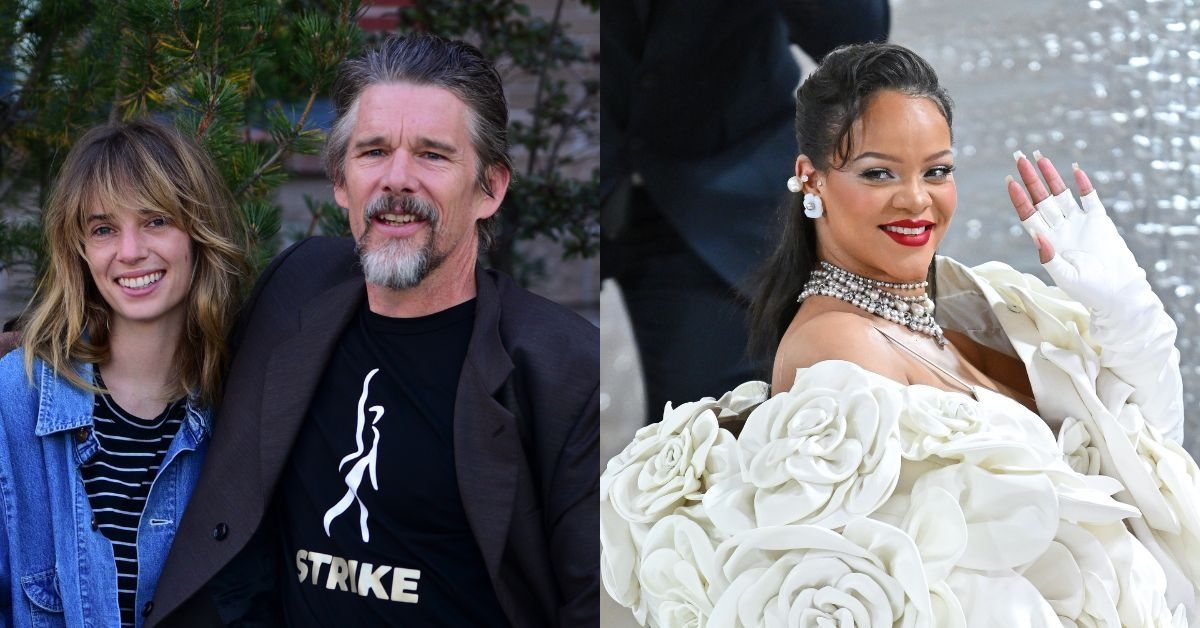 Vivien Killilea/Getty Images for ABA, James Devaney/GC Images/GettyImages
Stranger Things actor Maya Hawke heaped some shade on her father, Ethan Hawke, after he claimed that he and pop star Rihanna once got all flirty in public.
Maya is the daughter of the Black Phone actor and Kill Bill star Uma Thurman. Her parents first met while filming the 1997 film Gattica and got married a year later. They divorced in 2005.
In a recent Variety interview, her multi-award-nominated dad recalled being embarrassed at his viral moment at the 2015 NBA All-Star Game when photographers snapped photos of him sitting in courtside seats next to Rihanna.

He beamed:
"I've been caught by the paparazzi openly flirting with Rihanna."
To which Hawke gave him a reality check and clarified:
"Openly trying to."
You can listen to them referring to the hilarious moment in the clip below.
Ethan laughed after standing corrected and said:
"Right, trying to flirt. So that's been a family shame, you're really touching a nerve."
Maya then maintained:
"No. It's family pride!"
The two also talked about nepotism in
Hollywood
and working together on their upcoming indie biopic
Wildcats
, which they were allowed to promote since it was part of the SAG/AFTRA interim agreement.
The agreement stipulates that union actors could discuss certain films, and are not represented by the Alliance of Motion Picture and Television Producers (AMPTP), which they are fighting against alongside union writers.

Ethan directed and produced Wildcats. It stars Maya as Southern Gothic writer Flannery O'Connor and follows her journey towards publishing her first novel.

He proudly proclaimed that the film was all his daughter's idea.

"Put simply, I'm a nepo dad!" he joked.

"And I'm not embarrassed about it.
But Maya, who is also a producer on Wildcats, opened up about what it was like working on the film with her dad.
"I had moments of insecurity about it while we were shooting the movie."
"But the internet doesn't have a lot of nuances."

"My dad has been a massive teacher for me, and we want to work together. We like being with each other."
Ethan added:

"If someone wants to criticize us for working together, that's totally fair."
"You have to let people have their opinion. You just have to try to do a good job when you're onstage."
Keep reading...Show less