Golden State Warriors' star player Stephen Curry was flummoxed when he found his name as part of the 429-page House Republican tax bill that released on Thursday.
---
Curry's name was the only person mentioned in the tax proposal document. Talking points from the bill included this information:
The Tax Cuts and Jobs Act includes specific safeguards to prevent tax avoidance and help ensure taxpayers of all income levels play by the rules under this new fairer, simpler tax system. Our legislation will ensure this much-needed tax relief goes to the local job creators it's designed to help by distinguishing between the individual wage income of NBA All-Star Stephen Curry and the pass-through business income of Steve's Bike Shop.
There is only one person mentioned in GOP tax plan and it's Steph Curry. 🤦🏾‍♂️ https://t.co/YynmtvNgyH

— Franklin Leonard (@Franklin Leonard)1509639455.0
The 2015 and 2016 MVP and two-time NBA champion, secured his position among the Warriors in July when he agreed to sign a $201 million contract, the richest deal in NBA history. It's possible that because he inked such a sweet deal, Curry was named as an example in the tax plan.
"It was weird, that's about it," Curry told the AP, following a Warriors 112-92 victory over San Antonio on Thursday. "There's a lot of people wondering why I was called out, whatever the case may be, but mama, I made it."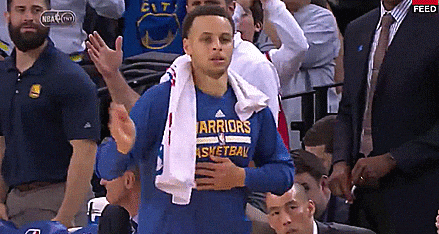 Curry also expressed his wit on Twitter.
I wonder if Steve's Bike shop is hiring...

— Stephen Curry (@Stephen Curry)1509647121.0
&ref_url=http%3A%2F%2Fwww.sportingnews.com%2Fnba%2Fnews%2Fstephen-curry-gop-tax-plan-mention-funny-twitter%2F1tjkbuukx2j3v16cmhrb886yqv
His affinity for bikes is evident after all. Here he is as Jigsaw from the Saw franchise for Halloween.
Stephen Curry shows off his Halloween spirit, rides to work in "Jigsaw" costume. https://t.co/oX9quNeO5A [Video:… https://t.co/YTSuw8M6sg

— NBC Bay Area (@NBC Bay Area)1509399114.0
&ref_url=http%3A%2F%2Fwww.sportingnews.com%2Fnba%2Fnews%2Fstephen-curry-gop-tax-plan-mention-funny-twitter%2F1tjkbuukx2j3v16cmhrb886yqv
Referencing celebrities is apparently a common practice to emphasize the impact of tax policies on real people, according to tax-writing Ways and Means chairman, Rep. Kevin Brady, R-Texas. His committee mentioned Microsoft's Bill Gates in a blog, and the chairman used Tom Brady's name during a speech, saying, "We decided that it was finally time to stop taxing Tom's Bike Shop and Tom Brady at the same rate."
This isn't the first time Steph Curry found himself in between sports and politics. Donald Trump renigged his invitation of the Warriors to the White House after team members, including Curry, expressed their disapproval of the current administration.
In a fit of petulant fury, Trump tweeted, "Going to the White House is considered a great honor for a championship team. Stephen Curry is hesitating, therefore invitation is withdrawn!"
Donald Trump just can't leave Steph Curry out of his mouth just bc he didn't want to go to the WH and witness the c… https://t.co/zvlkMTRc14

— Ms Madrid (@Ms Madrid)1509650292.0
So where is Steve, of Steve's bike shop in all of this?
@franklinleonard @harrymattison @stevethebikeguy I can't wait for my husband (@stevethebikeguy ) to get home from h… https://t.co/hbOpnNZ9BL

— Kristin S. Brandt (@Kristin S. Brandt)1509708638.0
Concerns went deeper than Curry's slam dunk tweet.
@franklinleonard I hate the constant references to "job creators" as if businesses hire people because they don't k… https://t.co/5Le0Uu4Y9V

— Tim McDevitt (@Tim McDevitt)1509642254.0
@TMcDevitt11 @franklinleonard Businesses reap the benefits in profit. The Bd of Directors & the CEOs reap healthy b… https://t.co/ayRqgL5efQ

— Jo Trammell (@Jo Trammell)1509643694.0
@TMcDevitt11 @franklinleonard Pet peeve of mine too. "Job creation" is an inadvertent, aggressively -minimized expe… https://t.co/61sltXDRLX

— Ian Shields (@Ian Shields)1509703390.0
He made a joke guys! A joke! This guy will break it down for you.
@_BrainPower_ @MitchCharlens @STRapten @StephenCurry30 Mitch is SO cool that he gets Curry's joke; so much so he th… https://t.co/aHfzsvpUVW

— Scott R.🇺🇸🔴 (@Scott R.🇺🇸🔴)1509656835.0
Please SHARE this with your friends and family.
H/T - twitter, espn, sportingnews