Eight days and a lengthy list of witnesses later, Gwyneth Paltrow's accuser Terry Sanderson was found 100% at fault in the ski collision for which he sued the Oscar winner.
After the two-plus hour deliberation, the parties were released from the courtroom at which time Paltrow approached Sanderson, leaned over and whispered something to him. Her words were inaudible on the courtroom's live feed, but Sanderson acknowledged them and replied.
The Associated Press reported Sanderson told reporters outside court Paltrow whispered, "I wish you well."

Sanderson then replied:
"Thank you, dear."
People on Twitter thought the exchange was a cordial move for the Goop founder.
Of course, several also had their own theories...
Sanderson originally sued Paltrow for $3.1 million, claiming the Avengers actor slammed into him on the Deer Valley Resort slopes in Park City, Utah in 2016, but it was dismissed.
He later sought $300,000 in damages.
Sanderson accused Paltrow of skiing recklessly down the slopes which resulted in a violent collision. Sanderson, now 76, and his team claim the Oscar winner then left him on the ground as she and her group skied away.
Paltrow countersued for $1 plus legal fees.
Both parties claimed they were the victims. The trial used witnesses to determine who was the downhill skier at the time of the accident.
The jury determined Paltrow was the one struck by Sanderson.
After the trial, she took to Instagram to share her satisfaction with the results.
She wrote on her stories:
"I felt that acquiescing to a false claim compromised my integrity."
"I am pleased with the outcome and I appreciate all of the hard work of Judge Holmberg and the jury, and thank them for their thoughtfulness in handling this case."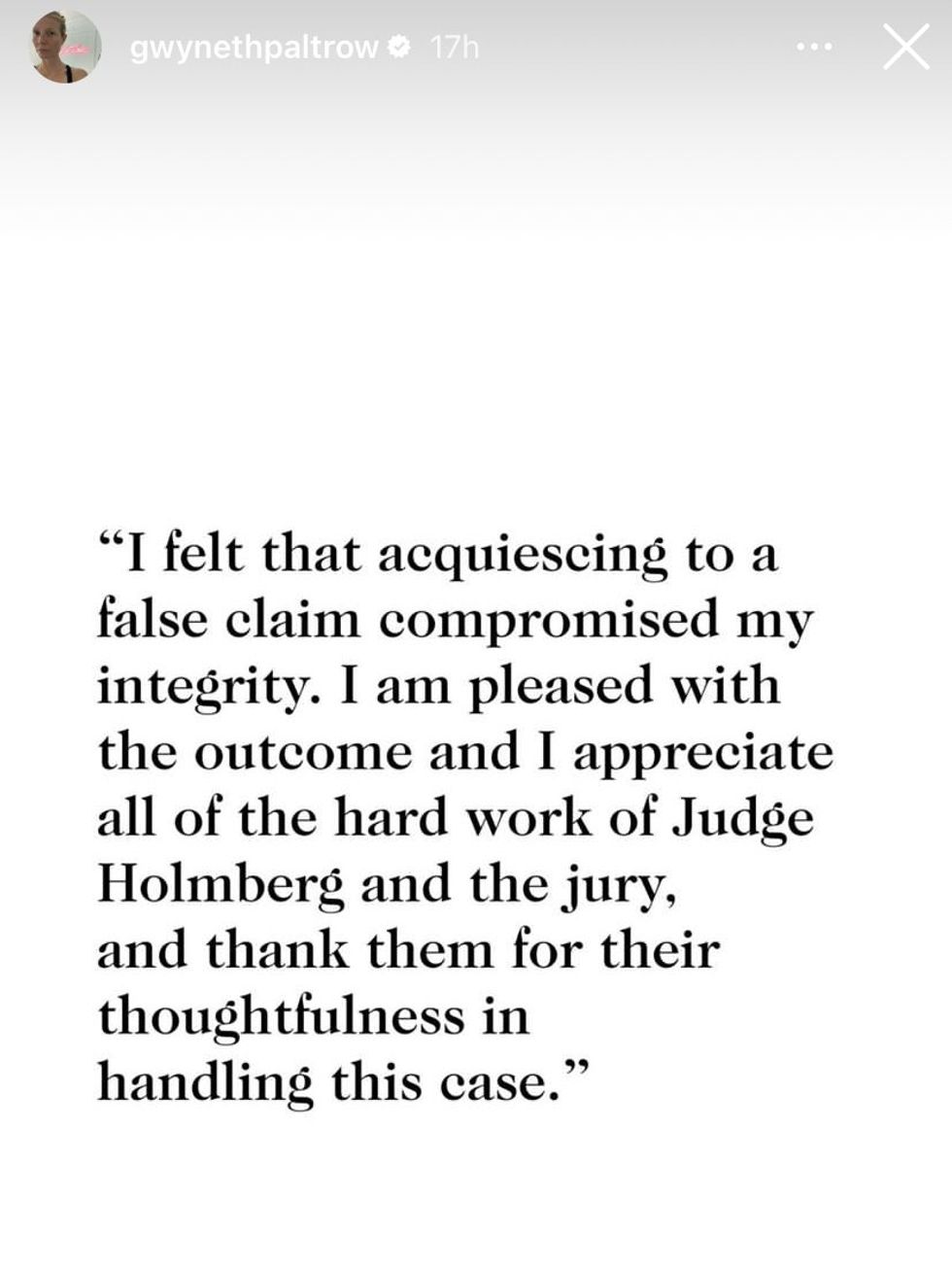 @gwynethpaltrow/Instagram
After seven years, she must be relieved to put this all behind her.