A dog groomer has gone the extra mile to show her support for the NHS and key workers – by dyeing her pet poodle all the colors of the rainbow!
Accompanied by his very own "poodle paparazzi" when his owner, Katie Darcey, 23, walks him around their local area in Farnborough, Hampshire, England, three-year-old pooch Joey has quite a fan club.
And his multi-colored dream coat is just one of the looks that gets the flash bulbs popping when the handsome hound, who Katie adopted 18 months ago, sports when he steps out in public.
Also known to like having a blue and green tail, a fluorescent green all over look, and a love heart design, a natural showman, Joey – whose virgin fur color is bright white – loves to upstage the springer spaniels, Rosie, 14, and Honey, three, who he lives with.
Katie said:
"Whenever I take him for a walk, it's like having paparazzi following us."
"Strangers love to take pictures – from a safe distance, of course – and people even stop in their cars to talk to us."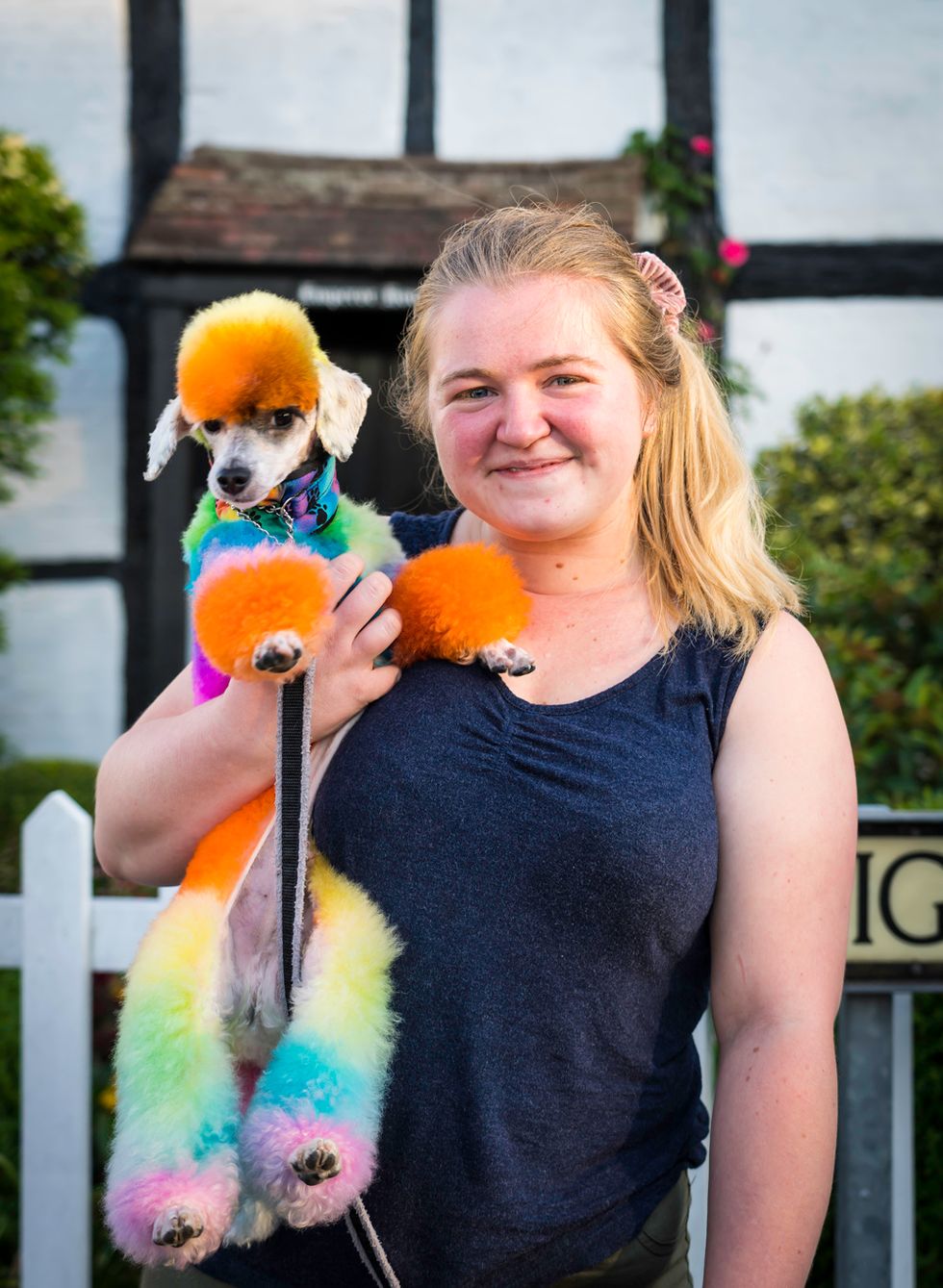 Katie and Joey (PA Real Life/Samuel Garcia Alhambra SG Photography)
After finding out about doggy fur dye through her job, when rainbows became the trademark to show appreciation for NHS staff during the pandemic, toy poodle Joey presented Katie with a fabulous opportunity.

She said:
"I saw lots of people getting creative and making rainbow-themed things, so I decided to go for it and ordered some dyes for Joey."
"I was winging it as I went along, but when I painted him like a rainbow, it turned out really well. People are scared and frustrated at the moment and it makes me really happy to see Joey putting a smile on their faces."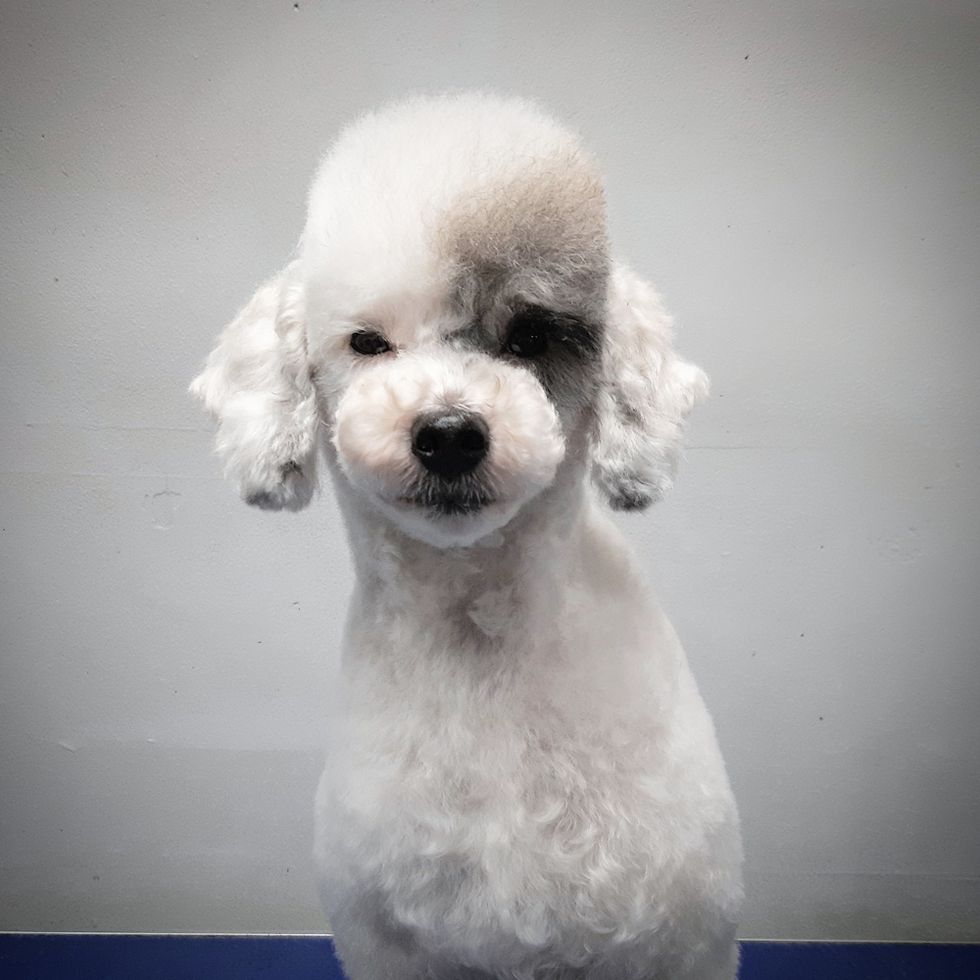 Joey without dyed fur (PA Real Life/Collect)
But, while his canine couture is attracting an army of fans on the streets of Hampshire, online, Katie has received some nasty jibes from people accusing her of cruelty.

She said:
"People say it's abuse, and that he didn't ask to be colorful, but I see dogs all the time with matted fur or overgrown nails pushing back into their pads and hurting them. To me, that's far more harmful."
"I would never dream of doing anything that would hurt my dogs. They are very well loved and cared for."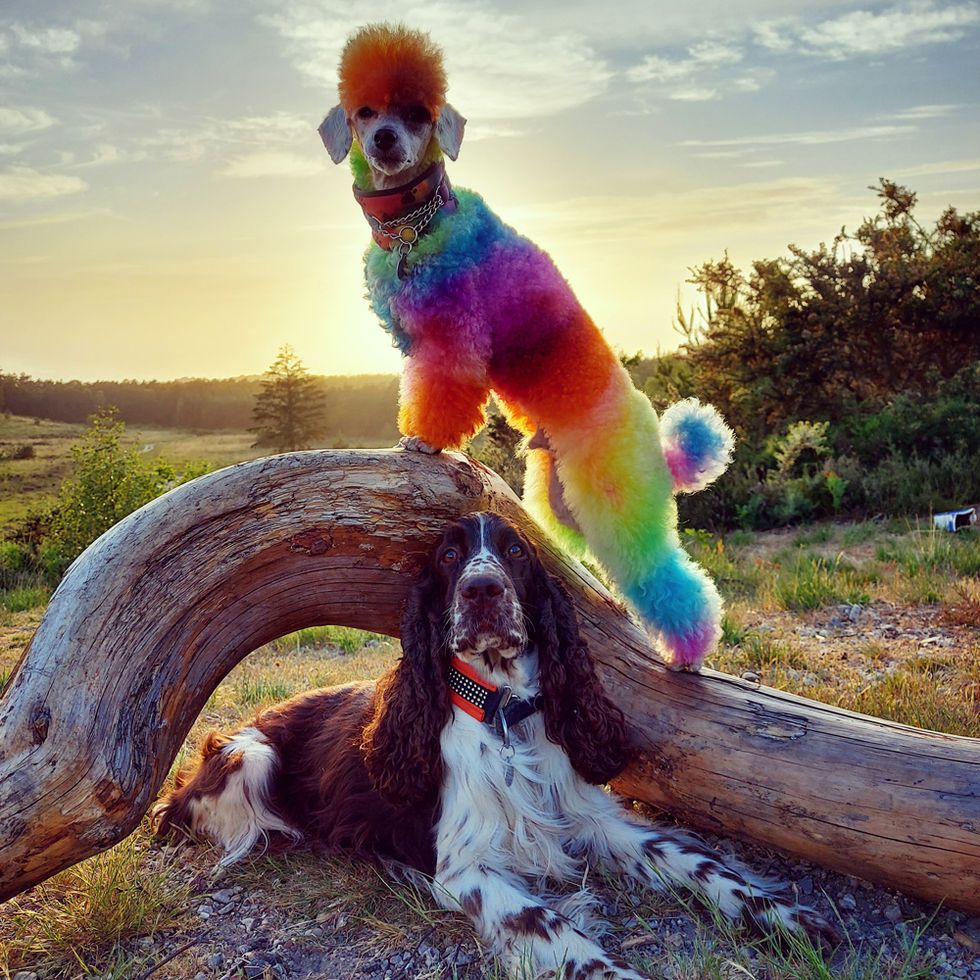 Joey showing his rainbow coat (PA Real Life/Collect)
"Joey absolutely loves being groomed and dyed," she continued. "He hops up on the table and either falls asleep, or plays with a chew toy while I work. There's no pulling of fur or stress involved and it takes no more time than if I was just shampooing and grooming him normally."

And Joey thinks it is only fair and proper that he should stand out from her other dogs, Rosie and Honey, according to Katie, who first brought him home in 2018.
She said:
"He wasted no time getting settled in. He took to lying on Rosie and Honey and having a sleep, like he was lying on the sofa. He thinks he's far too important to sleep on the floor."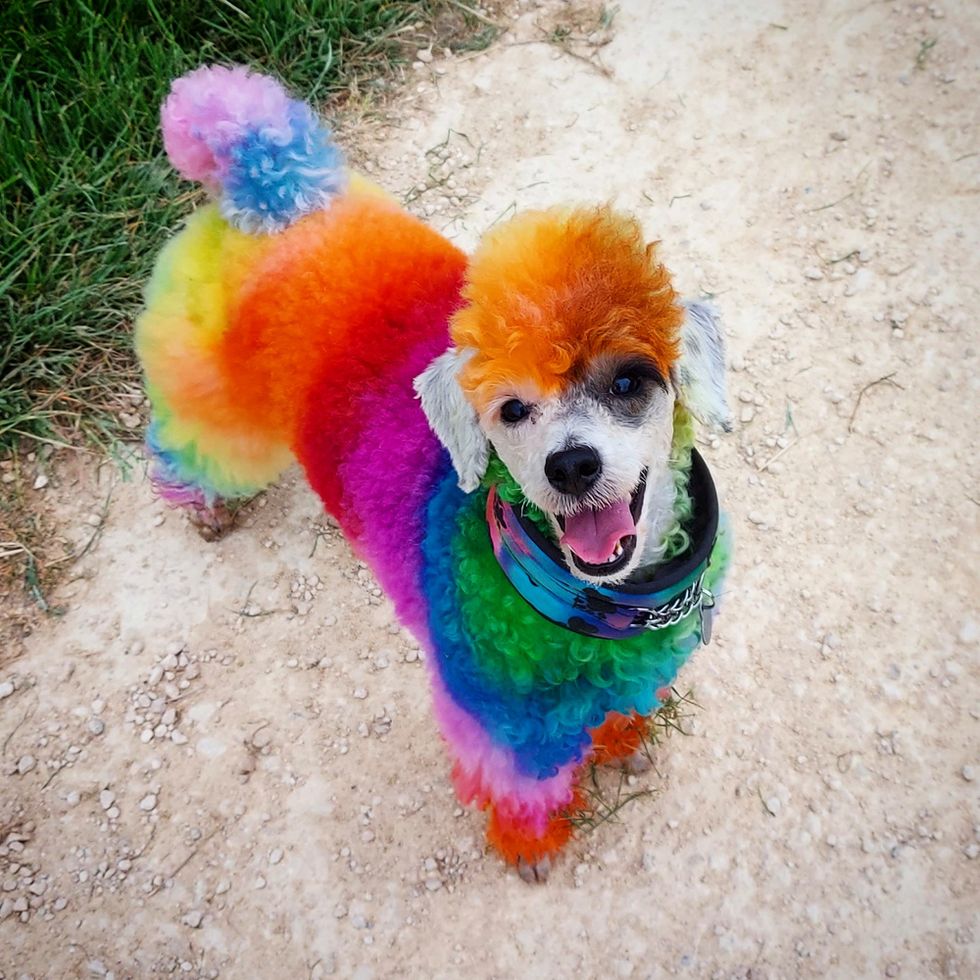 Joey showing his rainbow coat (PA Real Life/Collect)
Learning all about creative dog grooming – which includes animal-safe dye, bling, and even nail polish – through the grooming community, Katie had already seen a few multicolored mutts before she tried it herself in August 2018 on Summer, her springer spaniel who has since passed away.

"Summer, who sadly passed away last year, was quite placid, so she was the best one to try it on first," she said. "I got some chalks and dyes and did a little leopard print design on her."
"When people think of dye, they think of the harsh, chemical-filled ones we use on human hair. But the brand I use for my dogs is vegan and vegetable based."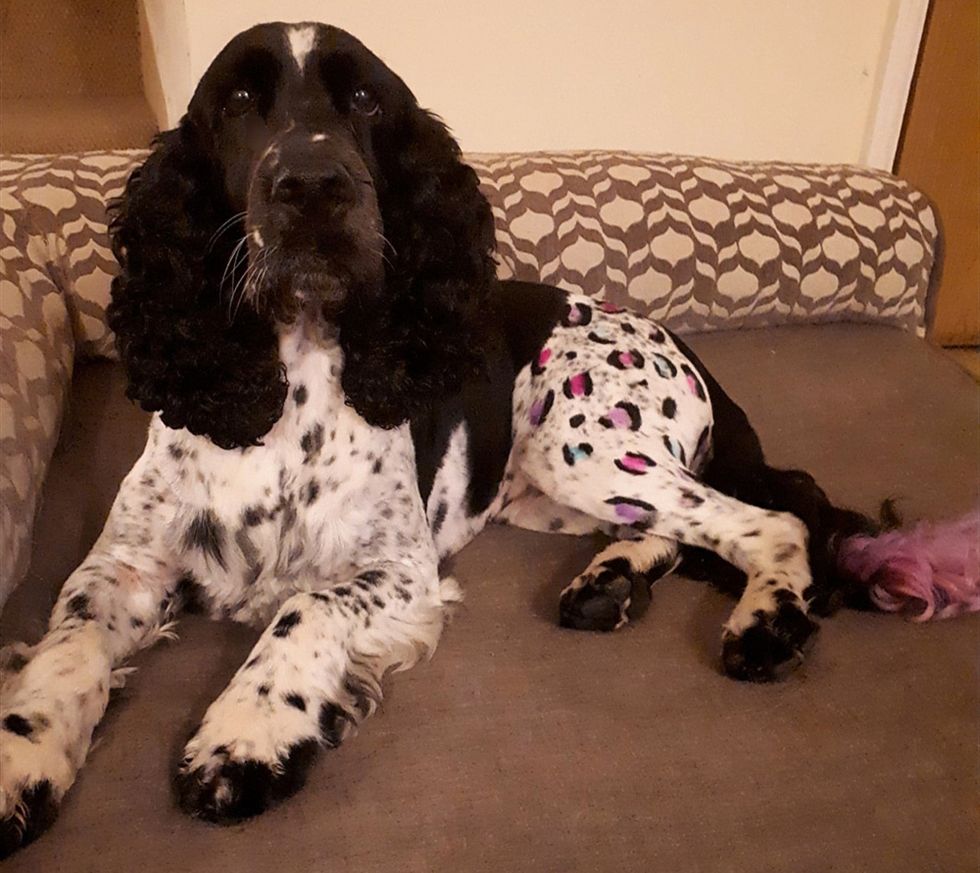 The leopard design Katie did (PA Real Life/Collect)
She added:
"It's so gentle that groomers have even tested it on themselves. It absolutely won't hurt the dogs, and I always patch test first, to be sure."

Meanwhile, Joey was treated to his first flash of color in July 2019, when Katie tinted his tail green and blue and painted some love hearts on his back.
"He looked so sweet," she recalled. "Honey is more nervous than Joey, so I would never dye her, as I don't think she'd like the attention that it brings. He was good as gold, though."
The green and blue love heart design Katie did (PA Real Life/Collect)
Katie continued:
"Creative grooming is quite big in America, but not so much here, so we did turn a lot of heads when he went out."

Lasting around 20 washes, the coloring eventually began to fade.
Next, Katie opted for an all-over green shade, which she joked left Joey looking like "broccoli" and he has also sported various different colored tails.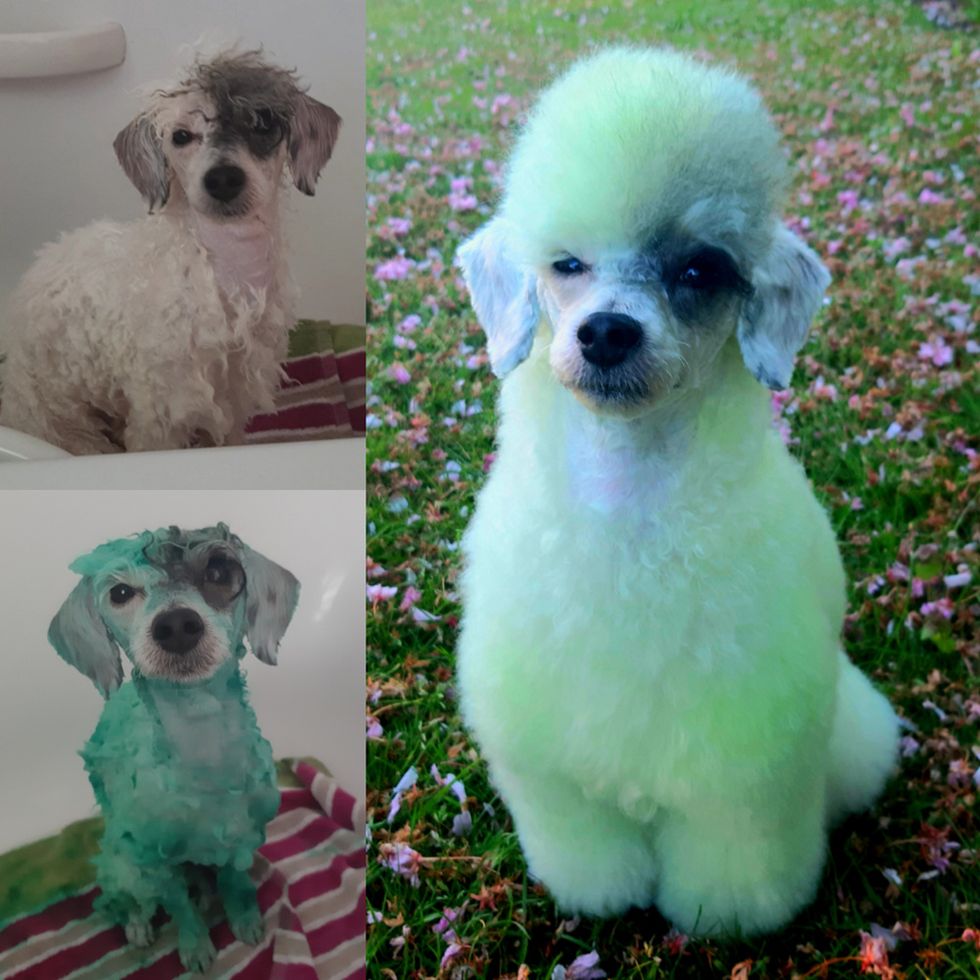 The stages of Joey's green dye (PA Real Life/Collect)
But, scrolling her Instagram feed in April, shortly after the nationwide lockdown began, she noticed lots of people making rainbow-themed creations – a symbol for those wanting to show solidarity with key workers.

Keen to add her support, she decided to use Joey as a living canvas, and ordered some non-toxic Opawz dyes online.
And, on April 29, once they had arrived, she got to work – taking two hours to transform his naturally white coat into a rainbow delight.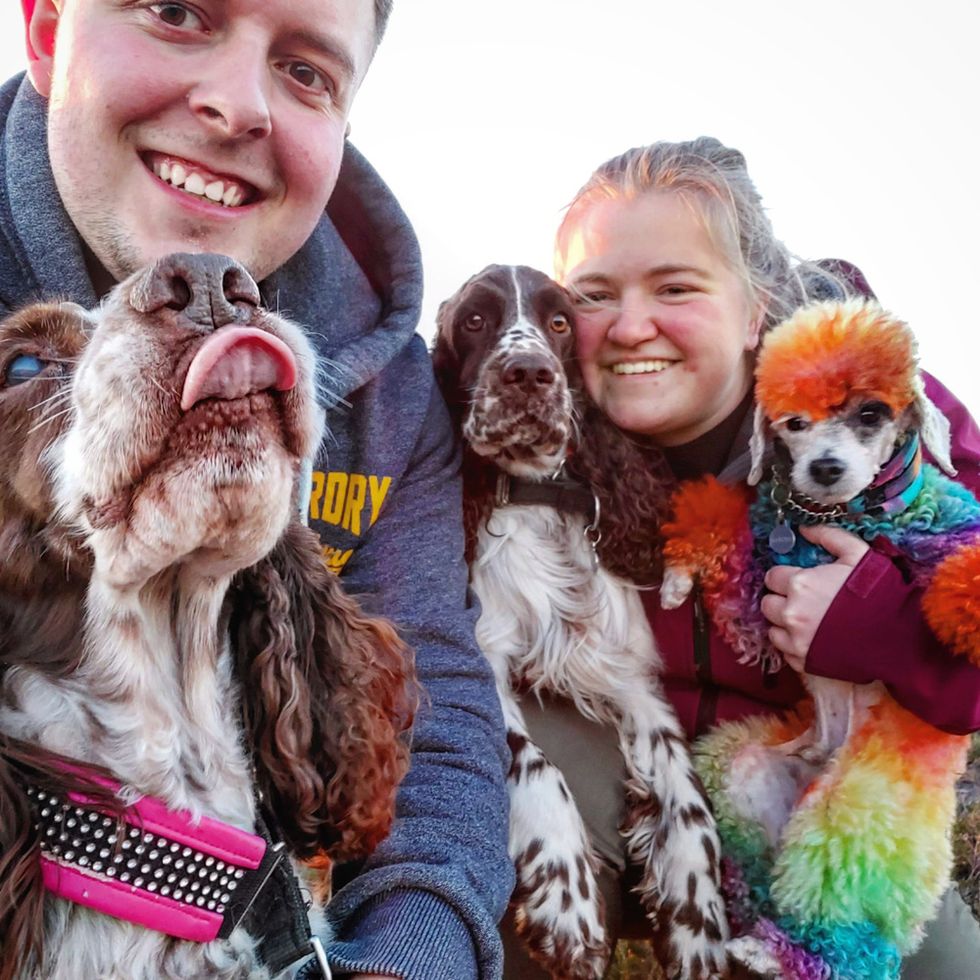 Katie with her boyfriend Jamie and three dogs (PA Real Life/Collect)
"I don't expect everybody to like it, but Joey is such a happy little thing, and loves the fuss and attention he gets when we go out," she said.

"Obviously, nobody can physically pet him right now, but people are always stopping us to take photos of him. He's a bit of a local celebrity!"
"Joey's rainbow fur is my way of bringing a little happiness to the world at a difficult time. All the work the NHS and key workers are doing is incredible."
Joey, Honey and Rosie (PA Real Life/Collect)
Katie concluded:
"Nobody could have predicted this was going to happen, but they have been so strong."

"They are heroes, and Joey and I loved to go out at 8pm every Thursday to clap for them."