When Donald Trump decided to run for President, he created an alliance with Evangelical Christian leaders who preach the divisive "prosperity gospel."
As opposed to teaching examples from the life of Jesus Christ, preachers of the prosperity gospel claim the more money you give them, the more money God will give you.
---
As such, rather than relief efforts for the poor, those unemployed due to COVID-19 social distancing efforts or the housebound elderly, Evangelical Christian televangelists are cashing in wherever possible by promising immunity to the Novel Coronavirus through donations to them or the sales of trinkets or debunked "health" products.
One such person cashing in is the official spiritual adviser to President Trump, Paula White-Cain. White-Cain—who uses just Paula White for her church—makes frequent visits to both the White House and Mar-a-Lago.
The controversial evangelist took to social media to make her pitch to cash in on her followers' health fears.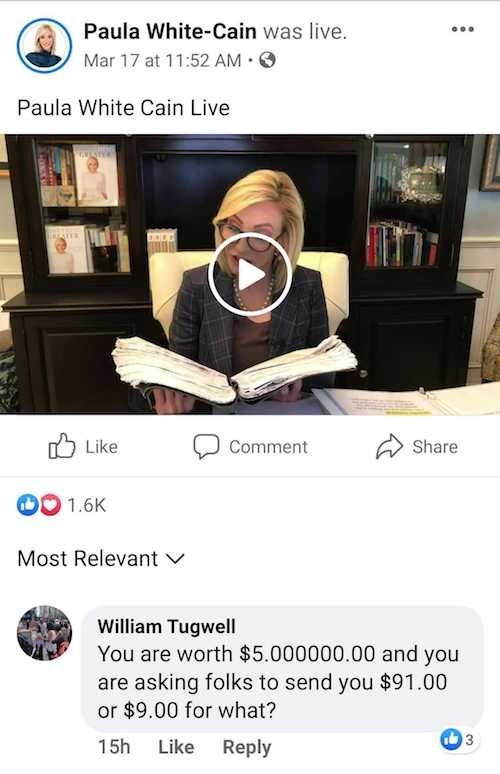 Paula White-Cain/Facebook
Like many of her fellow prosperity gospel televangelists, White-Cain is a multimillionaire.

In her video, White-Cain refers to her ministry as a "hospital." She asks her followers to send "Paula White" $91 in reference to Psalm 91.
"Whoever dwells in the shelter of the Most High will rest in the shadow of the Almighty. I will say of the Lord, 'He is my refuge and my fortress, my God, in whom I trust.' Surely he will save you from the fowler's snare and from the deadly pestilence...."
You can see White-Cain's full video here.
Paula White's Coronavirus Prayeryoutu.be
White-Cain said:
"We are a hospital to the sick... not necessarily the physically sick."
"We are a hospital for those who are soul-sick, those who are spiritually sick."
"Don't forget, now is not the time to abandon your covenant with God. It's a time that you go deeper. Stand with your pastor."
White-Cain's plea for cash to plant a seed for her "hospital" drew criticism from many.
Sadly, many people will send money for the false promises from multimillionaire Evangelical Christian pastors whose prosperity gospel has made only them rich.
Social distancing and washing your hands is free folks.
The book PTL: The Rise and Fall of Jim and Tammy Faye Bakker's Evangelical Empire is available here.