Tag
@firepigpenny/Instagram
An Instagram piglet just posted anti-vaxx sentiments and fans are appalled.
During the time of the Coronavirus pandemic, people have been scared, uncertain and burned out from stress. It's therefore not surprising people have been seeking out little sources of joy to keep themselves going in these dark times.
But what if that source of joy began posting politically dangerous rhetoric?
This is what happened with beloved Instagram influencer Penny the Fire Pig.
Penny the Fire Pig belongs to Brooklyn firefighter Darren Harris. Harris reportedly adopted Penny from a farm in Virginia as a present for his daughter, who was afraid of dogs.
After adopting Penny, Harris began posting pictures of her on Instagram.
The photos went viral, causing Penny to become a small-time influencer with over 12,000 followers.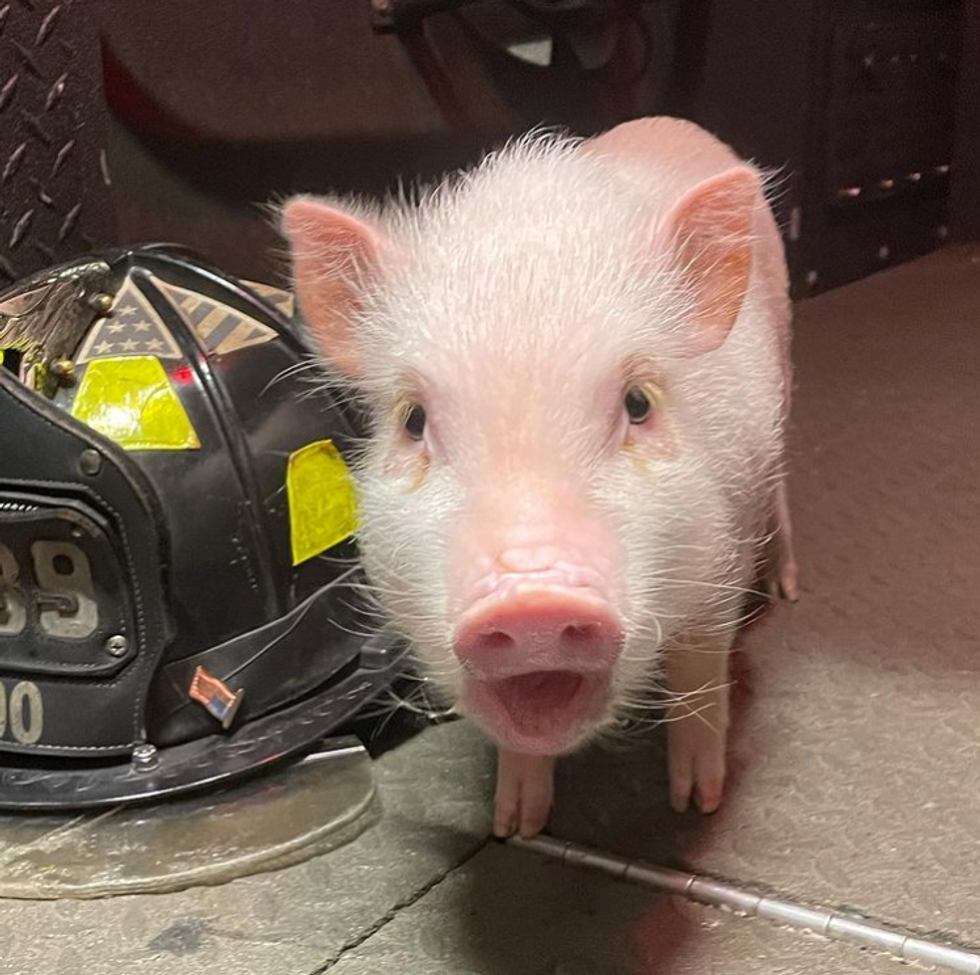 @firepigpenny/Instagram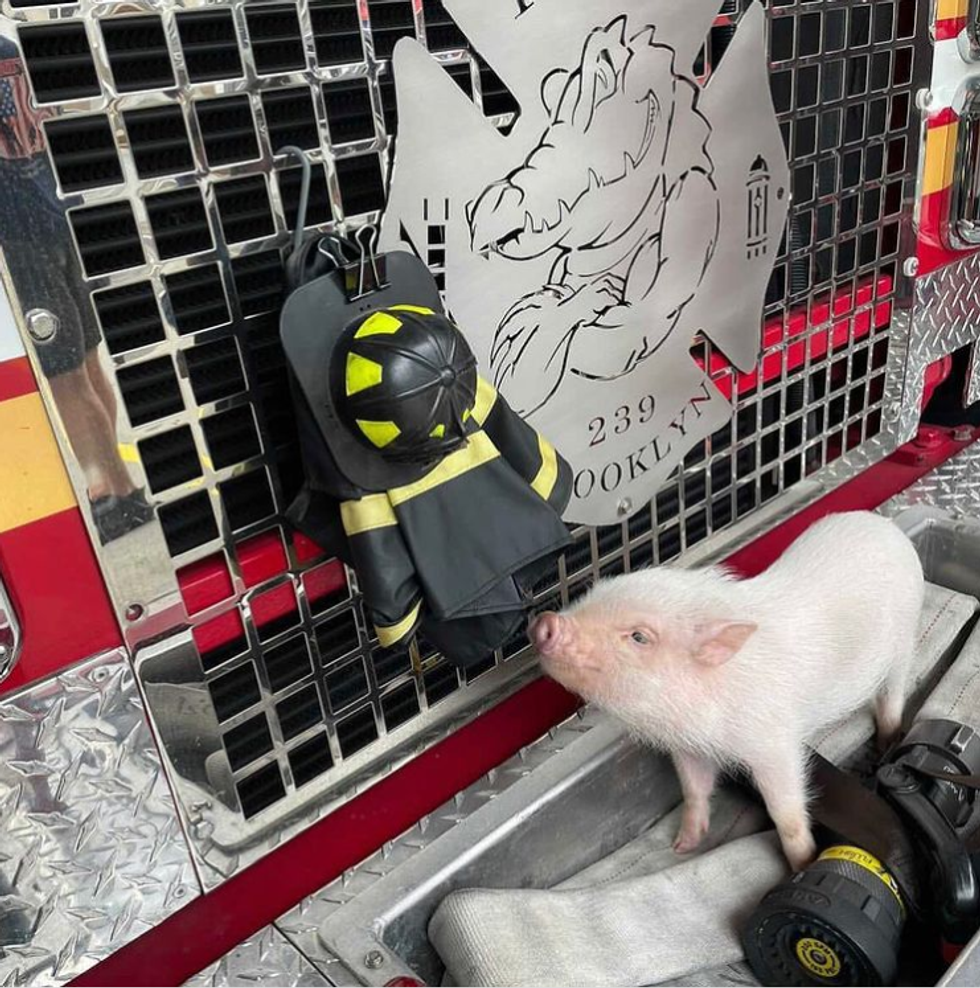 @firepigpenny/Instagram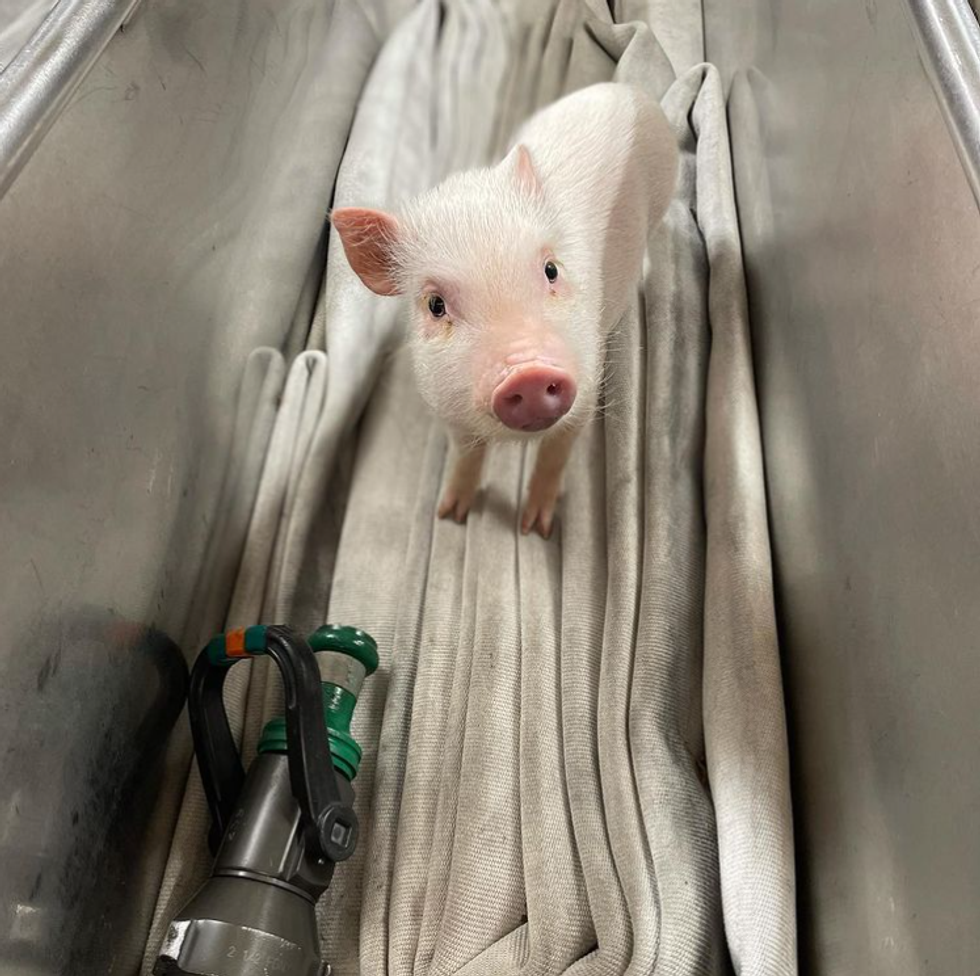 @firepigpenny/Instagram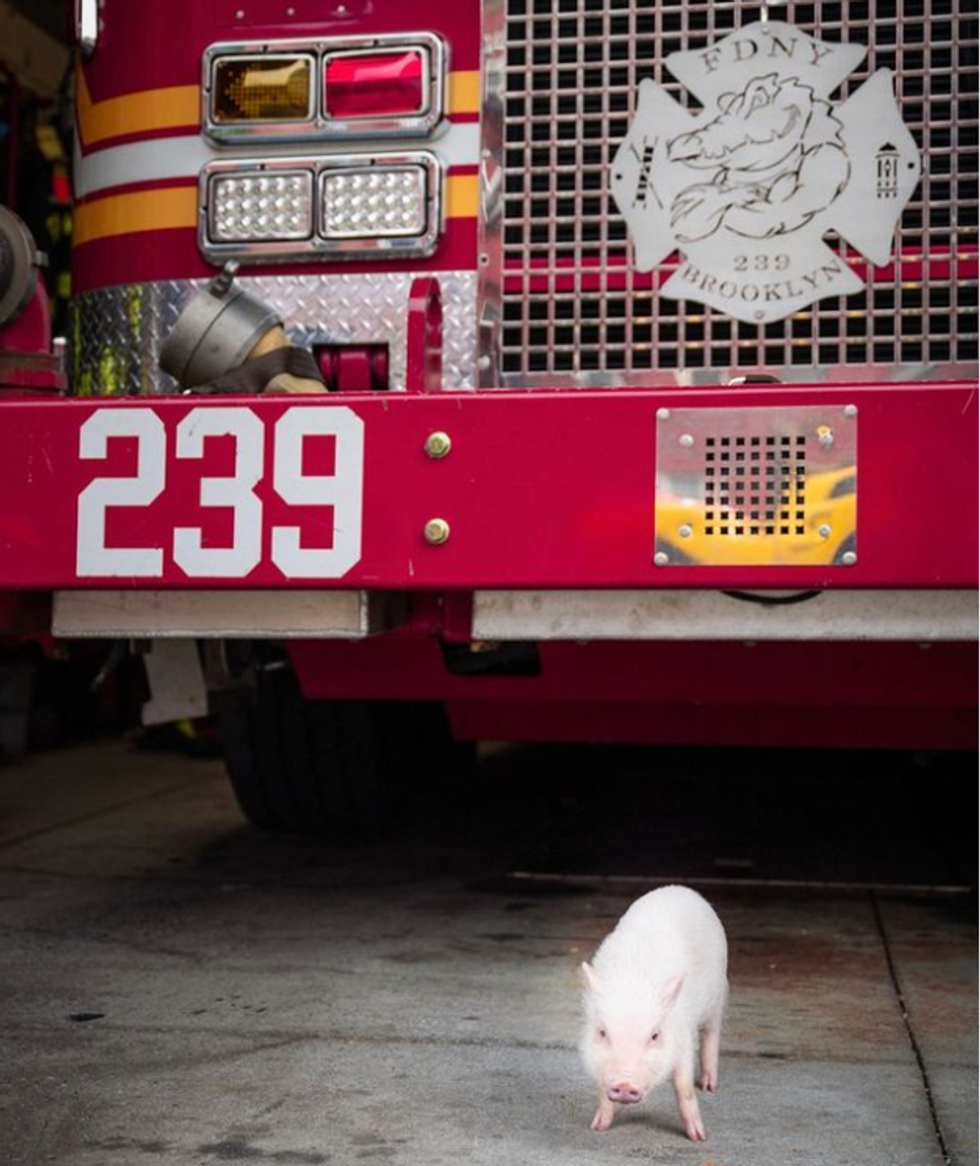 @firepigpenny/Instagram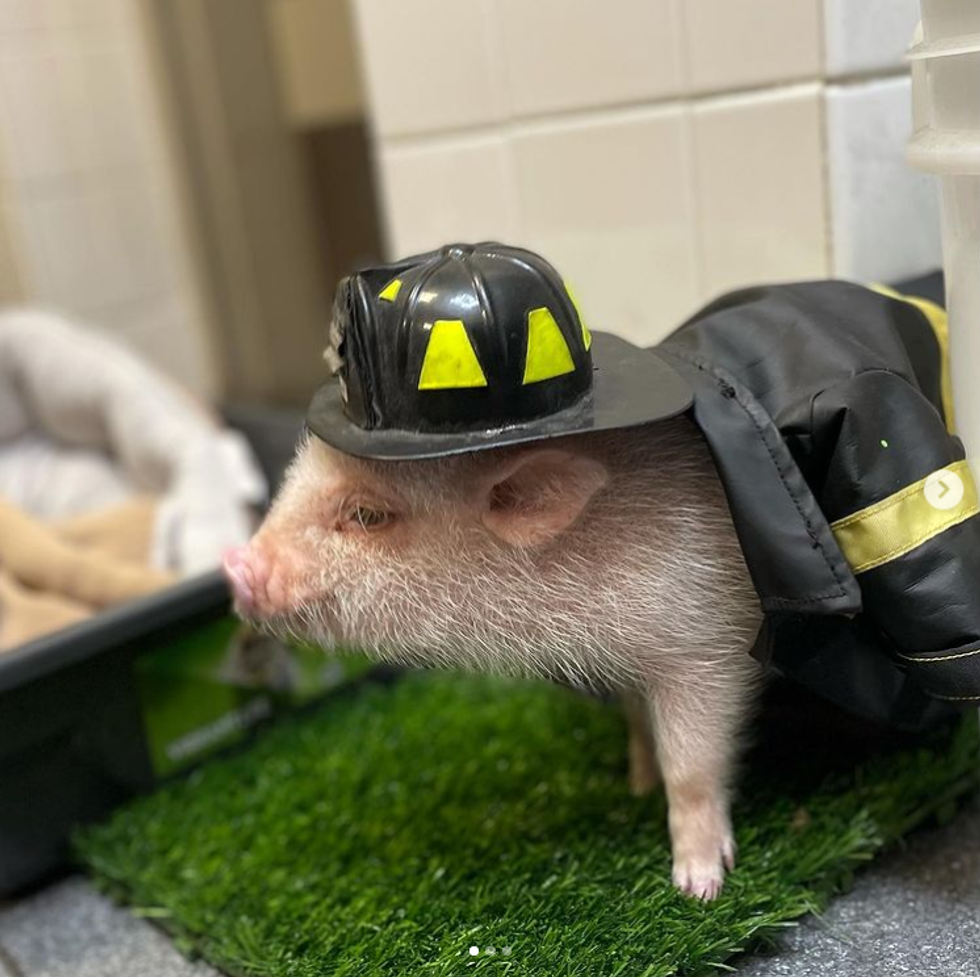 @firepigpenny/Instagram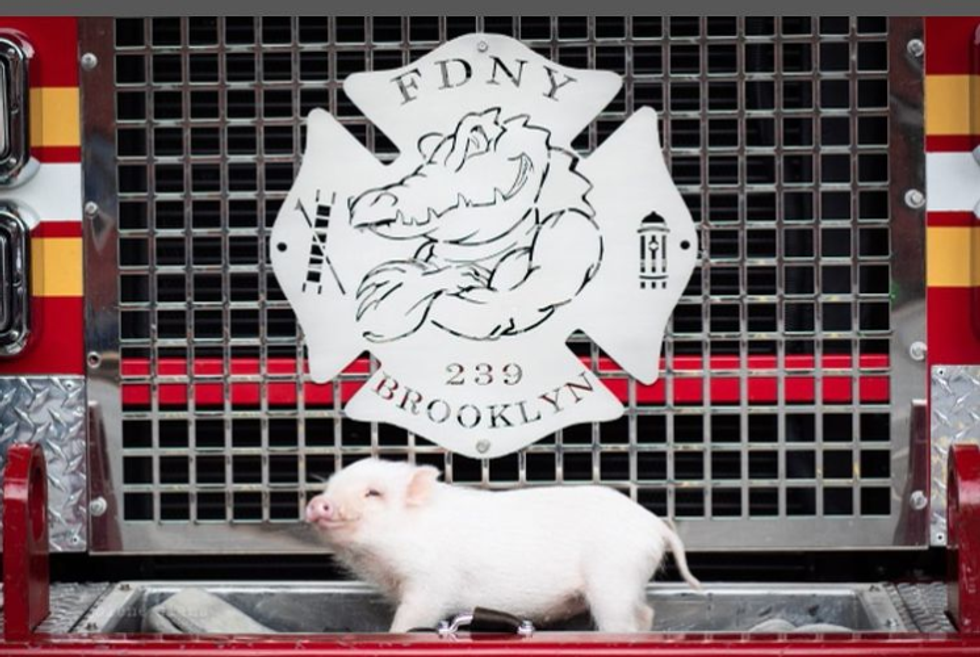 @firepigpenny/Instagram
In fact, Penny was such a welcome sight she even became the (unofficial) mascot of Brooklyn's Engine 239 chapter of the Fire Department of New York (FDNY).

Penny's Instagram was filled with adorable photos of her in the fire station, often wearing fire safety gear or teaching about fire safety for kids.
Imagine everyone's surprise, then, when the Penny the Fire Pig Instagram account posted in protest of the New York vaccine mandate.
New York, which currently has a mask mandate in effect, announced the introduction of a COVID-19 vaccine mandate for city workers to be vaccinated with no option to opt- or test-out.
This mandate covers the FDNY and requires all firefighters show proof of vaccination or risk termination.
Let the NYPD police officers and FDNY fire fighters lose their government pensions, colossal OT checks and beyond comfortable salaries because they're afraid to get a tiny wittle shot.

Give the money saved back to public education, where over 96% of NYC teachers are vaccinated.
— B.W. Carlin (@BaileyCarlin) October 26, 2021
In protest, Penny's Instagram shared a post promoting resistance to the mandate, arguing should the mandate take effect then a whopping 50% of FDNY would be laid off.
Penny the Fire Pig's post regurgitates a lot of these talking points, stoking fear that firehouses will shut down: "if you have to call 911 for your family member having a heart attack...the fire department WONT BE ABLE TO COME" the post says. pic.twitter.com/2UPNr9MKYC
— Ej Dickson (@ejdickson) October 28, 2021
The post stated:
"WHAT DOES THIS MEAN? If you have to call 911 for your family member having a heart attack or your home starting to burn down, the Fire Department WON'T BE ABLE TO COME."
The post also urged citizens to contact their local political officials and "let them know you stand with us."
Unsurprisingly, it turns out the post was made NOT by the beloved piglet, but rather by her owner, Harris. He has since apologized for sharing the post to Penny's account.
He said:
"I'm vaccinated and understand importance of the shot."
"I just don't want any firehouses shut down."
The post has since been deleted, but the damage to Penny's wholesome image seems to have already been done.
Harris said the reason he deleted the post after the backlash it created was because Penny was working on a "fire safety children's book, and does not have business [expressing] personal views."
Penny's fans are beside themselves over the incident.
And here we say hello to the beginning of the end of 2021
— LoL COOL J (@Tronthearcher) October 29, 2021
The whole internet loves Penny the Fire Pig, a lovely piglet that lives at a Park Slope firehouse! *5 seconds later* We regret to inform you the pig is anti-vax https://t.co/kq7YGmPeJI
— amelia burger (@ameliaburgs) October 28, 2021
New York City mayor Bill De Blasio said the mandate was about keeping people safe and the FDNY needs to get with the program. Despite Harris' post, the latest reports show FDNY is at 91% vaccinated in compliance with the mandate.
He said:
"These are organizations used to crisis and disaster and they know how to keep things going."
"I want to note, we're not looking at this from the budgetary perspective, we're looking at this from how to keep people safe, how we end the Covid era, how we turn the corner in the biggest crisis in our history. That's our focus."