When it comes to dealing with trolls online, Lil Nas X continues to show haters are no match.
The out LGBTQ+ music artist–who rose to stardom with his country rap "Old Town Road,"–is also an expert at trolling.
When a hater hacked his Facebook account and left an anti-Pride message just in time for the start of Pride month, Nas was more amused than offended.
The hacker wrote as the rapper:

"F*CK PRIDE MONTH. I faked being gay bitch. Ty for the $."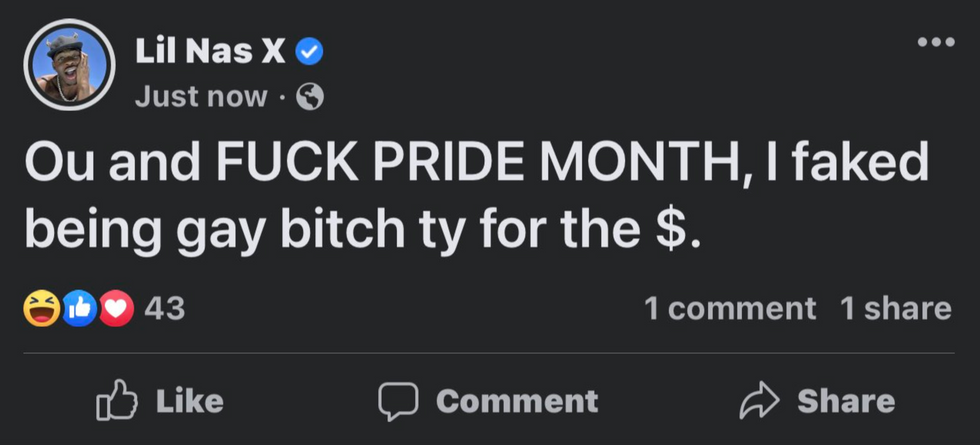 @lilnasxmajor/Twitter
When he shared the screenshot message, Nas retweeted it with the caption:
"i'm screaming because this is something i would actually say."
Fans got a kick out of Nas' amusement over the hacker's message.
Nas wasn't kidding about the comment being something he would say.

After coming out in 2020, he pranked fans with an April Fool's joke posting "i was never gay. i said it to build up fuel for aprils fools day. ha got u guys."
But his hetero ruse didn't last long.
Thirteen minutes later, he tweeted, "ok. I'm gay again."
And in 2021, he had words for trolls who accused him of coming out for attention.
He tweeted:

"y'all love saying i'm being gay for success but can't name 5 successful gay male artists in the last 10 years to save your life."
At this point, it's a mystery as to why homophobic haters consistently try to bring him down when Nas continuously demonstrates how unaffected he is.
Happy Pride!