Actress and wellness entrepreneur Gwyneth Paltrow just grabbed some serious attention to celebrate her 48th birthday.
Posing totally nude in an Instagram post, covered up only by her own arms and legs, the film star and creator of the Goop fashion and wellness brand managed to illustrate that a picture really is worth a thousand words.
In Paltrow's case, it was worth a product plug, some body-positive talk in the comments, and a totally embarrassed teen daughter.
Her caption on the post captured it well:
"In nothing but my birthday suit today... thank you all so much for the birthday wishes and thank you to @goop 's insanely amazing brand new body butter for making me think I can still get my kit off. 💙 #goopgenes"

The post attracted nearly a million likes and just over 17,000 comments from celebrities and fans alike. And of all those reactions, that of Paltrow's 16-year old daughter, Apple Martin, was one of the most pointed.
Apple, whose father is Chris Martin, front man of the British band Coldplay and Paltrow's ex-husband of 13 years, was aghast at her mother's bold celebration.

@applemartin/Instagram
Paltrow showed no shame whatsoever in response to her daughter's online outburst. She replied with some smiley face emojis and moved on to the slew of positive feedback that so many people gave in the comments.

Others in comment section, however, got a kick out of Martin's tongue-in-cheek eruption.

@mrrberry/Instagram

@cindyj/1219/Instagram

@sarahelizabethcarr/Instagram
In additional to Martin's response, plenty of encouragement came from fellow celebrities. They doled out happy birthday wishes, pure enthusiasm, and kind words about Paltrow's appearance.

@oliviawilde/Instagram

@parishilton/Instagram

@demimoore/Instagram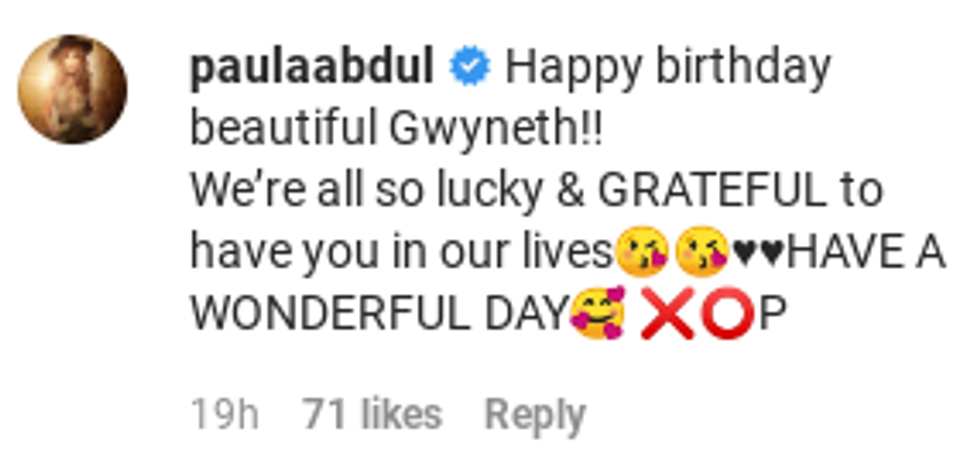 @paulaabdul/Instagram

@hollyaudreywilliams/Instagram
Apparently all those positive reactions even rubbed off on Apple Martin, who came around with a follow up compliment.


@applemartin/Instagram
Aside from their cursory interactions within the Instagram comments section, here's hoping that Martin was able to exchange some kind, thoughtful words for her mom's big day.