Eric Spring
Eric Spring lives in New York City. He has poor vision and cooks a good egg. Most of his money is spent on live music and produce. He usually wears plain, solid color sweatshirts without hoods because he assumes loud patterns make people expect something big. Typically, he'll bypass a handshake and go straight for the hug.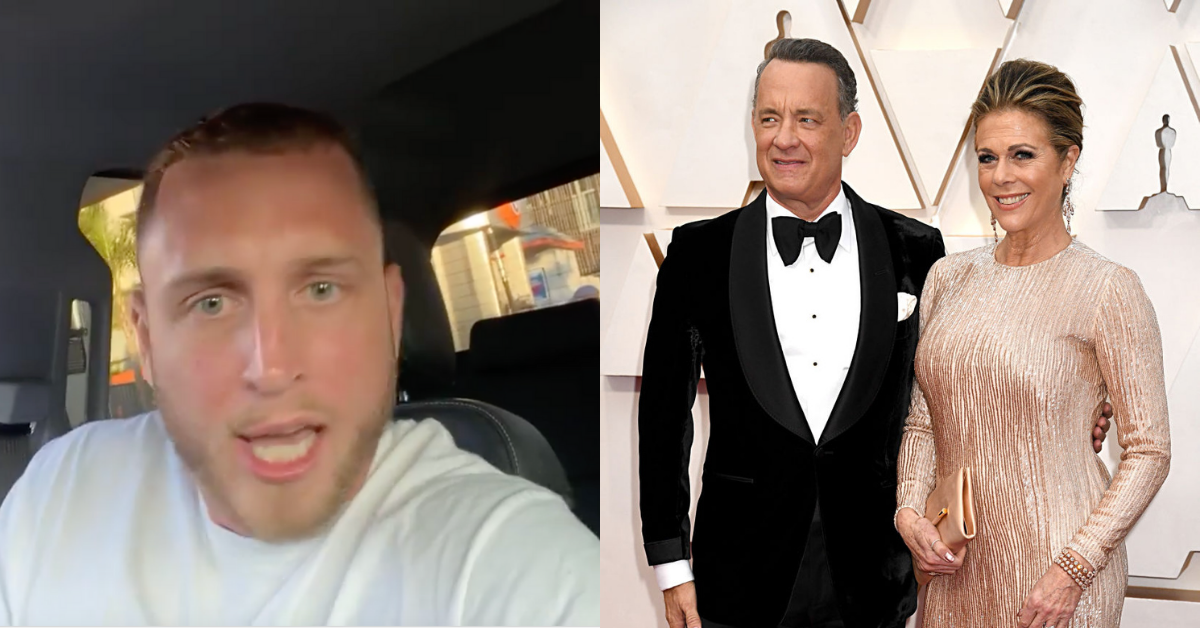 @chethanx/Instagram; Jeff Kravitz/FilmMagic via Getty Images
In a shameless social media blunder, self-described rapper Chet Hanks—who is indeed the son of Tom Hanks and Rita Wilson—recently fired off a chaotic anti-vax rant.
Hanks' anti-scientific views—he said COVID was no more than "the flu"—were made all the more confusing when people recalled both his parents came down with the virus in the early days of the pandemic last March.
The video, originally posted to his Instagram, began with the "White Boy Summer" proclaimer lulling viewers into the hopes he had his head on straight.
He kicked off with what seemed like an articulate PSA:
"Look, I've been kinda on the fence about this for a while, that's why I've never spoke on it. But with the amount of people that I know recently that have gotten COVID..."
"...and with, like, the numbers rising, I think it's important for me to say, like, I got the vaccine. I think everybody should. I think it's really important that we all do this just as, like, citizens [and] as Americans. We have to look out for each other."

But Hanks' time in the realm of facts only lasted so long.
After saying all of that, he completely changed his tone and message.
"Sike, bi***! If it ain't broke don't fix it. I ain't never had COVID. You ain't stickin' me with that motherfu**in' needle."
"It's the motherfu**in' flu. Get over it, okay? If you're sick, stay inside. Why we working around y'all? If you're in danger, stay your a** inside. I'm tired of wearing a motherfu**in' mask."
With Hanks giving both pro-science and anti-science sentiments roughly equal real estate in the clip, it's difficult to decipher if the anti-vax rant represents Hanks' honest views or if the post is a trolling, publicity ploy.
After all, Hanks' parents tested positive for the virus in March of 2020, vowing to donate their blood to help with treatment focused research.
Chet Hanks himself even appeared in Sasha Baron Cohen's Borat 2, a satire hinged heavily on mocking anti-scientific claims surrounding the pandemic.
Only time will tell if Hanks is gearing up for another more serious message, or if the apple has indeed fallen very very far from the tree.
In the meantime, Twitter is not giving Hanks the benefit of the doubt.
Tom Hanks' son, rapper Chet Hanks has proven himself to be a role model once again by advocating his followers to g… https://t.co/GQhKRugrWt

— Mike Ramos👑🐕 (@Mike Ramos👑🐕) 1628563298.0
@RzstProgramming As a white dude who decided to become a 'rapper' with the financial security of having two Hollywo… https://t.co/kX2u1qEAME

— Concerned Citizen (@Concerned Citizen) 1628619327.0
I was going to get vaccinated, but then Chet Hanks convinced me not to.* *said nobody in the world ever

— chriscarmichael (@chriscarmichael) 1628678572.0
For me, getting back to normal also means unlearning that Chet hanks exists

— r$leezy (@r$leezy) 1628680850.0
chet hanks came up with white boy summer and we're all surprised he's anti-vax? 😭 https://t.co/TZqRJgZrtl

— layla (@layla) 1628620903.0
white boy summer comes before the white boy fall https://t.co/rnXMGGjZOT

— Douglas Chu 鞠一道 (@Douglas Chu 鞠一道) 1628640113.0
Others zeroed in on the idea Chet Hanks could come from such pleasant parents.
I really struggle with Chet Hanks as a concept. Like, how does someone like this happen? https://t.co/no2NVDhTl2

— Alex Paknadel (@Alex Paknadel) 1628674259.0
Pretty sure Chet Hanks is the result of some sort of monkey's paw curse. How else would Tom Hanks and Rita Wilson e… https://t.co/1htt04eyU6

— CaterinaCat (@CaterinaCat) 1628673832.0
Poor Tom & Rita. They did the best they could with this one. https://t.co/18jtChAqKZ

— Mysa Mami (@Mysa Mami) 1628605227.0
Tom and Rita every time he speaks https://t.co/JTEOeVuefx https://t.co/xHEaL344u5

— The User Formerly Known As (@The User Formerly Known As) 1628604998.0
Now is a good time to acknowledge Hanks' opinion is, of course, a popular one.
Only 50.8% of U.S. residents are fully vaccinated, even as the Delta variant rips through the country causing ICUs in Florida and Texas to fill to capacity.