Disability advocate and fashion model Bri Scaleese said she lost her independence after Delta Airlines broke the frame of her wheelchair six weeks after her best friend lost hers by the same airline.
In a viral TikTok video, Scaleese said on the verge of tears:
"When I spoke to the representative from the wheelchair repair company, they said, 'You know this will take a really long time to replace.'"
Because airline protocols do not allow disabled passengers to sit in or with their wheelchairs during flights, the airlines themselves transport the wheelchairs.
Too frequently, the wheelchairs—which many owners are completely dependent on and are considered their lifeline—are returned in an irreparable state due to negligence.

Scaleese added:

"So, today my freedom and independence was taken away. I don't know how I'm gonna live my life."
@briscalesse

@delta today I'm losing my independence only 6 weeks after my best friend lost hers. How. How. How.
People expressed their outrage over the Delta's mishandling of her wheelchair.

@briscaleese/TikTok

@briscaleese/TikTok
Delta was tagged in the comments by people demanding the airline do better.

@briscaleese/TikTok

@briscaleese/TikTok
@briscaleese/TikTok

@briscaleese/TikTok

@briscaleese/TikTok
@briscaleese/TikTok
In May, Scaleese shared a video showing her disabled friend, Gabrielle DeFiebre, in tears after the same airline irreparably damaged her power wheelchair.

"Today my heart broke watching my best friend sob because Delta broke her wheelchair," Scaleese wrote in the caption.
Many wheelchair users have custom wheelchairs built to their needs, specific disabilities, and personal preferences. Replacing one is not a quick process, as some custom wheelchairs can take weeks or months to build.

As a Delta crew member inaudibly explained something to DeFiebre during disembarking, the disheartened passenger was heard in the video sobbing:
"This is my life. This is the only way I can live my life."
The mishandling of wheelchairs by airline employees has been an increasingly problematic issue.
The Washington Post reported that an estimated 15,000 wheelchairs have been damaged or misplaced since 2018 – which averages to 29 lost or broken wheelchairs a day.

Scaleese later took to her Instagram story and revealed the consequences of damage done to the wheelchair's frame.
A short clip showed the second guiding wheel appeared to have been knocked out of alignment, preventing it from having any contact with the ground.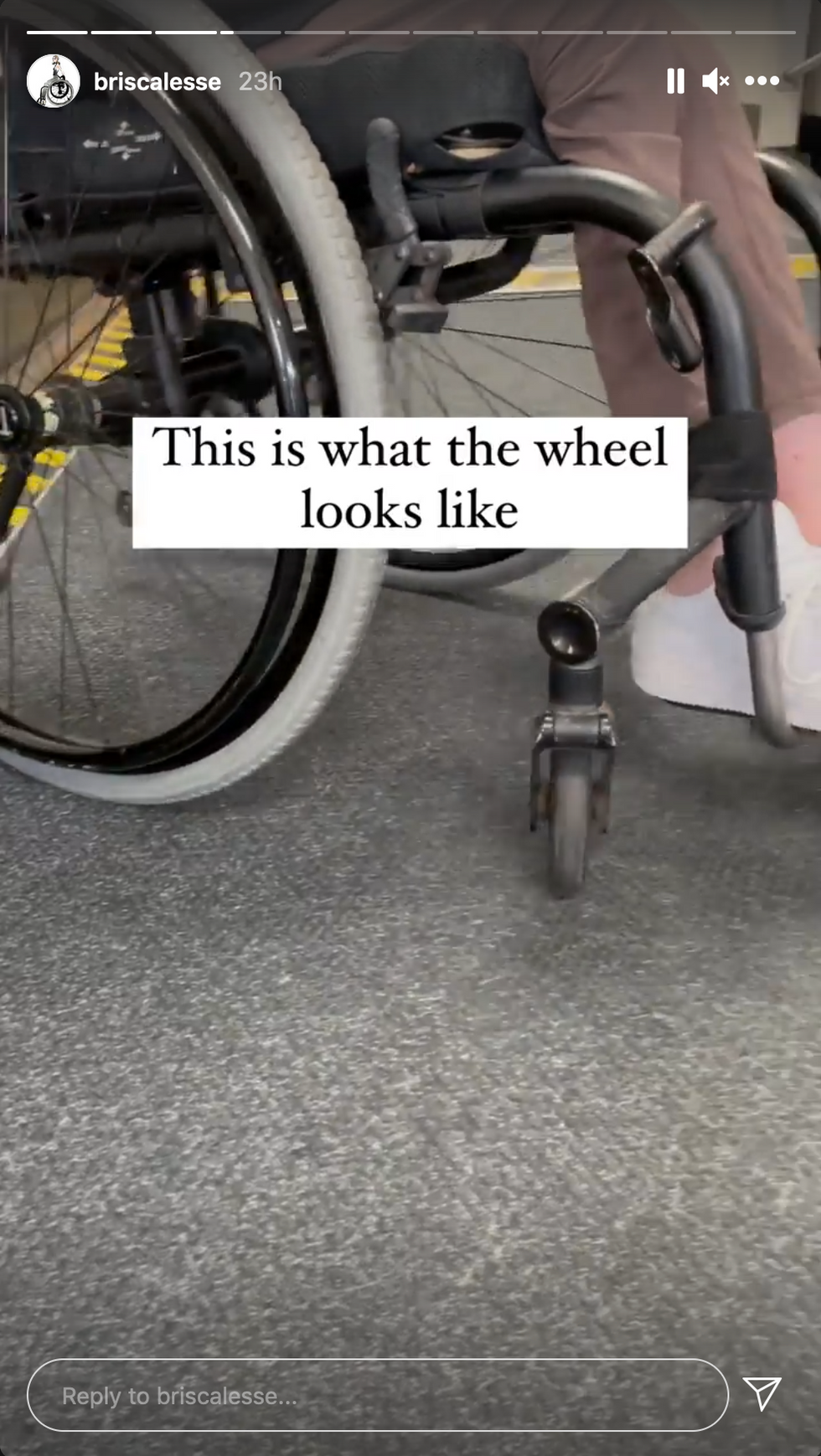 @briscaleese/Instagram
@briscaleese/Instagram
Scaleese said in her IG story she will be given a replica of the wheelchair she has been using and Delta Airlines will be covering the cost of the replacement.

"This should never happen to any of us," she said, adding the damaging of wheelchairs by airlines is a "systemic issue" that needs to change.
"I don't want to be afraid to travel."