People will not give you a house just because a psychic says they will. You actually need to pay for it.
It's a lesson one woman is learning the hard way after she spent the $38,000 (that's thirty eight THOUSAND US dollars) deposit she was supposed to use for the home she was trying to buy.
Mortgage expert Jordan Nutter posted a TikTok video about a client. In it, she acted out her side of the phone call about that disappearing deposit...
... and explains where the psychic comes into play.
@anutterhomeloan

Don't do this, for the love of god if you want this house don't do this. #anutterhomeloan #homebuyingtips #firsttimehomebuyer #mortgage
The video has racked up thousands of views and comments from people who are absolutely shocked.

Through Jordans side of the call we learn that the client, fictitiously named "Leah," was all set to close on a house. Leah sent bank statements two weeks ago showing that the $38k deposit was in the account; but the updated bank statements reflected an almost empty account.
Jordan, confused, called Leah for clarification about where the money went and was told that Leah spent it.
She spent it on a psychic, who she called to ask whether or not she was going to get the house.
Over the course of about a week, Leah racked up so many transactions with that psychic that she spent thirty seven of the thirty eight thousand dollars.
She wasn't concerned, however, since the psychic assured her that the sale would go through. It was "just gonna happen" - but the psychic didn't know where the money was going to come from.
Jordan needed a moment to confirm what was happening: Yes, Leah HAD the money to buy the house, but called a psychic about buying the house and spent that money on the psychic; thus preventing her from buying the house.
The buyer didn't agree on that last part since the psychic told her the house would close.
Flabbergasted, Jordan explained:
"We don't have any money!"
before giving up and opting to just call Leah's agent instead.
Unsurprisingly, the comments section was just as caught off guard as Jordan was.

@anutterhomeloan/TikTok

@anutterhomeloan/TikTok
People who had gone through closings before had a lot to say.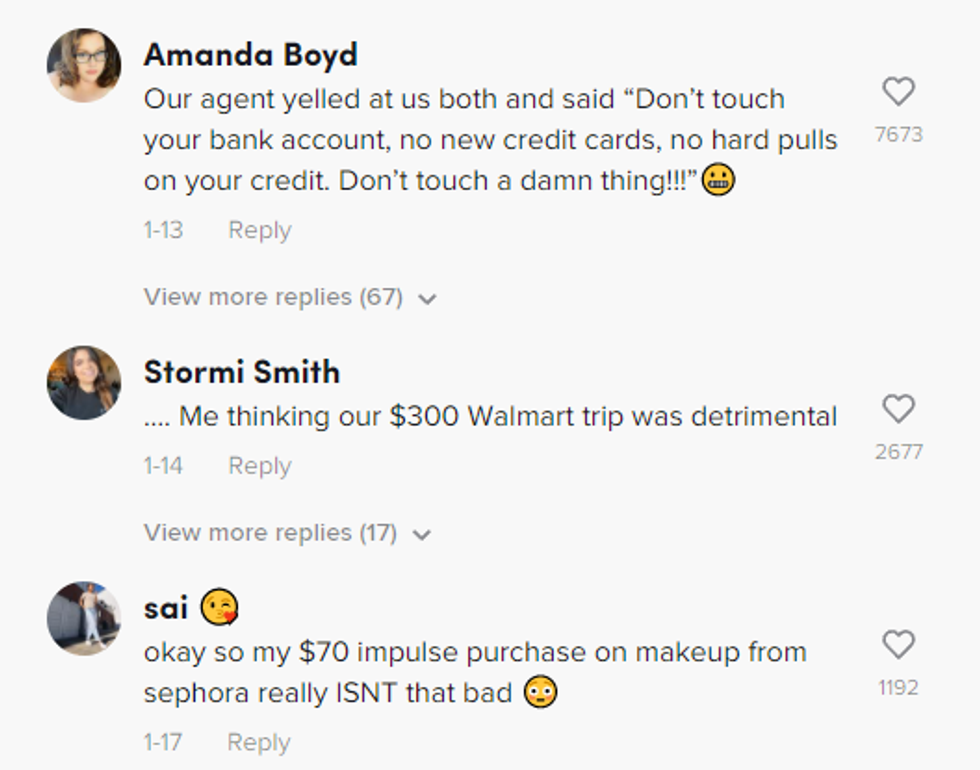 @anutterhomeloan/TikTok

@anutterhomeloan/TikTok

@anutterhomeloan/TikTok
But so did everyone else.


@anutterhomeloan/TikTok

@anutterhomeloan/TikTok

@anutterhomeloan/TikTok

@anutterhomeloan/TikTok
In what is likely a shock to no one, the closing did not, in fact, "just happen."