A cheating husband is in a "blind panic" after contracting the coronavirus while on a secret rendezvous with his mistress in Italy–where there has so far been 35,713 confirmed cases and 2,978 deaths reported.
According to The Sun, the unnamed man in his 30s told his wife he was going away on a business trip somewhere within the U.K.
---
When he returned from his trip, he reported signs symptomatic of the flu.
He confessed his transgression to public health coordinators after test results confirmed he was infected with COVID-19.
His wife is in self-quarantine in their home in northern England but has no idea how her husband became infected.
A source told the paper that the patient–who was described as a "well-heeled and with a high-flying job"–was in the talk of public health officials.

The source pointed out that in a different situation, the "case would be funny if it wasn't quite so serious."

"The man confessed what he'd been up to in Italy, and that his wife has no idea."
"She thinks he just picked up the disease on his business trip away."
The husband protected the identity of his mistress after getting tested for the Novel Coronavirus.

"Although the patient admitted to medics what had happened, he said nothing would persuade him to name his mistress."
The man is expected to recover, given his age.
In most cases, the elderly demographic has the highest death rate from the coronavirus; however, an analysis provided by the Centers for Disease Control and Prevention did mention that Millennials are not invincible and could suffer severe health risks from COVID-19.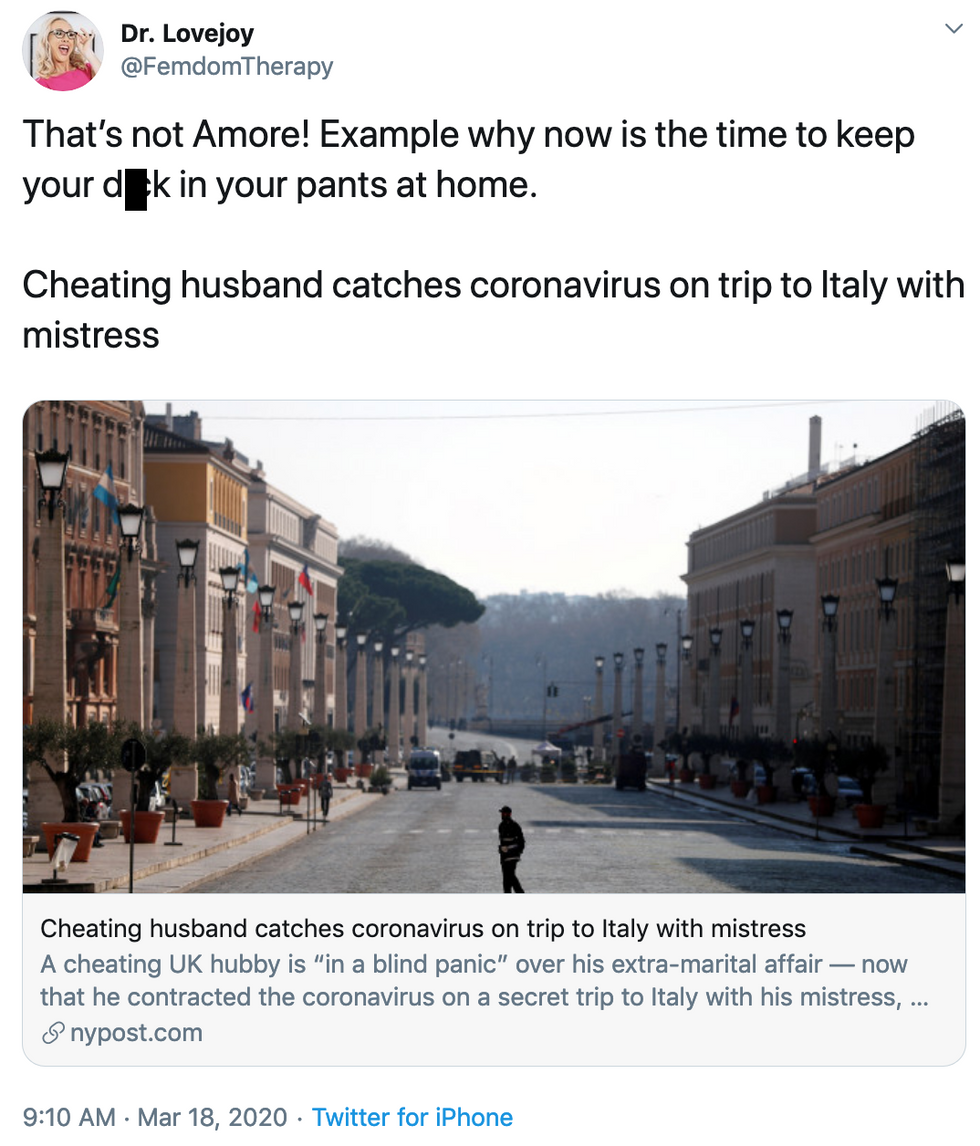 @FemdomTherapy/Twitter
The source continued:

"Despite his infection he is expected to survive the outbreak, unlike his extra-marital relationship."
"He thought he had the perfect alibi to carry out his affair, but hadn't reckoned on the coronavirus meltdown. The patient is just relieved he got home before flights were cancelled - that would have taken some explaining.
"He's in a blind panic, but more about his adultery being exposed rather than his health."
Social media reactions were not sympathetic over the husband's news.

In a bleak milestone, Europe has now surpassed China–the epicenter of the coronavirus outbreak originating in the city of Wuhan–with 85,000 infections exceeding China's 80,900.

On Wednesday, Italy reported 475 daily deaths, the highest number of fatalities to date on a single day in any country.