Rapper and designer Ye declared himself "Jesus' name" in a bonkers text exchange with billionaire Elon Musk after Musk temporarily suspended him from Twitter for sharing an image of a swastika, which is widely recognized for its appropriation by the Nazi Party and by neo-Nazis.
Ye's latest infraction on the social media platform marks just his latest controversy amid a series of high-profile scandals related to his antisemitism, which has only reflected badly on Musk who in October said he expressed his "concerns" to Ye after Ye was locked out of Twitter for posting an antisemitic tweet.
Ye confirmed on Truth Social—the conservative playground and Twitter clone owned by former Republican President Donald Trump—he had received a 12-hour suspension.
24 hours after Ye appeared on Infowars and told Alex Jones the reasons he admired Adolf Hitler, both Ye and Musk are garnering more attention for their off-the-wall text exchange following Ye's Twitter suspension.

Musk—who just two months ago declared himself a "free speech absolutist"—said Ye had "gone too far" in sharing an image of a swastika intertwined with a Star of David, which the Nazis used during the Holocaust to identify Jews.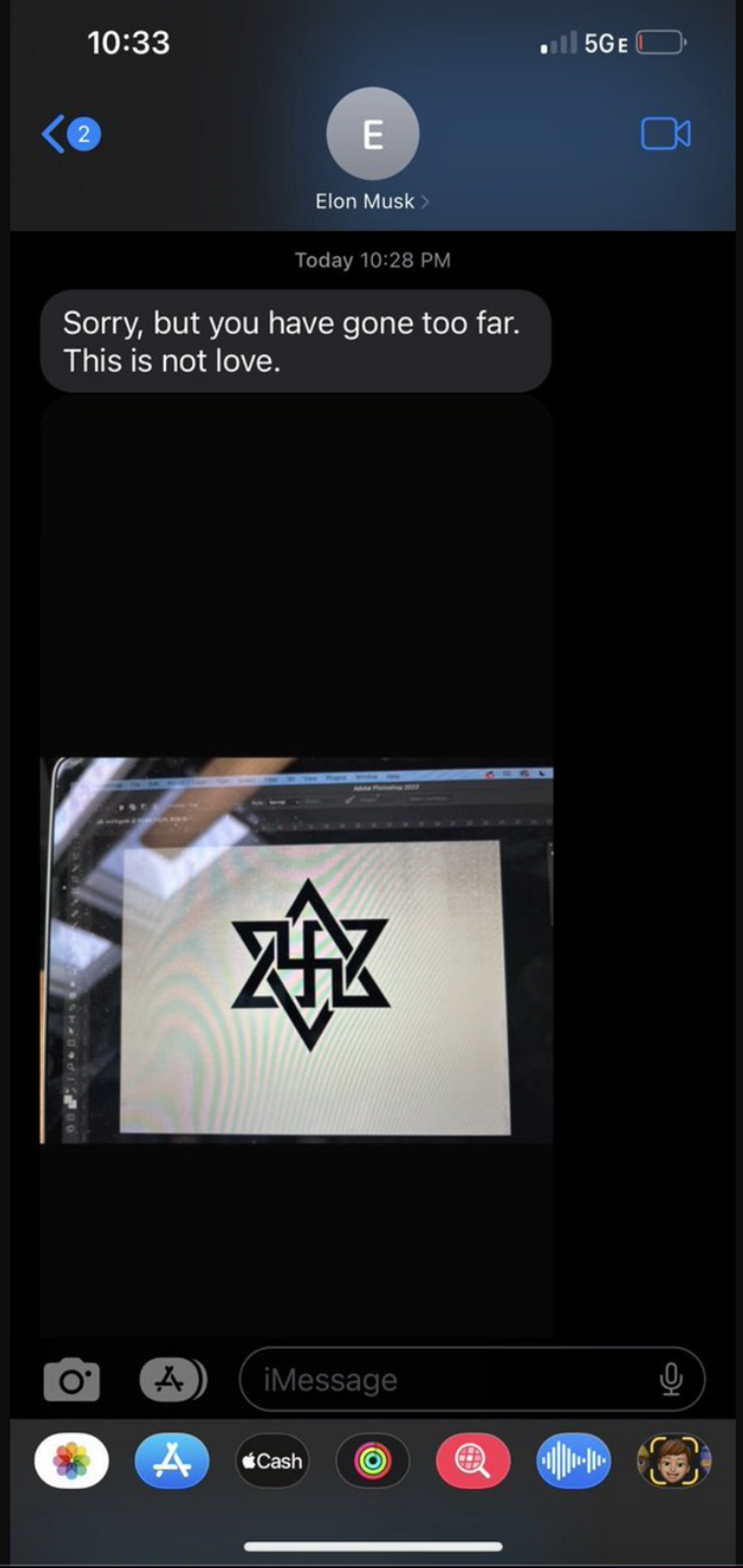 @KnowNothingTV/Twitter
An unrepentant Ye questioned who had made Musk "the judge," somehow ignoring the fact Musk recently acquired Twitter and has the largest say in its content moderation policies.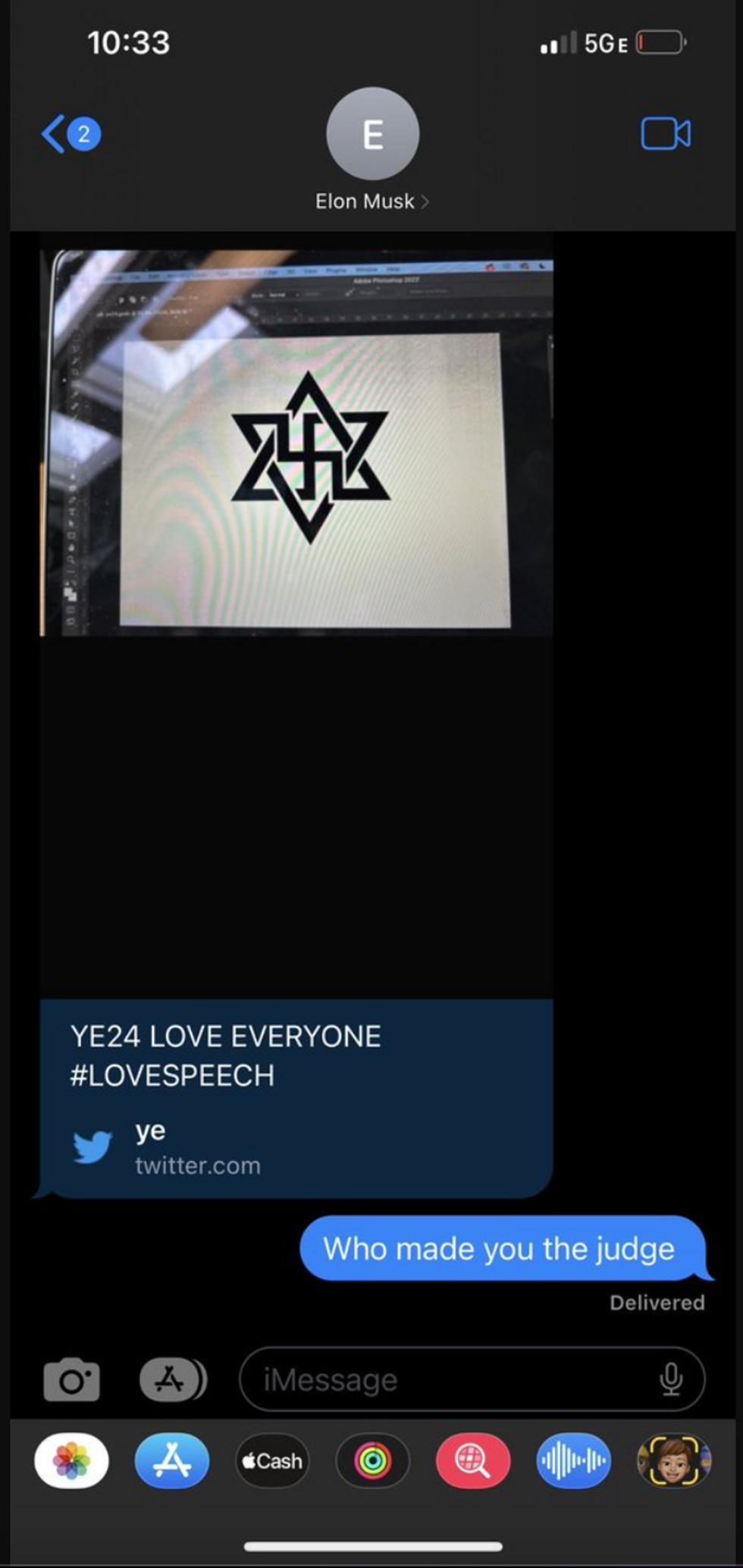 @KnowNothingTV/Twitter
Oddly, Musk responded by incorrectly reciting part of The Lord's Prayer.
Ye replied "I'm Jesus name," appearing to compare himself to Jesus Christ, whose flagellation and subsequent crucifixion are recounted in both the canonical and synoptic gospels.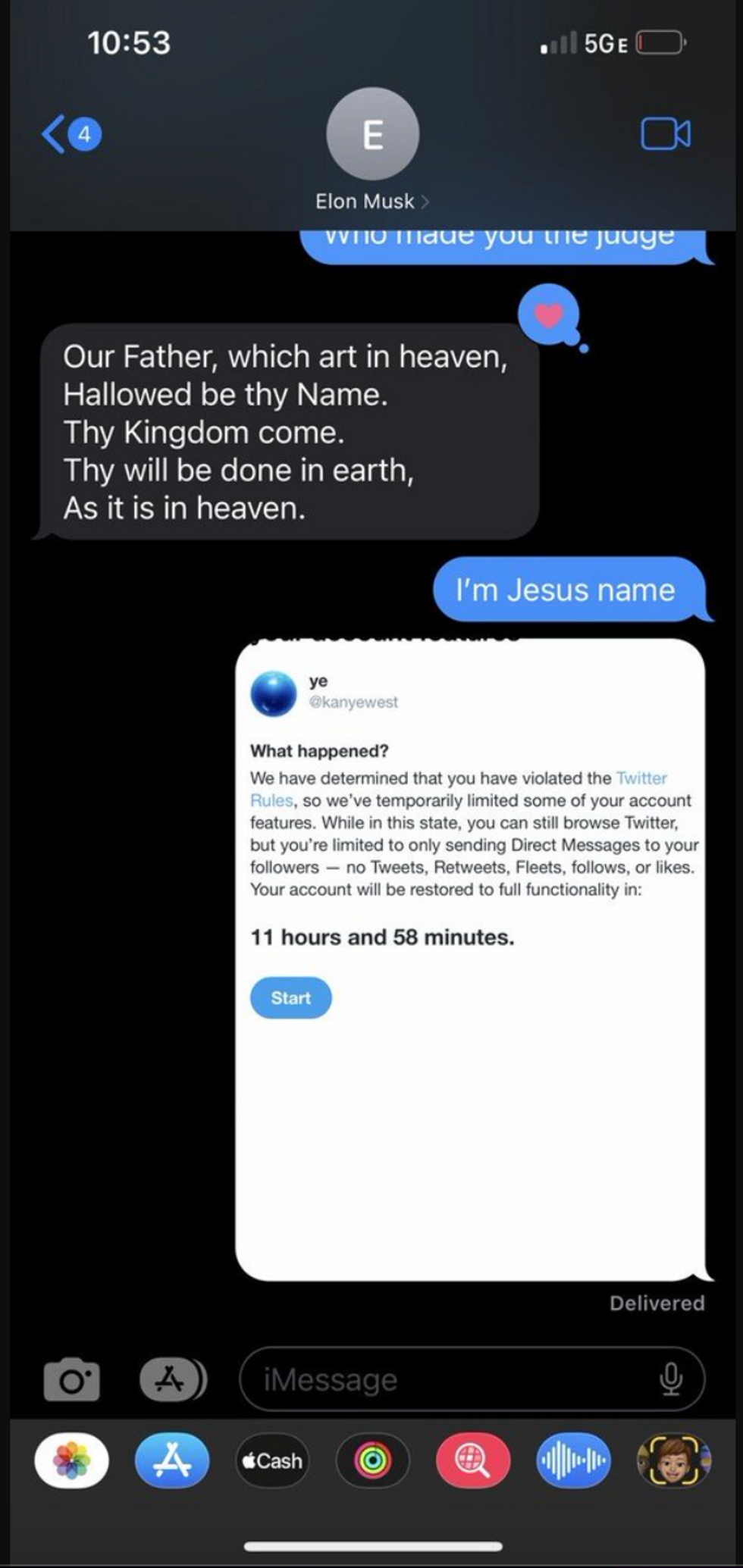 @KnowNothingTV/Twitter
The exchange highlighted both Ye's continued erratic behavior and Musk's dithering over Twitter's content moderation policies, which have been unclear since he took ownership of the platform.
But it fascinated Twitter users because of how stilted it was, underscoring the absurdity of a relationship that feels like watching a car crash in slow motion.
Ye received backlash after White Lives Matter shirts—including ones worn by Ye and Candace Owens—were unveiled during his YZY Paris Fashion Week show.
In response, Ye went on several misogynoir and antisemitic rants and was accused of anti-Blackness by community activists. Instagram locked Ye out of his account after he posted an antisemitic conspiracy theory in screenshots of text messages with Sean "Diddy" Combs.
In response, Ye returned to Twitter after a long hiatus to accuse Meta CEO Mark Zuckerberg of personally locking him out of his account after Instagram announced it locked him out for posts that violated its policies. Ye also tweeted he'd go "death con 3 ON JEWISH PEOPLE," prompting media attention and further accusations of antisemitism.
He returned to Instagram in late October, shortly after he was escorted out of the Sketchers headquarters to announce he'd lost $2 billion in one day.
Adidas announced it was ending its $1.5 billion deal with Ye. Additionally, TJX Companies—which owns department stores and TJ Maxx—and Gap said they would no longer sell Ye's apparel.
The losses were significant enough Forbesreported Ye had been knocked off Forbes' billionaires list.
Undeterred, Ye continued to make headlines for sharing antisemitic content and for his association with White nationalist Nick Fuentes, whom he accompanied to a highly controversial meeting with former President Trump at his Mar-a-Lago estate.