There are some celebrities we love to love. Then there are celebrities that finding any love for is a daily struggle.
It's almost as if their goal in life is not to be liked.
One of those celebs is multi-talented Ye who has been making headlines lately for anything and everything but his talent.
Ye caused quite a stir at Paris Fashion Week when he unveiled a picture of himself and Donald Trump sycophant and conservative mouthpiece Candace Owens wearing "White Lives Matter" shirts from Ye's fashion line. He immediately drew criticism for making models of color wear the shirts in the show.
Among many who voiced strong opinions was actor and fashion icon Jaden Smith who threw some epic shade at Ye for his questionable designs after walking out of YZY show.
Model Gigi Hadid took Ye to task after he made personal attacks against Vogue fashion editor Gabriella Karefa-Johnson for critiquing his designs instead of giving him glowing praise and adoration.
Smith and Hadid weren't the only A-listers to speak out publicly.
Music mogul Sean "Diddy" Combs had a few choice words for Ye, too. Combs took to social media to share his opinions on the shirts.
Saying he supported Ye's free thinking, he could not support the message on the shirts. Ye didn't react well to the criticism, again.
Just months after Ye delivered a lengthy speech in honor of Diddy at the Bet Awards where he noted his idolization of the producer, Ye posted private text messages with Combs on social media in a ploy to put Diddy on blast.
What happened to that admiration?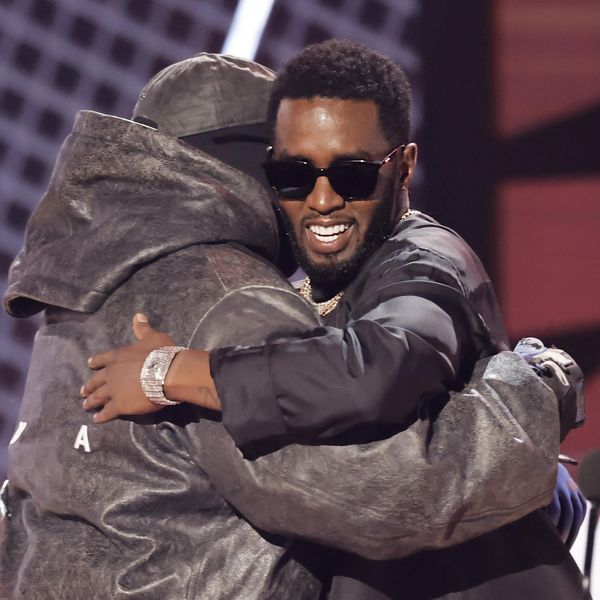 Kevin Winter/Getty Images
Ye shared a series of screenshots of the texts between himself and the Bad Boy Records founder on his Instagram.
The content got his Instagram account suspended.
In the first message posted, Ye told Combs:
"I didn't like our convo"
"I'm selling these tees."
"Nobody get between me and my money"
"This is my grandfather texting you now"
"Never call me with no bullsh*t like that again unless you ready to green light me"
"Cause anybody who got on that tee is me"
"Out of respect for everything you've meant to me I'll be quiet as Virgil"
"But now I know how I've hurt people I love with threats"
Then in a new text, Ye wrote:
"Come do something illegal to me noooow pleeeeeeeeease"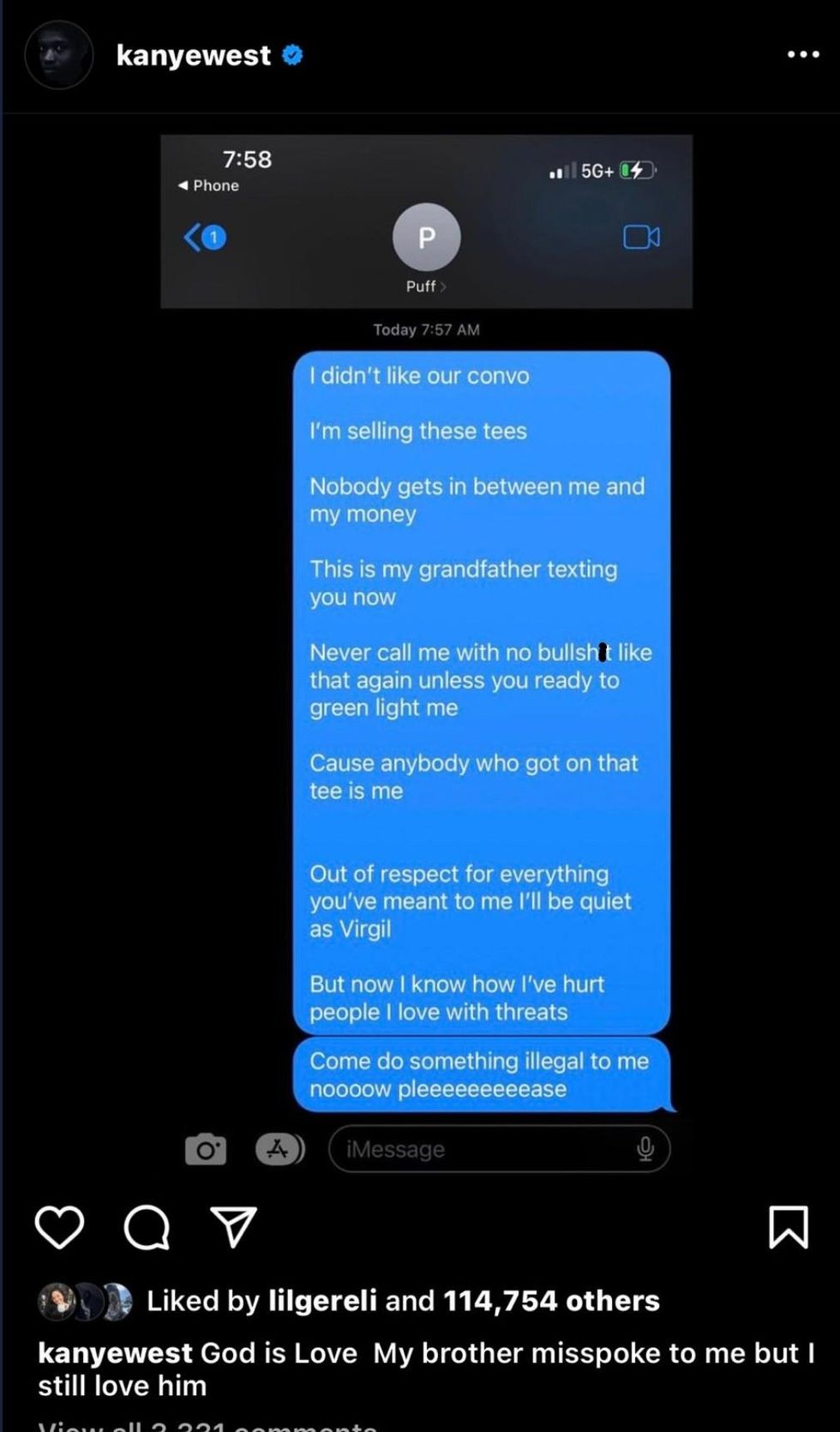 @kanyewest/Instagram
Ye captioned the Instagram post:
"God is Love My brother misspoke to me but I still love him"
The next screenshot included a response from Combs:
"As soon as I land we'll meet face to face!!!"
Combs requested an address, but Ye replied:
"N-word F******CK YOU"
Ye then called Combs a "FED" or federal law enforcement officer.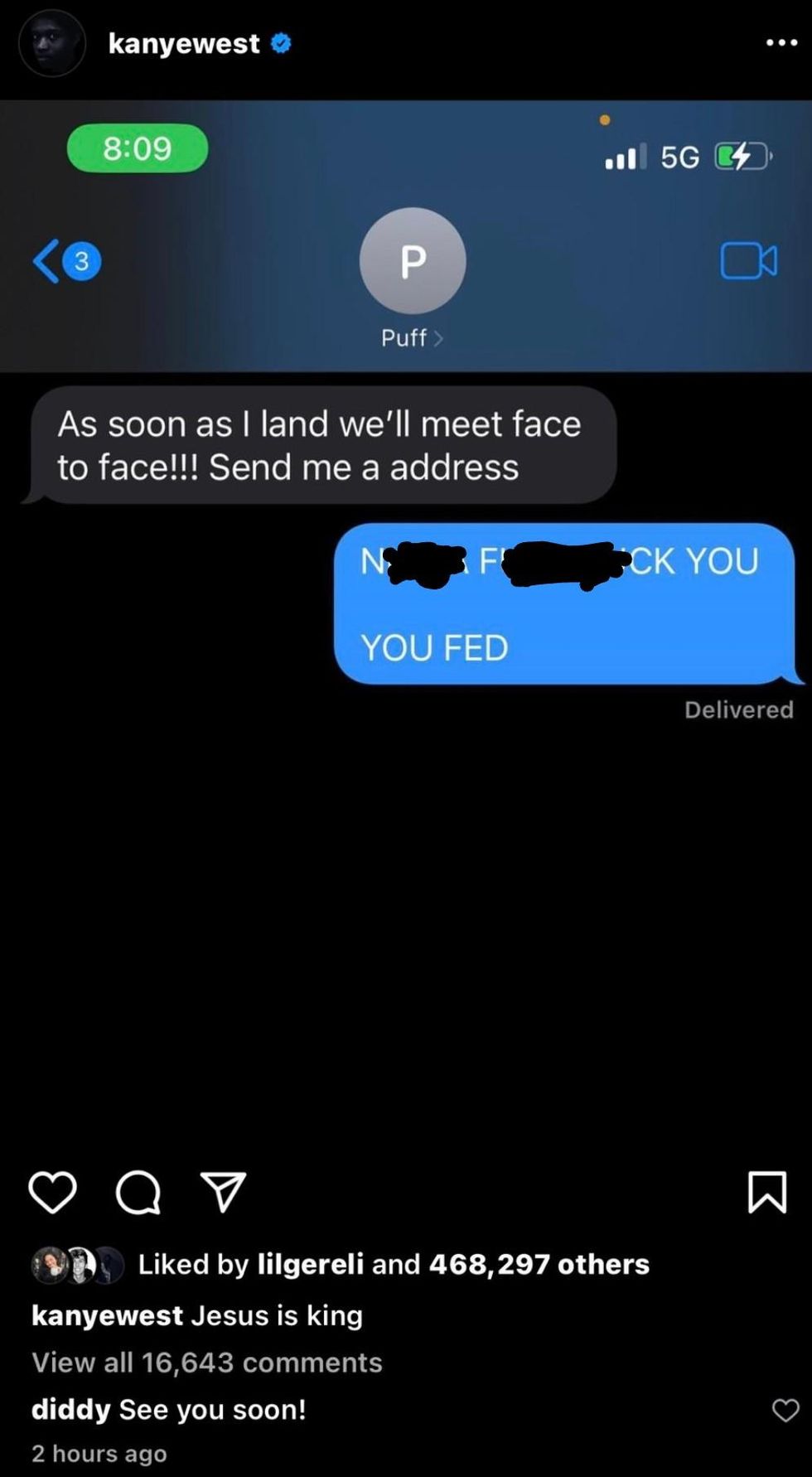 @kanyewest/Instagram
Ye captioned the post:
"Jesus is king"
Combs commented on the post:
"See you soon!"
In the next text, Combs again requested an address.
He told Ye:
"Let's stop playing these internet games."
"And don't feel threatened. You'll be fine. Just love."
But Ye decided to veer into antisemitic conspiracy theories in his response to Combs.
He wrote:
"This ain't a game"
"Ima use you as an example to the Jewish people that told you to call me that no one can threaten or influence me"
"I told you this was war"
"Now gone get you some business"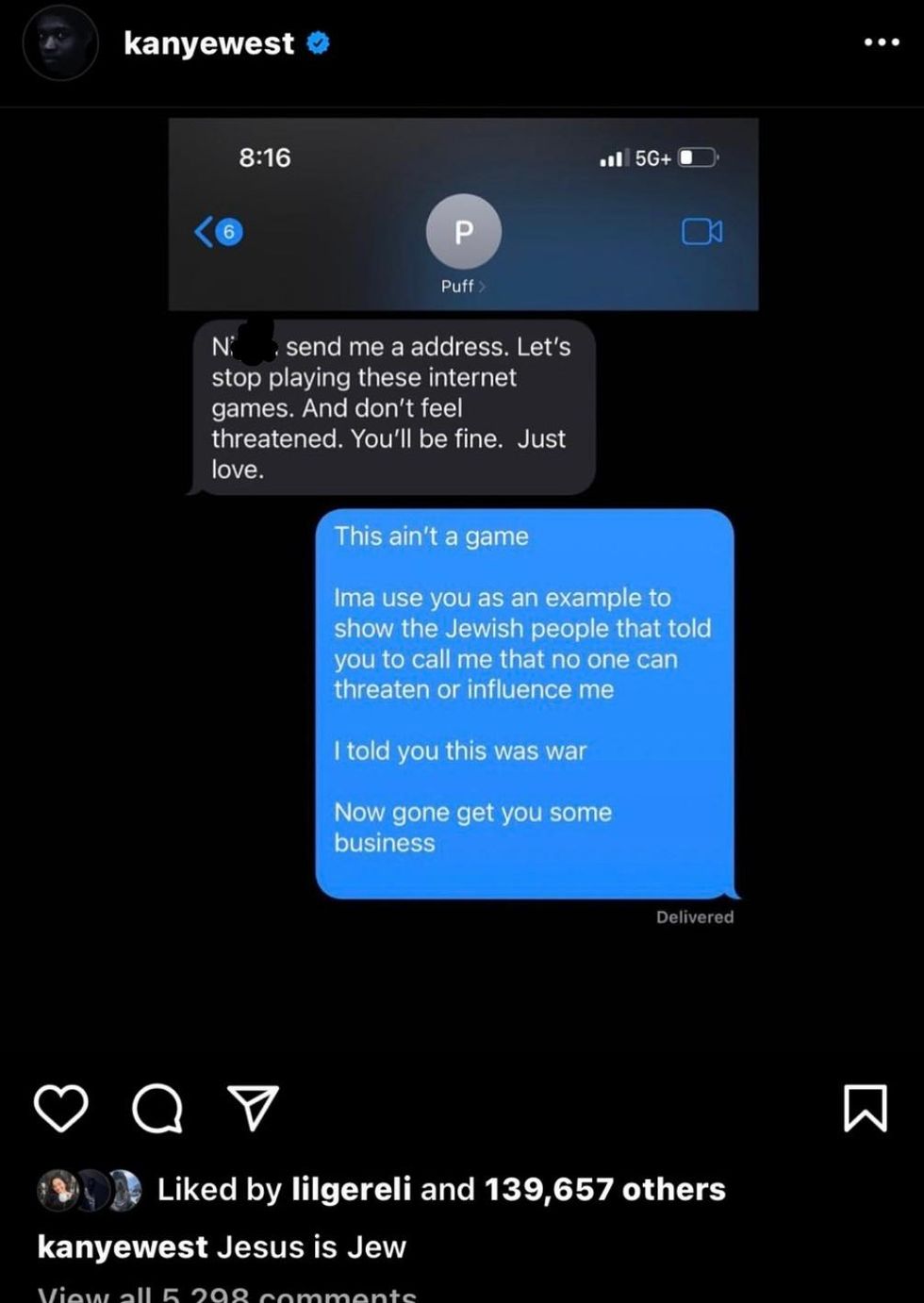 @kanyewest/Instagram
Ye captioned his antisemitism:
"Jesus is Jew"
In the last Instagram post, Combs tried to extend an olive branch to Ye again.
Combs wrote:
"I'm just trying to talk to you as a Black man."
"And I'm talking to you because this is hurting our people."
"Stop"
But Ye was unmoved.
He replied:
"Anything you text I will post"
"I love you"
"And you guys are breaking my heart"
Then portraying himself as thd victim—a recurring theme—Ye finished with:
"I accept your apology in advance"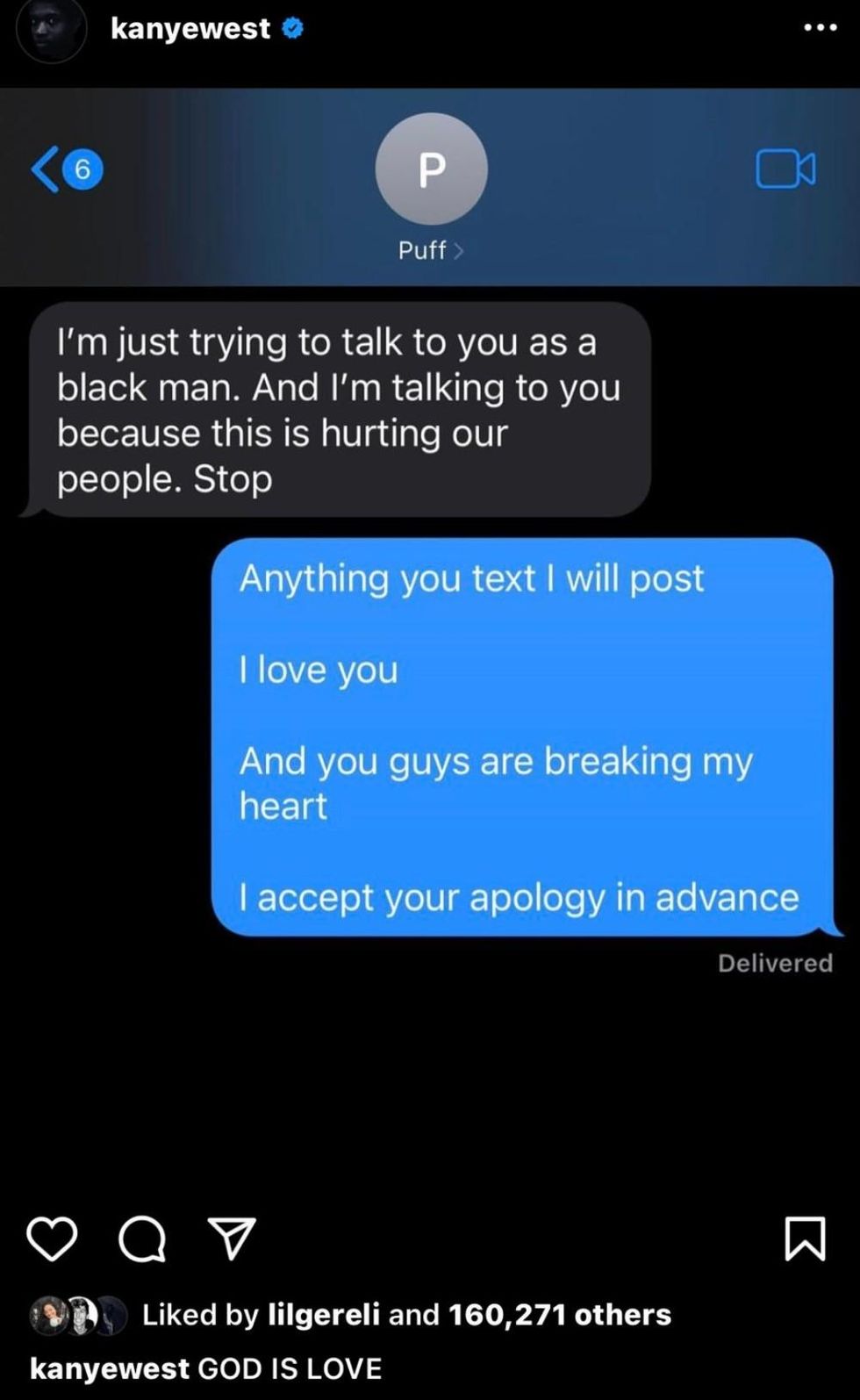 The final post was captioned:
"GOD IS LOVE"
If there was more, it wouldn't make it onto Instagram. Ye's antisemitic conspiracy theory earned him an account suspension. In response Ye tweeted more antisemitism.
Rather than accept responsibility for his choices, Ye also took his Instagram grievance to Twitter where he asked Mark Zuckerberg—whose Meta owns both Facebook and Instagram—why he'd done him wrong.
On the same post, Elon Musk welcomed Ye "back" to Twitter then claimed he'd spoken to Ye about all the antisemitism and declared everything, everywhere OK.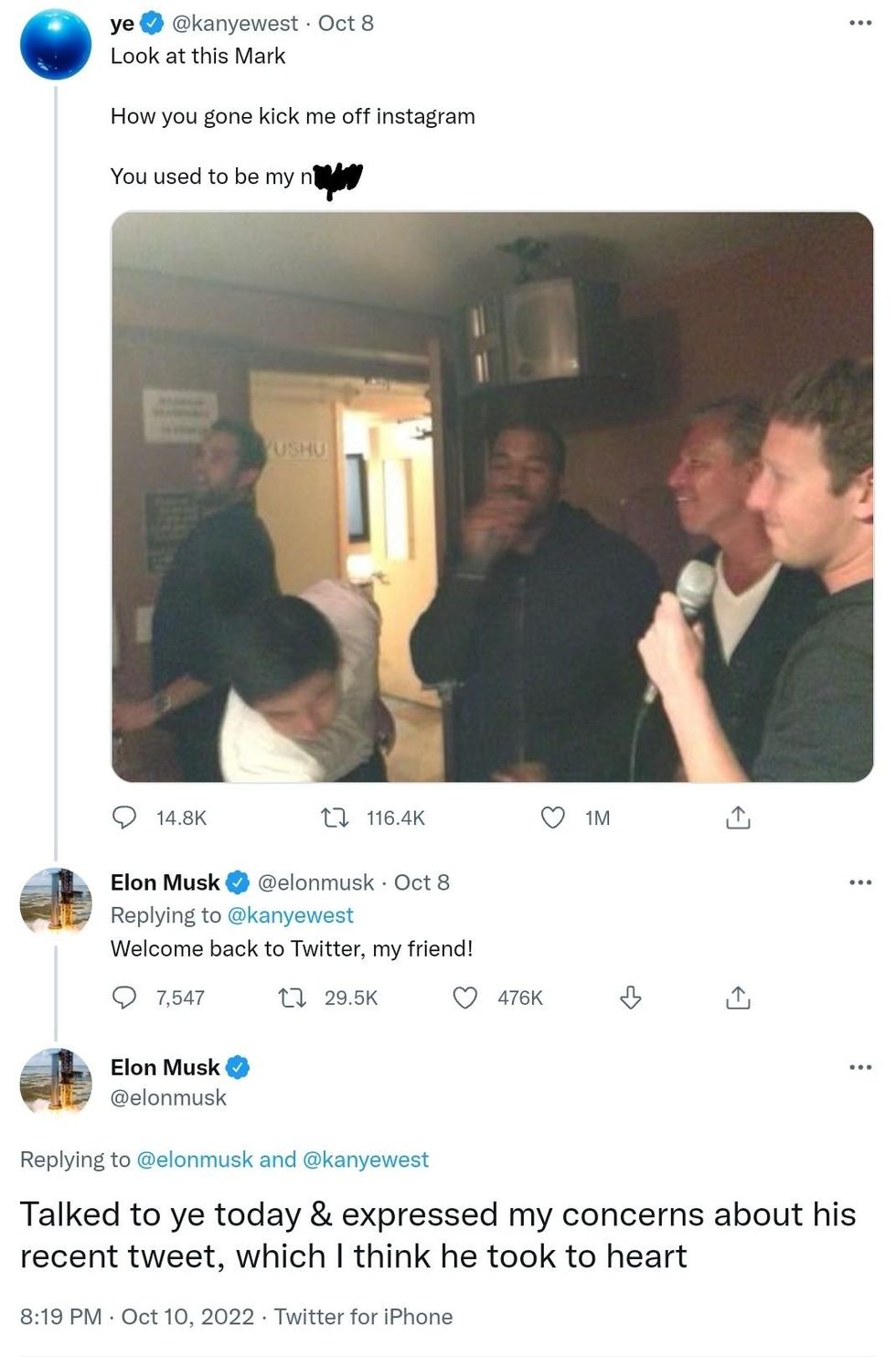 @kanyewest/Twitter
The shirt stunt left many torn as to how to respond.
From utter indifference to unwavering support for Ye to secondhand embarrassment to calling Ye out for a history of anti-Blackness, many were having a rough time trying to figure out what exactly the self-proclaimed genius had in mind.
But the antisemitism was a bridge too far for many former fans and friends.
Ye knows what he did, but what remains a question is why and what does this mean for the troubled artist.

Is there still redemption for Ye after this whole ordeal? Does he want it?
Only time will tell.