Rapper and actor Jaden Smith got up and left during the fashion show by Ye after Ye himself wore a "White Lives Matter" hoodie and featured other shirts with that phrase on it in his YZY show.

You can see a screengrab from the show here: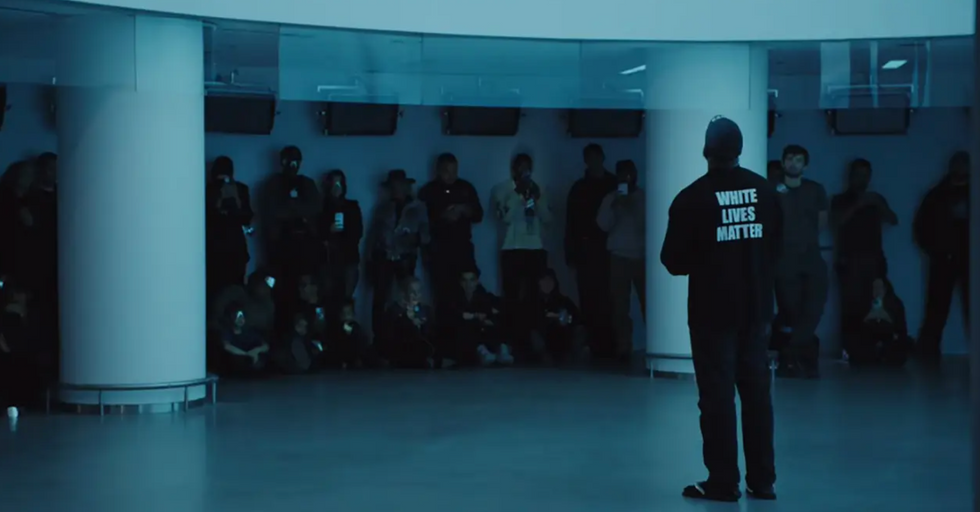 Kanye West/YouTube
Smith explained his reasoning in a series of tweets after he left.
The context for "Who's It Is" goes back a little ways.

Jaden Smith has been a longtime fan of Ye's, previously saying Ye is "a genius" and advocating for Ye "for President."
Smith wasn't the only one nonplussed by Ye's choices in his fashion show.
Reactions have been pretty critical of Ye, even as the 45-year-old creative already rejected their critiques even as the show was going on.
He declared:
"I am Ye, and everyone here knows that I am the leader.
"You can't manage me."
Still, the reactions came pouring in as is usually the case with actions by Ye.
There were the Ye ride-or-die supporters.
Some of Ye's fans claimed he's just trolling.
But there were several rebuttals about the true impact of this "trolling."
On the theme of "this isn't the first time Ye has done something like this," one person pulled an old photo of Ye wearing a confederate flag on his jacket.
While another remarked even if he's trolling, it's about Ye's need for attention.
Finally, there were those who agreed with Smith's decision to leave the show.

This is only the beginning of Ye's new fashion line.

There's certainly going to be more reactions, more than just Jaden Smith, that's for sure.