On Monday morning, Jamie Lee Curtis sat down with Hoda Kotb on Today and discussed her new movie Halloween Ends as well as the controversy surrounding a now deleted Instagram post fueled tweet by rapper and fashion designer Ye.
On Saturday, Ye tweeted with a link to an article about his Instagram post:
"I'm a bit sleepy tonight but when I wake up I'm going death con 3"
"On JEWISH PEOPLE."
"The funny thing is I actually can't be Anti Semitic because black people are actually Jew also"
"You guys have toyed with me and tried to black ball anyone whoever opposes your agenda."
What caused Ye's latest bigoted outburst?
Earlier in the day Ye earned an Instagram suspension for posting an antisemitic conspiracy theory in a dispute with Sean "Diddy" Combs. Ye was facing backlash for anti-Blackness and misogynoir behavior related to his YZY show during Paris Fashion Week.
The now deleted tweet that earned Ye a Twitter suspension can be seen here: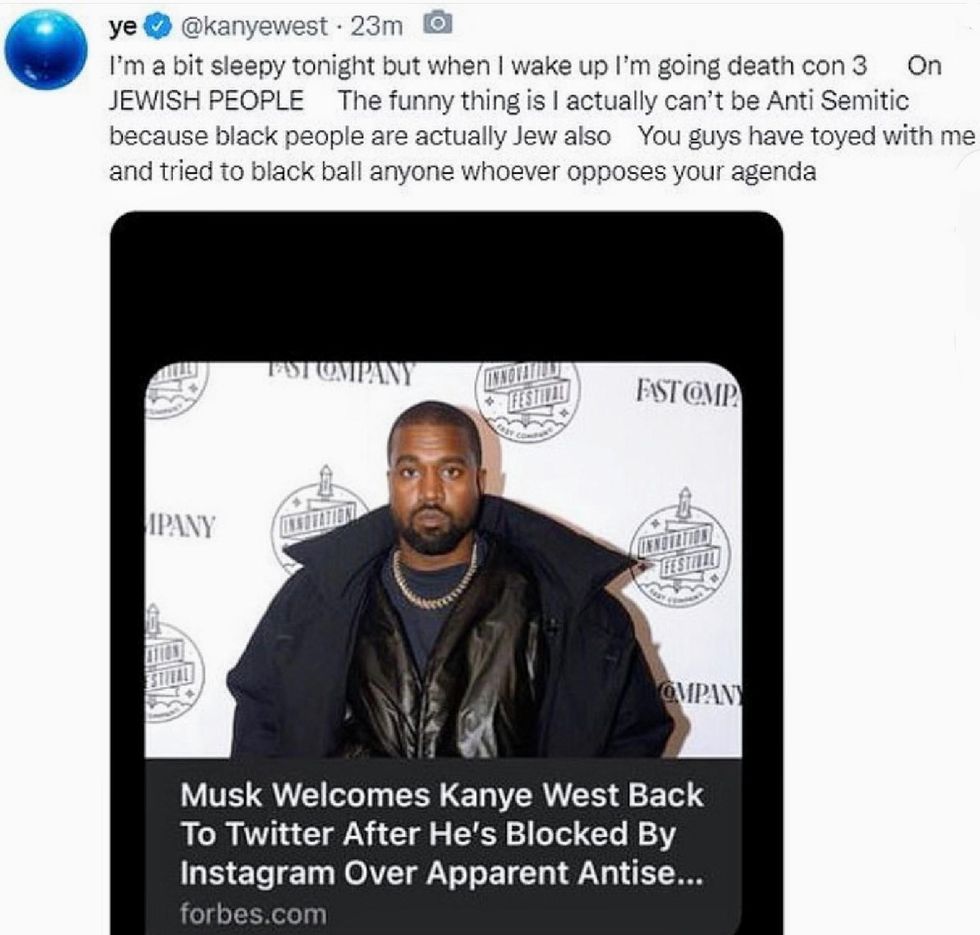 @kanyewest/Twitter
In response, Jamie Lee Curtis tweeted:
"The holiest day in Judaism was last week. Words matter. A threat to Jewish people ended once in a genocide."
"Your words hurt and incite violence. You are a father."
"Please stop."
When Kotb inquired about Ye's antisemitic post, a tearful Curtis replied:
"I burst into tears. I woke up and burst into tears."
"Death con 3 on Jewish people? What are you doing?"
Curtis' father actor Tony Curtis' parents were Hungarian Jews who emigrated to New York City before his birth.
Curtis continued:
"It's bad enough that fascism is on the rise around the world. But on Twitter, on a portal, to pour that in?"
"As if Jewish people haven't had it hard enough?"
"It was just abhorrent."
Curtis also emotionally stated:
"I hope he gets help."
You can watch the full segment below.
Jamie Lee Curtis Responds To Kanye's Tweets: 'I Hope He Gets Help'youtu.be
Many tweeted in support of Curtis' words and commended her for boldly expressing her anguish.
Others agreed with Curtis that Ye's erratic words and actions will likely continue if he doesn't get the help he needs.
However mental illness can cause erratic behavior and lower inhibitions, but does not create bigotry.
Curtis pleaded:

"If we aren't reacting, who are we?"
"What does it say for people who aren't reacting?"
While Ye's Twitter and Instagram account are both still active, he is unable to post. He continues, however, to share content on TikTok and YouTube.

Curtis' movie Halloween Ends will be released on Friday.