Tag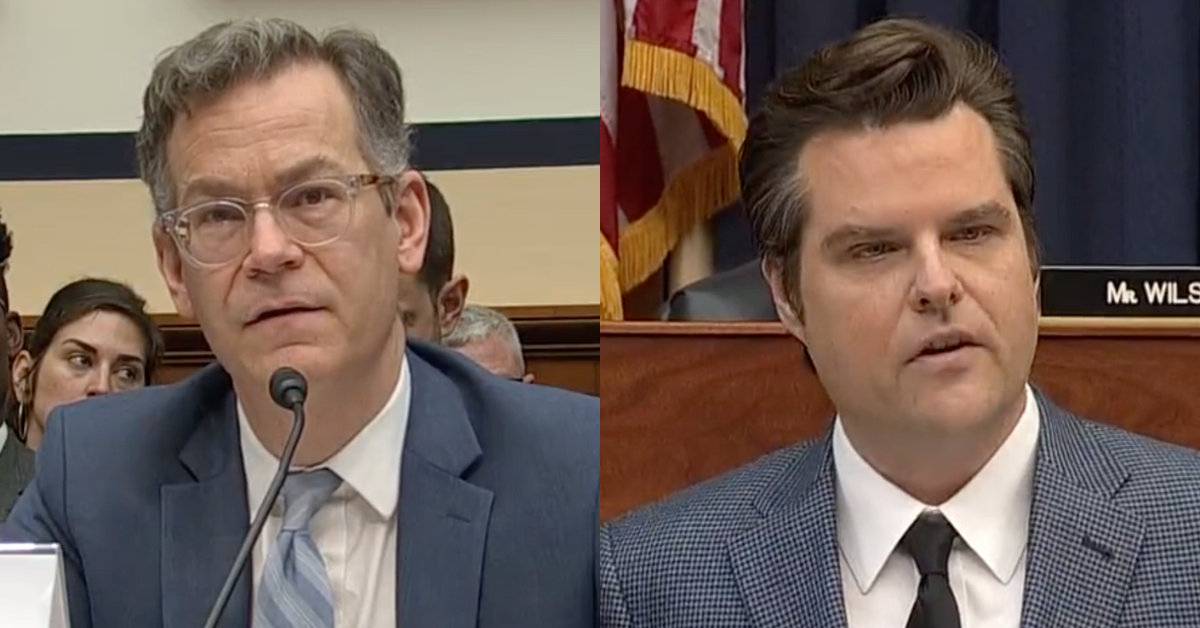 C-SPAN
Florida Republican Representative Matt Gaetz was scolded by a Biden administration official during a House Armed Services Committee hearing after he tried to use an official Chinese propaganda publication as a credible source to criticize the United States' efforts to aid Ukraine's defense in its ongoing war with Russia.
The publication in question, TheGlobal Times, is a tabloid newspaper which is an arm of the Chinese Communist Party (CCP) and operates under its headlining paper, ThePeople's Daily. The paper comments on international events from an ultra-nationalistic perspective and has even been described as China's version of Fox News.
Gaetz sparred with Dr. Colin Kahl, the undersecretary of defense for policy, after asking him whether the Pentagon currently has personnel in Ukraine, to which Kahl responded there are a "couple dozen" Defense Department employees at the U.S. embassy in Kyiv.
Dr. Kahl declined to answer Gaetz's question about whether the Central Intelligence Agency (CIA) is "training folks in Ukraine," saying he could only discuss the subject in a classified setting, and said he is not "aware" if the U.S. is supplying weapons to Ukraine's Azov Battalion, a volunteer paramilitary militia which continues to be associated with far-right groups.
Their exchange quickly went south after Dr. Kahl scolded Gaetz for entering into the record what he said was an investigative report by the Chinese propaganda outlet.
You can watch their interaction in the video below.
"I'm sorry, is this The Global Times from China?" Kahl asked Gaetz, who initially said "no" before conceding that "it might be."
Gaetz then cut Dr. Kahl off as the latter tried to make a point about "Beijing's propaganda," saying:
"No, no, yeah. Just tell me if the allegation is true or false."
Dr. Kahl quickly shut their conversation down when he responded:
"I don't have any evidence one way or the other as a general matter. I don't take Beijing's propaganda at face value."
A defeated Gaetz said, "Fair enough" and that he "would agree with that assessment" before the matter was dropped.
Gaetz was criticized after footage of his exchange with Dr. Kahl went viral.
Gaetz's attempt to enter The Global Times into the House record comes as tensions between the U.S. and China continue to rise amid concerns the Chinese government is supplying weapons to Russia to aid its invasion of Ukraine.

Last week, Linda Thomas-Greenfield, the U.S. ambassador to the United Nations, said China would cross "a red line" if it provided "lethal support" to Russia.
Thomas-Greenfield's remarks came after Secretary of State Antony Blinken met with Beijing's top diplomat, Wang Yi, and made clear there would be "serious consequences in our relationship" in the event China supplied Russia with lethal aid.