During Paris Fashion Week, which began last Monday and ran through Tuesday, rapper and fashion designer Ye made quite the jaw dropping statement when he debuted a shirt at his fashion show with the words "WHITE LIVES MATTER" boldly written across the back.
Fellow conservative influencer Candace Owens was also seen sporting the shirt with Ye. Several models of color were also required to wear the shirts.
Fashion editor Gabriella Karefa-Johnson witnessed the spectacle first-hand at Ye's show and wrote on Instagram the shirts were "deeply offensive, violent and dangerous."
She continued:
"There is no excuse, there is no art here."
In response, Ye took to his Instagram stories to attack Karefa-Johnson.
Ye even included a screenshot of a text he received from someone pleading with him to not "insult that writer."
Model Gigi Hadid defended Karefa-Johnson by commenting on Ye's post.
"You wish you had a percentage of her intellect. You have no idea haha...."
"If there's actually a point to any of your sh*t she might be the only person that could save u."
"As if the 'honor' of being invited to your show should keep someone from giving their opinion..?"
"Lol. You're a bully and a joke."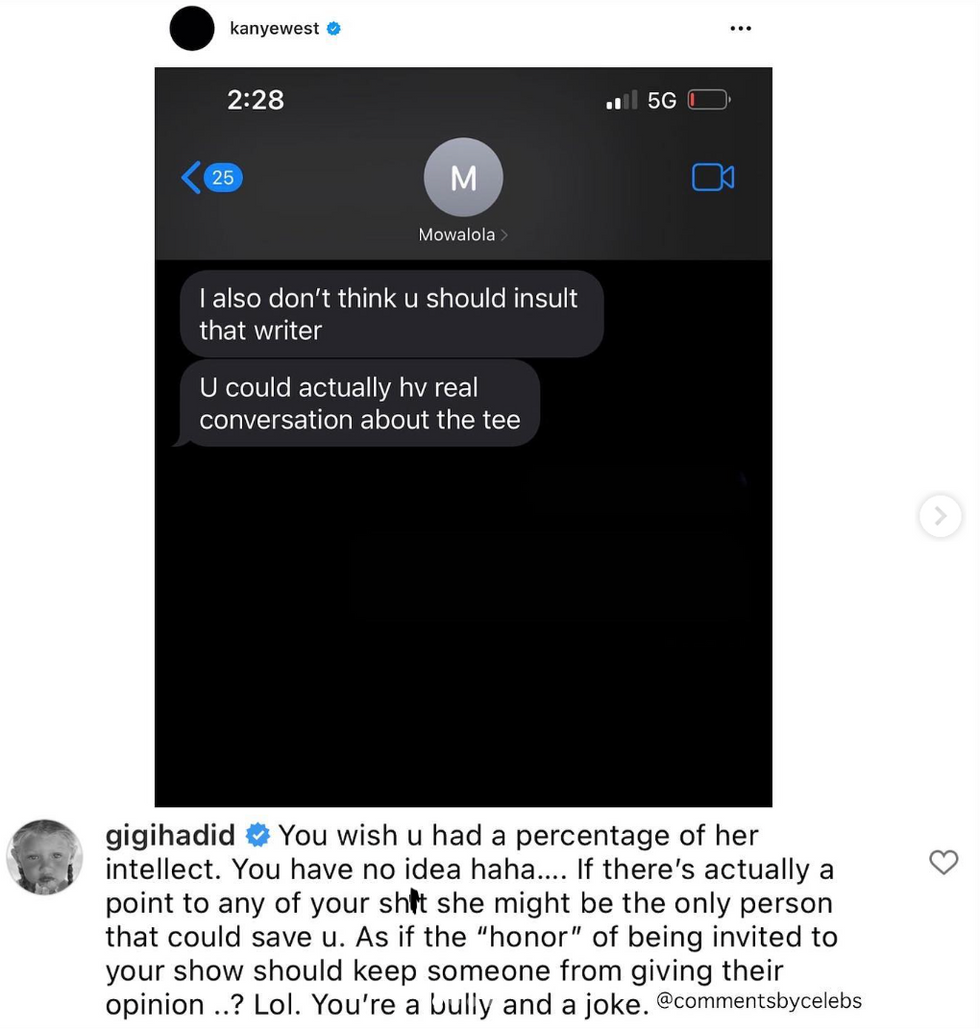 @commentbycelebs/Instagram
Hadid later clarified on her Instagram story.

"I was trying very hard not to give that man air time, but publicly bullying someone who criticizes your work on your massive platform is another level of ridiculousness to me."
"If you can't take it don't dish it. If you can't take criticism, specially the smart, nuanced, and kind criticism that GKJ provided yesterday's show, then don't put work out for public consumption."
"This is immature bully behavior."
Fans were there for Hadid's support of Karefa-Johsnon.
According to Ye, the two met and "apologized to each other for the way we made each other feel."
"She disagreed I disagreed we disagreed."