Less than 24 hours after Will Smith casually walked up to comedian Chris Rock and smacked him across the face on live television for making a joke aimed at his wife, Jada Pinkett Smith, the King Richard star apologized to Rock the next day for the assault witnessed by millions of viewers.
At the same time, a purported apology from Rock appeared online, but the comedian's team shut that down and declared he has "not yet issued a statement," according to The Hollywood Reporter's Senior Film Editor Rebecca Keegan.
While Rock was presenting the award for Best Documentary at the 94th Academy Awards, he made a reference to Pinkett as looking like actress Demi Moore in G.I. Jane, who appeared with a shaved head in the 1997 film.
Pinkett had been open about having alopecia–a condition that causes hair loss.
In response to Rock's G.I. Jane reference at the awards ceremony, a visibly unimpressed Pinkett was seen rolling her eyes.
Smith was initially seen laughing, but when he noticed how his wife reacted to the joke at her expense, he strolled up on stage to physically assault Rock in front of industry peers.
Smith returned to his seat after slapping him and twice yelled, "Keep my wife's name out of your f'kin' mouth."
Minutes later, Smith won Best Actor for his performance in King Richard, in which he portrayed tennis stars Venus and Serena Williams' father.
In his acceptance speech which some people considered was self-serving, he appeared to justify his violence through tears by proclaiming "love will make you do crazy things."
He also thanked the Williams family for entrusting him with their story because "I want to be an ambassador of that kind of love and care and concern."
Smith apologized to the Academy and to his fellow nominees but did not apologize to Rock in his speech.
The shocking incident overshadowed what should have been a celebratory evening, and it instantly became a trending topic online that sparked a polarizing debate about Smith's violent meltdown that many claimed should have resulted in him being escorted out of the building.

After much backlash, Smith issued Rock a sincere apology in a social media post on Monday afternoon.
He wrote:

"Violence in all of its forms is poisonous and destructive. My behavior at last night's Academy Awards was unacceptable and inexcusable."
"Jokes at my expense are a part of the job, but a joke about Jada's medical condition was too much for me to bear and I reacted emotionally."

"I would like to publicly apologize to you, Chris. I was out of line and I was wrong."
He continued:

'"I am embarrassed and my actions were not indicative of the man I want to be. There is no place for violence in a world of love and kindness."
"I would also like to apologize to the Academy, the producers of the show, all the attendees and everyone watching around the world."
"I would like to apologize to the Williams Family and my King Richard Family."
"I deeply regret that my behavior has stained what has been an otherwise gorgeous journey for all of us."
He concluded his post by admitting, "I am a work in progress.'
Rock's supposed statement of apology that made the rounds on the internet, however, turned out to be false–as pointed out by Keegan.

Here is a tweet that shared a screenshot of the fake apology.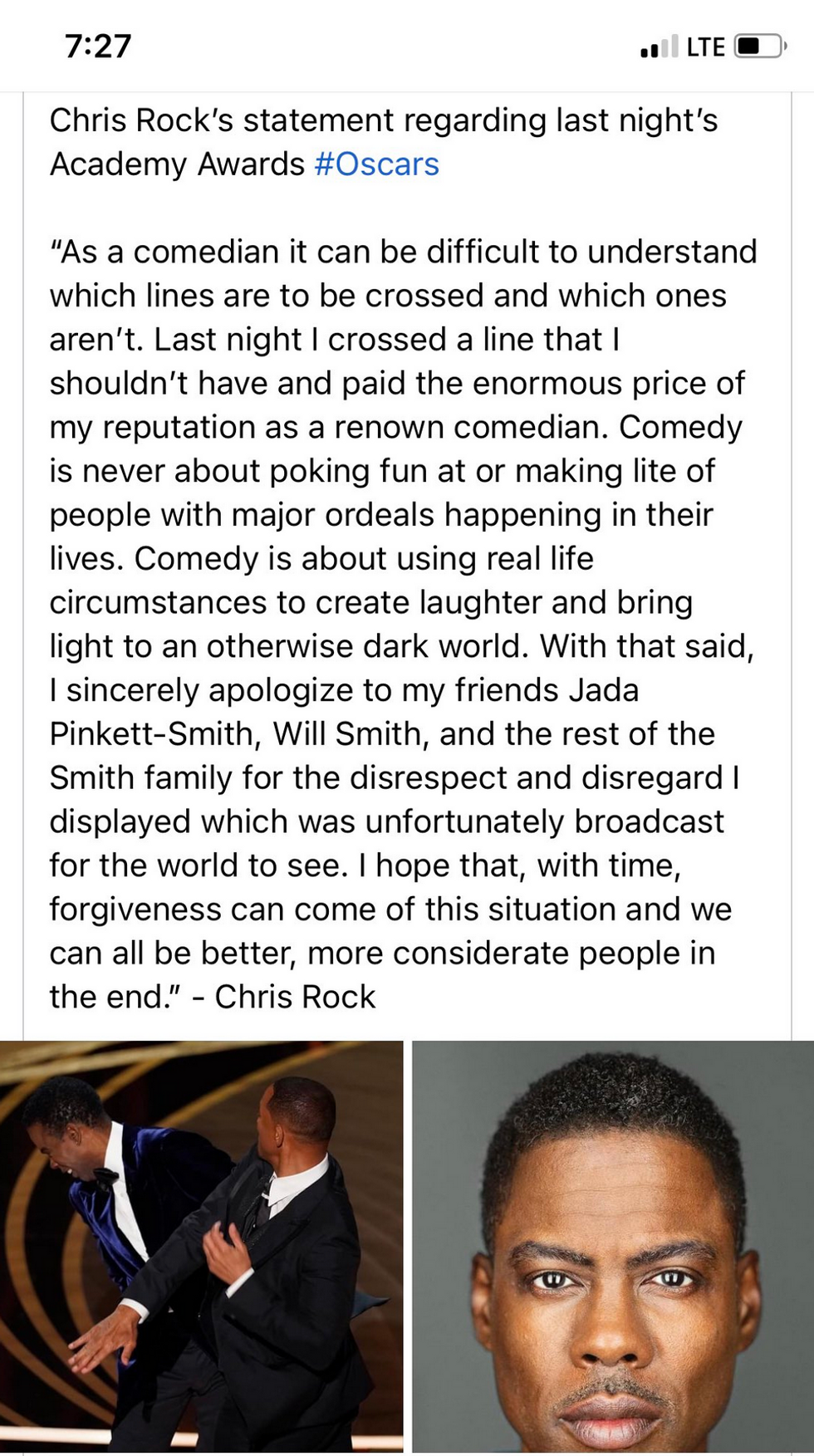 @reed_oc/Twitter
People weighed in with their thoughts over Rock's absent apology.
While Rock has yet to address his take on the assault and on his G.I. Jane reference aimed at Pinkett, he has not pressed charges against Smith.
The Los Angeles Police Department issued a statement, which read:
"LAPD investigative entities are aware of an incident between two individuals during the Academy Awards program."
"The incident involved one individual slapping another. The individual involved has declined to file a police report."
Even though Rock declined to file a police report at the time, he has up until six months to change his mind.