Former President Donald Trump's Easter message was anything but cheerful, as he used the occasion to criticize Democrats and even predict "WORLD WAR III."
Trump took to his Truth Social platform on Easter Sunday to make a series of angry, all-caps rants, just days after becoming the first current or former American president ever to be charged with a crime.
Trump's Easter message began with a "HAPPY EASTER" wish to all of his followers, followed by a scathing attack on the "weak and pathetic" Republicans-In-Name-Only (RINOs), radical left Democrats, socialists, Marxists, and communists who he claims are "killing our nation."
Trump wrote:

"HAPPY EASTER TO ALL, INCLUDING THOSE THAT DREAM ENDLESSLY OF DESTROYING OUR COUNTRY BECAUSE THEY ARE INCAPABLE OF DREAMING ABOUT ANYTHING ELSE, THOSE THAT ARE SO INCOMPETENT THEY DON'T REALIZE THAT HAVING A BORDER AND POWERFUL WALL IS A GOOD THING, & HAVING VOTER I.D., ALL PAPER BALLOTS, & SAME DAY VOTING WILL QUICKLY END MASSIVE VOTER FRAUD, & TO ALL OF THOSE WEAK & PATHETIC RINOS, RADICAL LEFT DEMOCRATS, SOCIALISTS MARXISTS, & COMMUNISTS WHO ARE KILLING OUR NATION, REMEMBER, WE WILL BE BACK!"

You can see his post below.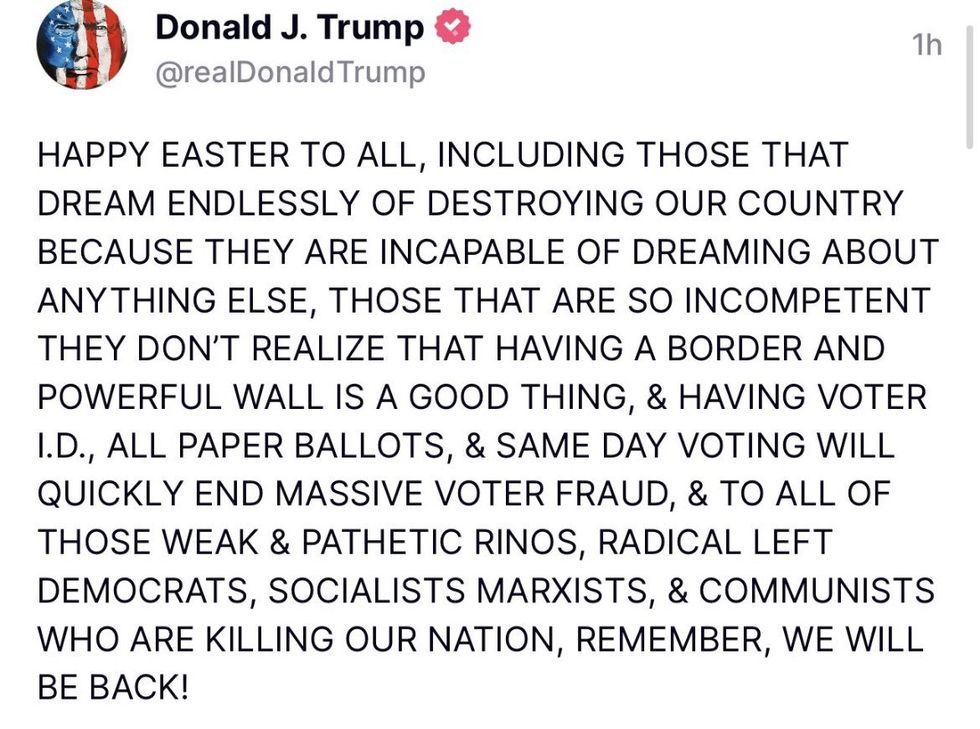 @realDonaldTrump/Truth Social
Trump later—completely unprompted—declared "World War III" in another message.

At least one person noted the stark difference between Trump's Easter message and the official message from Democratic President Joe Biden.
Biden commemorated Easter Sunday as a day of "hope and joy, renewal and rebirth."
Many have condemned Trump's behavior.

Despite the controversy, it seems likely that Trump will continue to use his platform to attack his political opponents and spread his message of division and anger. Whether this will help or hurt him politically remains to be seen, but it is clear that he has no intention of backing down or toning down his rhetoric anytime soon.

Last year, Trump made a comparable Easter statement in which he criticized his political adversaries and specifically singled out Letitia James, the New York Attorney General who had been investigating his financial transactions in the state.