Spider-Man actor Tom Holland was not on set when he swooped in to save the day.
The 23-year-old actor is currently the hottest celeb, with his second solo Marvel movie Spider-Man: Far From Home, set to hit theaters on July 2.
---
There is much hype around the film's final installment of Phase Three from the Marvel Cinematic Universe. As a result, many "graphers" – fans who collect autographs for the purposes of selling them at exorbitant costs on the internet – abandoned all decorum, as they typically do, while clamoring for Holland's signature.
A fan in New York was waiting for the actor's autograph and found herself having a panic attack after being pinned against a barricade by a mob of grown men.
Luckily, Peter Parker came to the rescue.
The lady in distress, with the Twitter handle "Cass," filmed the moment in real time when Holland assured her, "I got you, I got you," as he threatened to throw the relentless graphers' posters on the ground.
She tweeted about the pandemonium.

"This was absolutely INSANE and should NEVER happen....my neck was literally against the barricade with 30 grown men behind me pushing.... ridiculous how people act like you're not only endangering fans safety but Toms as well."
In an all-caps tweet, Cass recounted her experience being caught inside the crowd.

"TOM HOLLAND JUST THREATENED GROWN A** MEN THEN THREW THEIR POSTERS BECAUSE I WAS CRUSHED AGAINST THE BARRICADE HE SAID "IM GONNA THROW YOUR S*** ON THR GROUND IF YOU KEEP PUSHING HER" then came to me and calmed me down and the video HES LITERALLY SO MAD AT GRAPHERS VKSBDKSN WHAT?"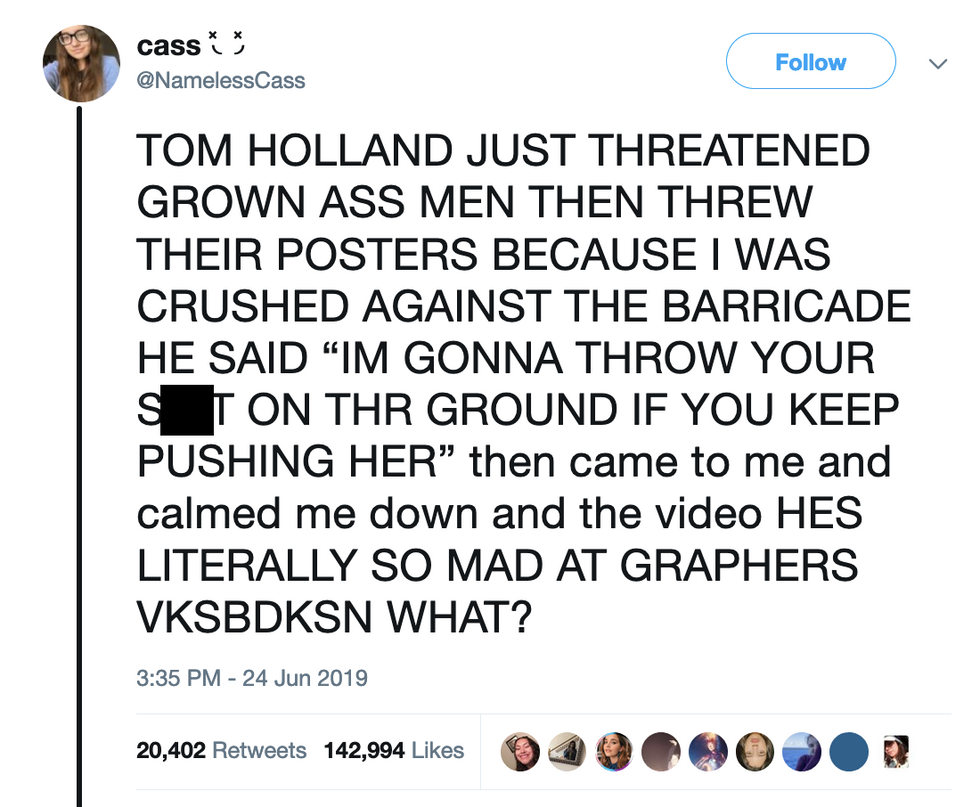 @NamelessCass/Twitter
Here's a thought.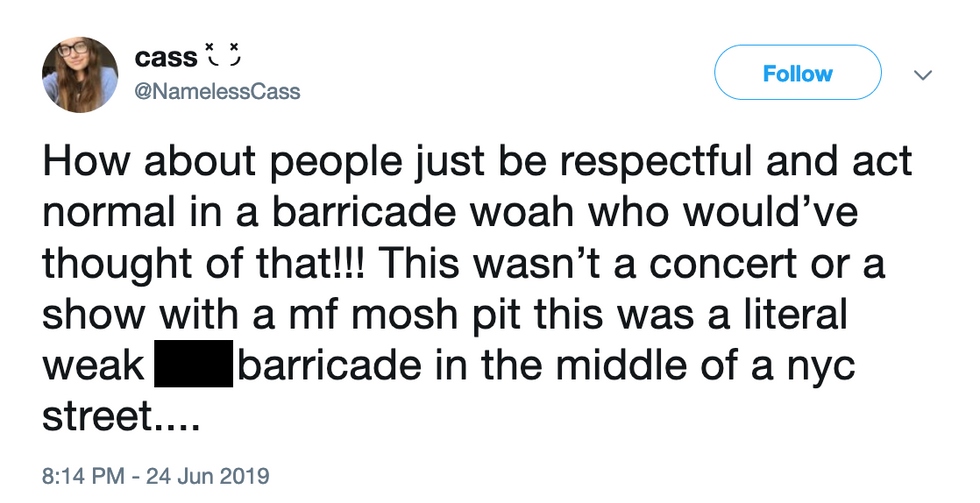 @NamelessCass/Twitter
The view from outside the frenzy looked like total anarchy.
Cass captured Holland's handiwork in the aftermath.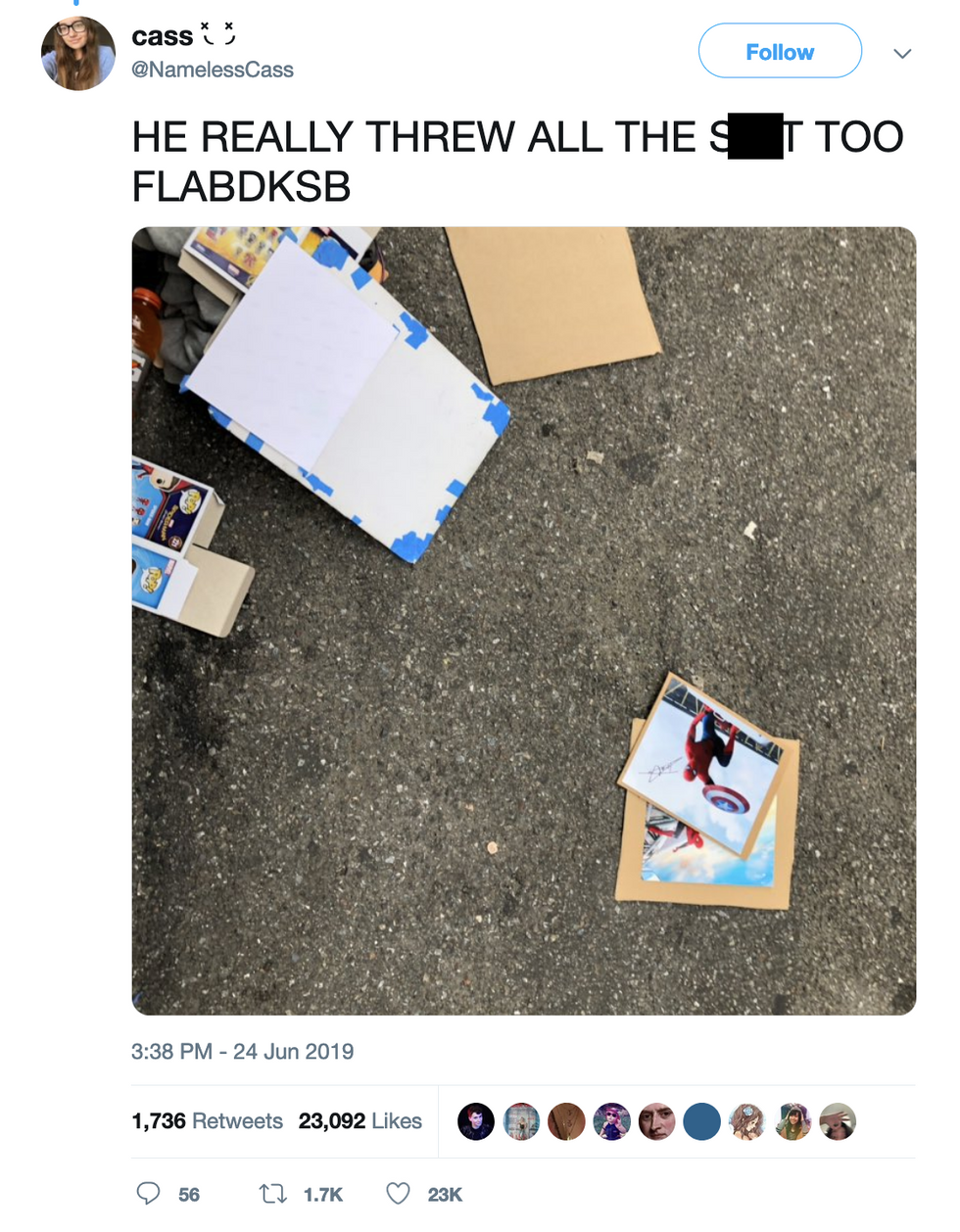 @NamelessCass/Twitter
Turns out, the abandoned paraphernalia belonged to another victim at the scene.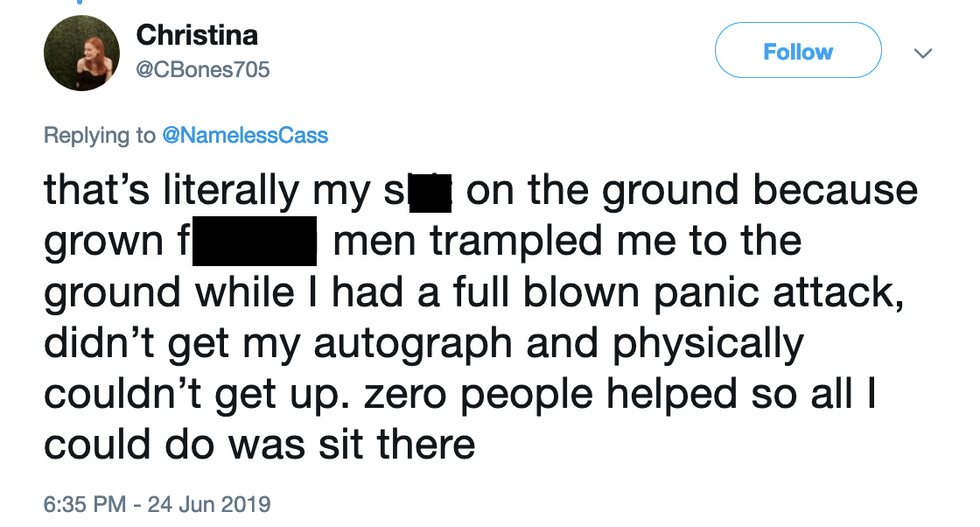 @CBones705/Twitter
Their account is harrowing.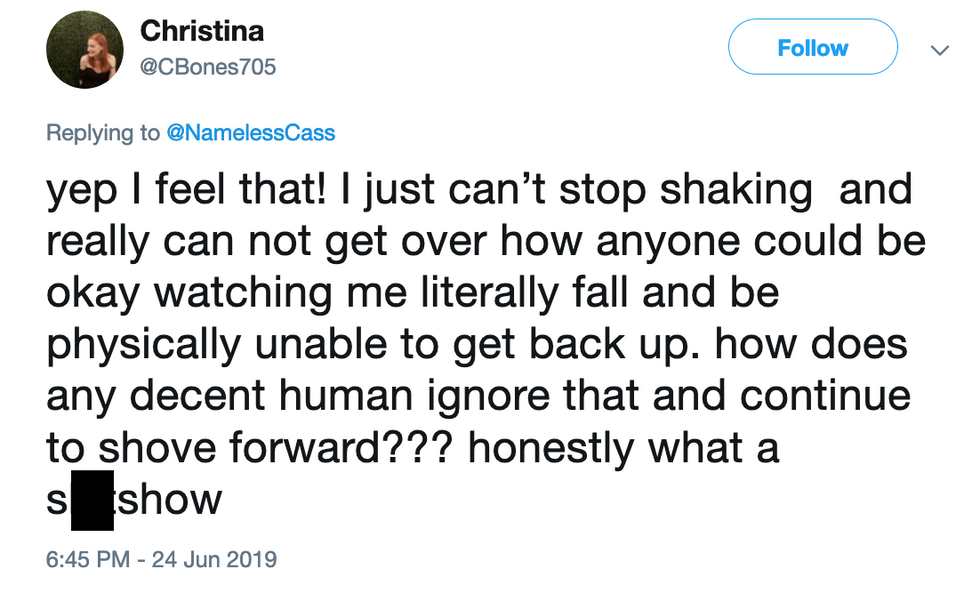 @CBones705/Twitter
Later, Cass realized she missed a photo op with the actor, but the heroic interaction was more priceless than snapping a star-selfie.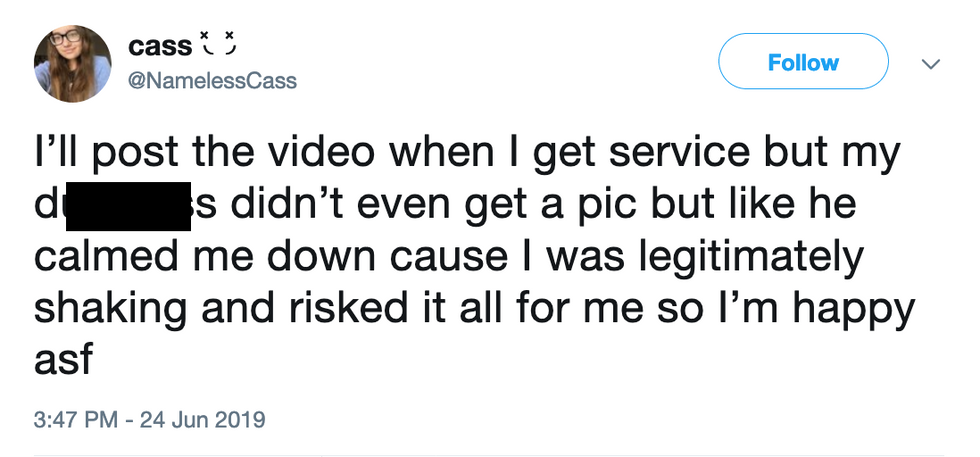 @NamelssCass/Twitter
She realized later that a freeze frame from a perfect moment was better than any snapshot.

This was not an isolated incident.
At another happening, a different fan caught the actor urging the gathering crowd to calm down.
The concerned people of Twitter expounded on the idolatry getting out of hand.
Another fan empathized with Cass and shared a similar experience.
Others felt bad for Holland having to endure an uncivilized meet and greet.

How do you regulate crowds at meet and greets?
Here are some suggestions:

It's all about respect.
Graphers ruin it for the true fans.
Sure, fame comes at a cost. But a fans' safety should not be subjected to such recklessness.

Holland may not be a physical Titan among his superhero co-stars, but his fortitude in standing up against selfish graphers and protecting his genuine fans makes him one of the most heroic of them all.
If you still haven't picked up your copy of Spider-Man: Homecoming, it's available here.
If you're a Tom Holland fan, you can also see him in Pilgrimage, available here, and check him out as a child actor in The Impossible, available here.
"Based on a true story, THE IMPOSSIBLE is the unforgettable account of a family caught, with tens of thousands of strangers, in the mayhem of one of the worst natural catastrophes (tsunami) of our time."