Princess Meghan Markle turned heads in her radiant red dress after landing in the Polynesian kingdom of Tonga as part of her and Prince Harry's first royal tour.
But even the Duchess of Sussex is human, and the noticeable price tag left on her Self Portrait dress is totally forgivable.
It's not we can use constantly meeting and greeting people while traveling all over the world as excuses for the common snafu.
---
Harry and Meghan arrive in Tonga - she's wearing a red Self Portrait dress #RoyalVisitTonga https://t.co/W9VUTdPghM

— Alexander Britton (@Alexander Britton) 1540436332.0
But it just goes to show that even a member of the royal family is not perfect.
Had it not been for the winds welcoming the royal couple at the Fua'amotu Airport this past Thursday, local time, the tag could have gone unnoticed. Or not.
But how can this not be regarded as anything other than simply adorable.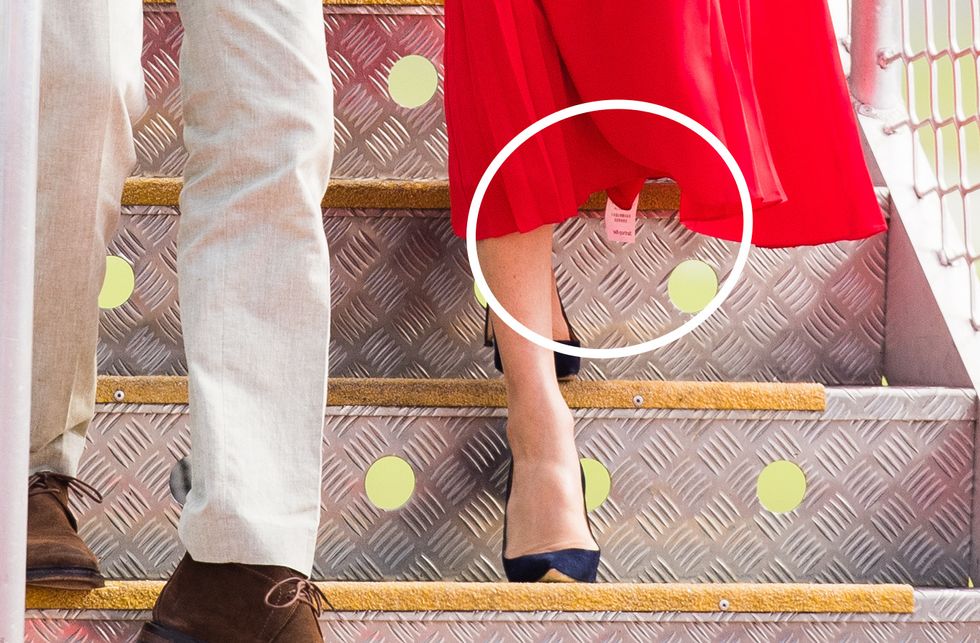 The Duke And Duchess Of Sussex Visit Tonga - Day 1(Samir Hussein/WireImage/GettyImages)
You can leave your tag on: Meghan Markle makes rare fashion misstep Read more: https://t.co/TnHVDtrv2F https://t.co/GCq4ItRO4x

— euronews (@euronews) 1540468665.0
One keen observer commented on the odd location of the tag.
@euronews Odd bloody place for a tag? How many dresses have tags at the bottom of a dress? Sabotage!

— Jahan Khan (@Jahan Khan) 1540502362.0
@euronews I would literally never check to see if there was a tag at the bottom of a dress; collar area or bust.

— bat 🦇 abraham (@bat 🦇 abraham) 1540496393.0
Haven't we all done this?

@euronews Maybe she is going to use it once and return it 😂

— Ashkan Farhadi (@Ashkan Farhadi) 1540502578.0
@euronews Who's to say she wasn't planning on returning this dress after wearing it..hmm?

— RandomAsianGirl🍜 (@RandomAsianGirl🍜) 1540515188.0
We still love the pregnant royal, wardrobe misstep and all. It happens to the best of us.
@euronews She's so cute, it doesn't matter.

— Terye (@Terye) 1540500601.0
@euronews This makes me like her even more!

— Rusana (@Rusana) 1540502687.0
One user noticed something more noticeable.
@euronews Those heels are higher than my grades https://t.co/Iktbk9u4Ot

— 🦋Yari🦋 (@🦋Yari🦋) 1540504503.0
We've all been there.

I now feel less daft about walking into our hotel breakfast on holiday with the tag still on my dress… https://t.co/AVk2WSb18e

— Helen Nicholson (@Helen Nicholson) 1540490219.0
@Helen_IVHA I once ran out of my house in a hurry w the coat hanger attached to the belt on the back of my trench coast.

— maggi mercado (@maggi mercado) 1540499306.0
At the end of the day, it's really not a big deal.
Calm down people. Don't make a big deal about this. She is getting dressed on planes and errors are bound to happen… https://t.co/i7UwLLA8sz

— Ed (@Ed) 1540441533.0
@Ed59029780 Exybut the fact is her PA failed to check before handing her the dress. The lady who followed her down… https://t.co/p2BVC6JG7E

— Kate A (@Kate A) 1540461057.0
In her defense, the cherry-red dress was Markle's second outfit for the day after an earlier event in Fiji, where she stunned locals in a teal shift dress designed by Jason Wu.
@Ed59029780 @KateGoldings It's kinda cute tho https://t.co/rTNZrw89ws

— Eileen (@Eileen) 1540502686.0
Those interested in purchasing the gorgeous dress from Self Portrait can purchase one through their website, and it goes for approximately $430.
The price tag is optional.
H/T - Foxnews, Twitter, Buzzfeed, Cosmopolitan