This is—how one might say—iconic.
Twenty-year-old Leon Dame gave a strut on the catwalk at Paris Fashion Week so incredibly vicious that the internet cannot stop talking about it.
---
Dame absolutely destroys the catwalk with every high-heeled, crossed over step he takes.
Dame's runway walk, complete with unbreakable laser focus and a cadet hat, inspired celebrities such as Lisa Rinna to refer to him as her "spirit animal."
Singer and fashion designer Rihanna has followed Dame on Instagram.
And even reportedly got a smile out of ice queen Anna Wintour.
So again, it's safe to say Dame is no less than an icon, not to mention meme-worthy.
Dame, representing Mason Margiela's line of clothing, has also walked for Alexander McQueen, Burberry, Gucci, and Valentino. This is Dame's second show with Mason Margiela.
Creative director John Galliano, tasked with crafting the show for a line carrying a WWII military theme, aptly chose Dame to close out the show with this powerful walk that he worked with a movement director and choreographer to perfect.
"[The line is] about remembrance, it's about liberation, it's about having a voice. These people fought for you so you can vote, so use it. Make yourself heard. It's important."
This is a Leon Dame stan page.
But can he do Magnum?
Enjoy the ultimate male model in Zoolander, available here.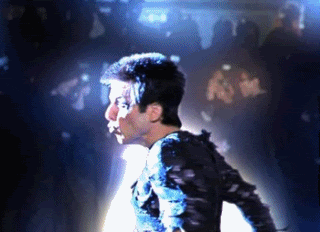 Giphy
*****

Listen to the first season of George Takei's podcast, 'Oh Myyy Pod!' where we explore the racially charged videos that have taken the internet by storm.
Be sure to subscribe here and never miss an episode.