Madonna is counting her blessings after surviving a life-threatening bacterial infection that landed her in the ICU on June 24.
She considered herself lucky to be alive in a new post over the weekend.

Last month following her release from the hospital, the 'Lucky Star' singer updated fans with an Instagram post saying she was on the "road to recovery" and that she was forced to reschedule the North American leg of her Celebration tour due to the sudden health scare.
Now she seems to be doing significantly better and in good spirits after spending time with family, which she claimed was the "best medicine."

Madonna has six children, Lourdes, 26; Rocco, 22; David, 17; Mercy, 17; and twins Estere and Stella, both 10.
On Sunday, she posted a carousel of photos featuring her being affectionate with her son and daughter, David and Lourdes.
She wrote in the caption:

"Love from family and friends is the best medicine. One month out of the hospital and I can reflect."
She continued:
"As a Mother you can really get caught up in the needs of your children and the seemingly endless giving."
"But when the chips were down my children really showed up for me I saw a side to them I had never seen before."
"It made all the difference."
"So did the love and support from my friends."
You can see her post below.
Madonna, 64, shared the moment she had an emotional breakdown and realized how lucky she was to be alive.

She referred to the second photo in the post, which was a framed polaroid that held special significance and represented iconic artists who are no longer with us.

"If you zoom into this picture I am holding you will see a Polaroid taken by Andy Warhol of Keith Haring wearing a jacket with Michael Jackson's face painted on it."
"A perfect triangle of brilliance. Artist[s] who touched so many lives including my own."
"I sobbed when I opened this gift because I realized how lucky I am to be alive."
"And how fortunate I am to have known these people and so many others who are also gone."
Warhol was a visual artist who died in his sleep from a post-operative irregular heartbeat. He was 58.

Haring, who was known for his 1980s New York graffiti-inspired pop art, died of AIDS at 31.

Music legend Michael Jackson was 50 when he died from cardiac arrest due to a prescription medication overdose.

Madonna closed her post by thanking her longtime manager Guy Oseary for the Warhol art and to "all my angels who protected me and let me stay to finish doing my work!"
She received an abundance of love from friends and fans who were relieved to hear the good news.

@madonna/Instagram

@madonna/Instagram

@madonna/Instagram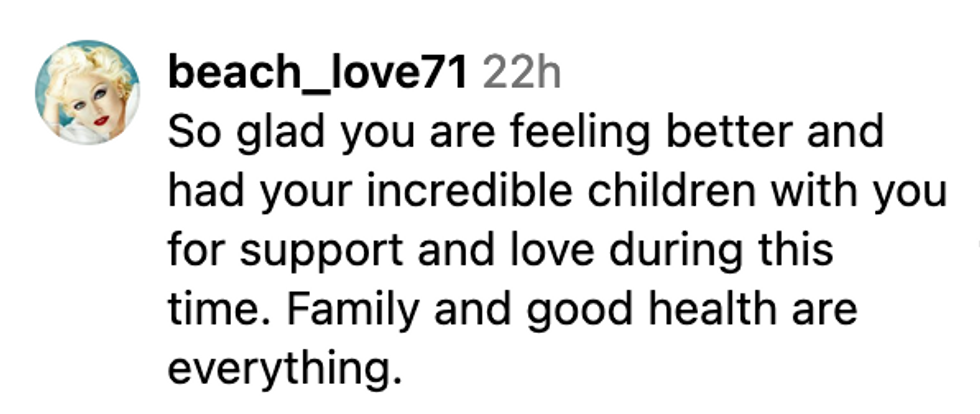 @madonna/Instagram

@madonna/Instagram

@madonna/Instagram

@madonna/Instagram

@madonna/Instagram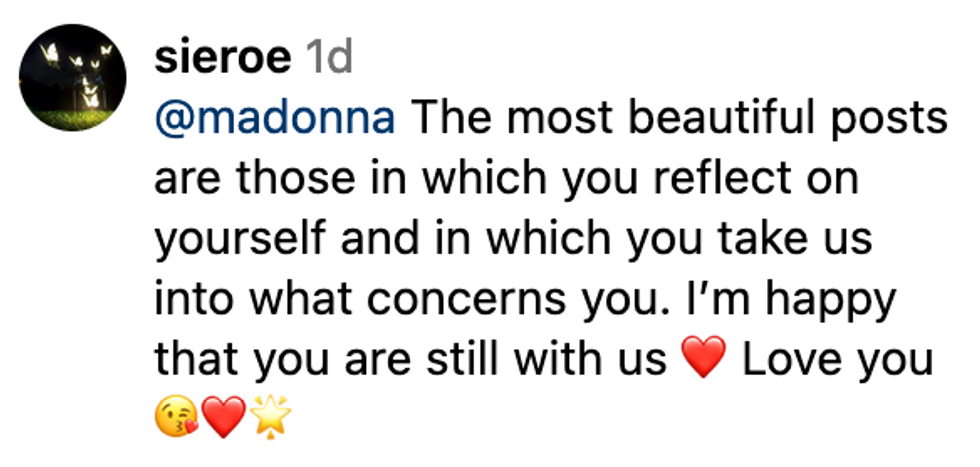 @madonna/Instagram
On June 28, Oseary informed Madonna's fans that she had developed a "serious bacterial infection" and was admitted to the ICU on June 24.

He did not give specifics regarding the diagnosis, but health experts believed the singer may have suffered from sepsis, a condition in which the body's immune system overreacts by attacking its own tissues and organs.

"Her health is improving, however she is still under medical care," Oseary wrote in a statement, adding:

"A full recovery is expected."
Madonna's Celebration tour, which covers over 40 years of music from her recording career, is now rescheduled to begin in Europe in October.