Actress Kirstie Alley defended her now-deleted tweet in which she expressed her skepticism about the Ukraine-Russia conflict after her former Dancing With the Stars partner Maks Chmerkovskiy called her out on social media for being tone-deaf about the crisis.
Chmerkovskiy was born in Ukraine and had been in the country when Russian President Vladimir Putin launched a broad war against Ukraine.
He had been actively posting about his distressing experiences on Instagram since Russian forces invaded his country on Thursday.
One of his posts was his response to Alley's tweet in which the 71-year-old actress said wasn't being vocal about the overseas conflict because "I don't know what's real or what is fake in this war."
The Cheers actress—who was praised last year by former President Donald Trump after she claimed she was "blackballed" by Hollywood for voting for him, twice—said she would not be commenting on the Ukraine crisis.
However, she did offer to pray instead.
She deleted her tweet after being met with the backlash that included criticism from Chmerkovskiy, who rejected his former dance partner's prayers.

He wrote over a screenshot of her deleted tweet:
"Dear Kirstie, we haven't spoken in a while, but I clearly remember being right next to you while you were organizing trucks of aid during Hurricane Sandy and I remember all that you were saying to me about situations where innocent are suffering."
The 42-year-old added:
"That same energy is needed right now. No one needs your prayer if you don't know what's real or fake."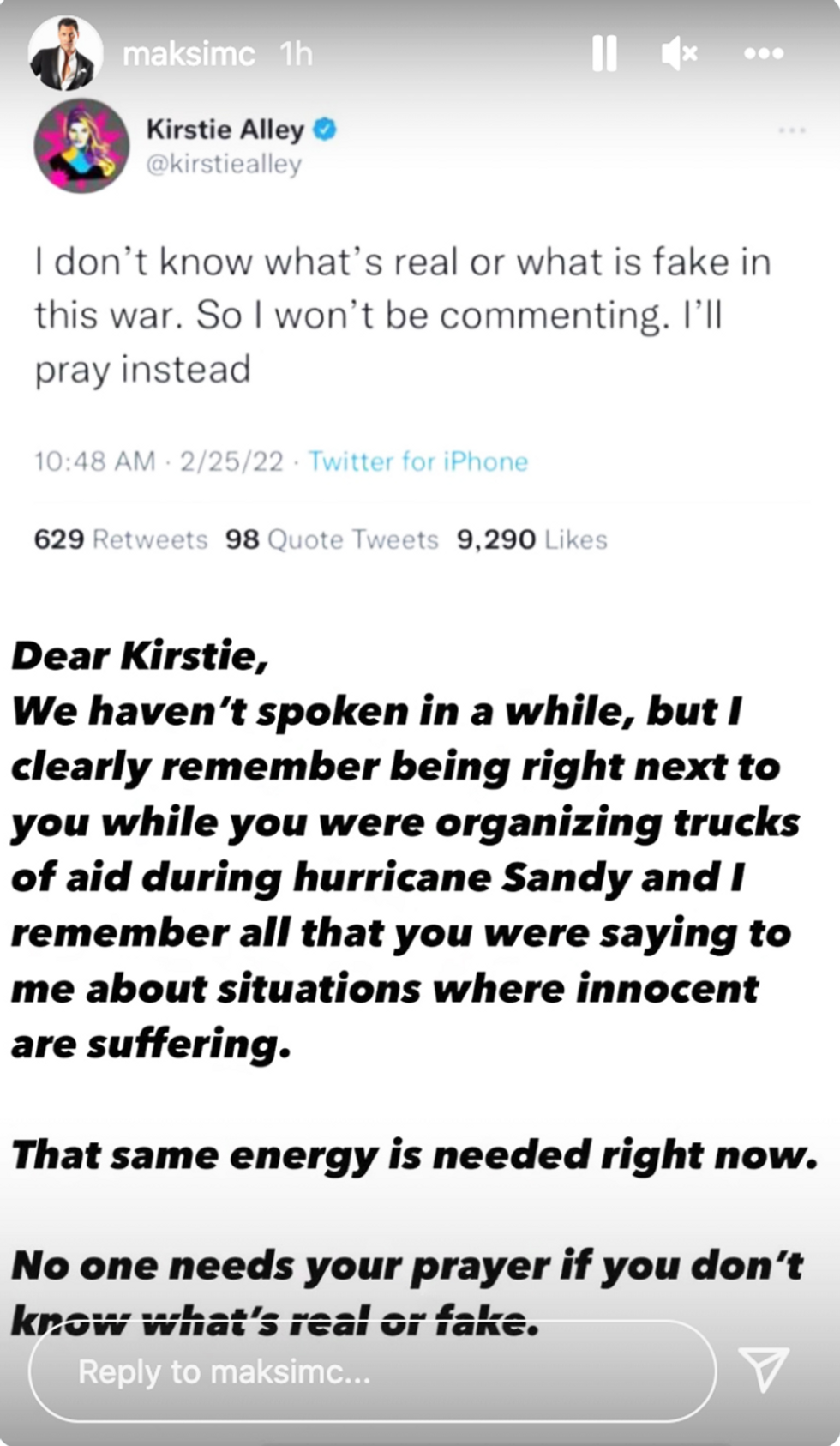 @abbythetweet/Twitter
On Friday, a defensive Alley took to Twitter again and wrote:
"I'm sorry that I'm not an expert on APPARENTLY EVERYTHING.. like some of you jack wagons. It's ok to admit you don't know things."
The following day, she tweeted a link that led to a list of resources to send aid to Ukraine.
On his Instagram Story, Chmerkovskiy said the situation in his country was "real" and that "this is really happening," before sharing details about what his friends were going through.

"A friend of mine drove from yesterday morning … it took them 17 hours to get to the border from Kyiv," he said of the trip that typically lasts five hours. "Everything is crazy."
"Another friend of mine … they're going to try and make their way over to the border to get reunited with some distant relatives who flew in and they're in Poland now."
He added that at the Ukrainian border, men cannot leave the country.
"If the families are going all together, the men have to stay back and go back, and women can go forward."
And while admitting to not being a "military adviser," Chmerkovskiy said, "it seems like the Ukrainians are making a pretty dramatic stance and [are] pretty heroic and pretty historic, if I may."

"The kids and elderly are not part of this. The women are not part of this. F'k it, man, even the men are not part of this," said the DWTS star.

"We didn't choose to be. There's gotta be a way to pause it and continue talking for as long as it takes. That's my wish."