An internal affairs investigation was underway after the Miami-Dade Police Department in Florida became aware of a video clip in which a motorcycle cop told a Black motorist who was pulled over for not wearing a seatbelt that "this is how you guys get killed."
A TikTok video posted by @giliam509 showed a clip of the driver–identified as Gerardson Nicolas–being confronted by the officer and ordering Nicolas to show his driver's license and registration.
The text overlay reads, "Being black in American [sic] is a crime, according to Miami Dade police," followed by an instruction to "listen closely" to what the officer is about to tell Nicolas.
"Give me your driver's license, registration, and insurance," demands the unnamed officer in the 50-second clip.
The impatient officer continues:
"If not, you will not be going to work today. Simple thing, man."
"This is how you guys get killed out here, man."

@giliam509/TikTok
@giliam509/TikTok

@giliam509/TikTok
Taken aback by the officer's comment, Nicolas says:
"What? Say that again? Say what you just said."
@giliam509/TikTok

@giliam509/TikTok
The subsequent text overlay in the clip reads, "Did he just threaten him?"
At the end of the clip, the officer repeats his instructions for Nicolas to show the requested documents before shutting the car door on him and walking away to check his driver's license.

@giliam509/TikTok
Following the incident, Nicolas told NBC 6 that he started recording because he feared for his life after the officer grabbed the door handle of Nicolas' car.
"I was scared, I was scared. I didn't think my life was going to make it," Nicolas told the news station on Monday.
"When he asked me for my license, open the door, I started recording. I was looking for my stuff, my license because I didn't see my wallet."
"I was looking for my wallet and that wasn't my car, that was my mom's car and I didn't know where the registration was, I was looking, looking."
"He got mad."
@giliam509/TikTok
When the Miami-Dade Police Department became aware of the incident, they placed the veteran officer seen in the video clip on desk duty until an internal affairs investigation was complete, according to the Miami Herald.
Interim Miami-Dade Police Director George Perez ordered the investigation on Friday after the department's cyber detectives apprised him of Nicolas' video online to "review over 30-minutes of footage captured on the officer's body-worn camera and other evidence."

You can watch a news report here.

Miami-Dade PD launches internal affairs investigation into traffic stop videoyoutu.be
Perez said in a statement:
"Rest assured we are committed to transparency and community trust and will address all matters of public concern equitably, fairly, and in accordance with applicable laws."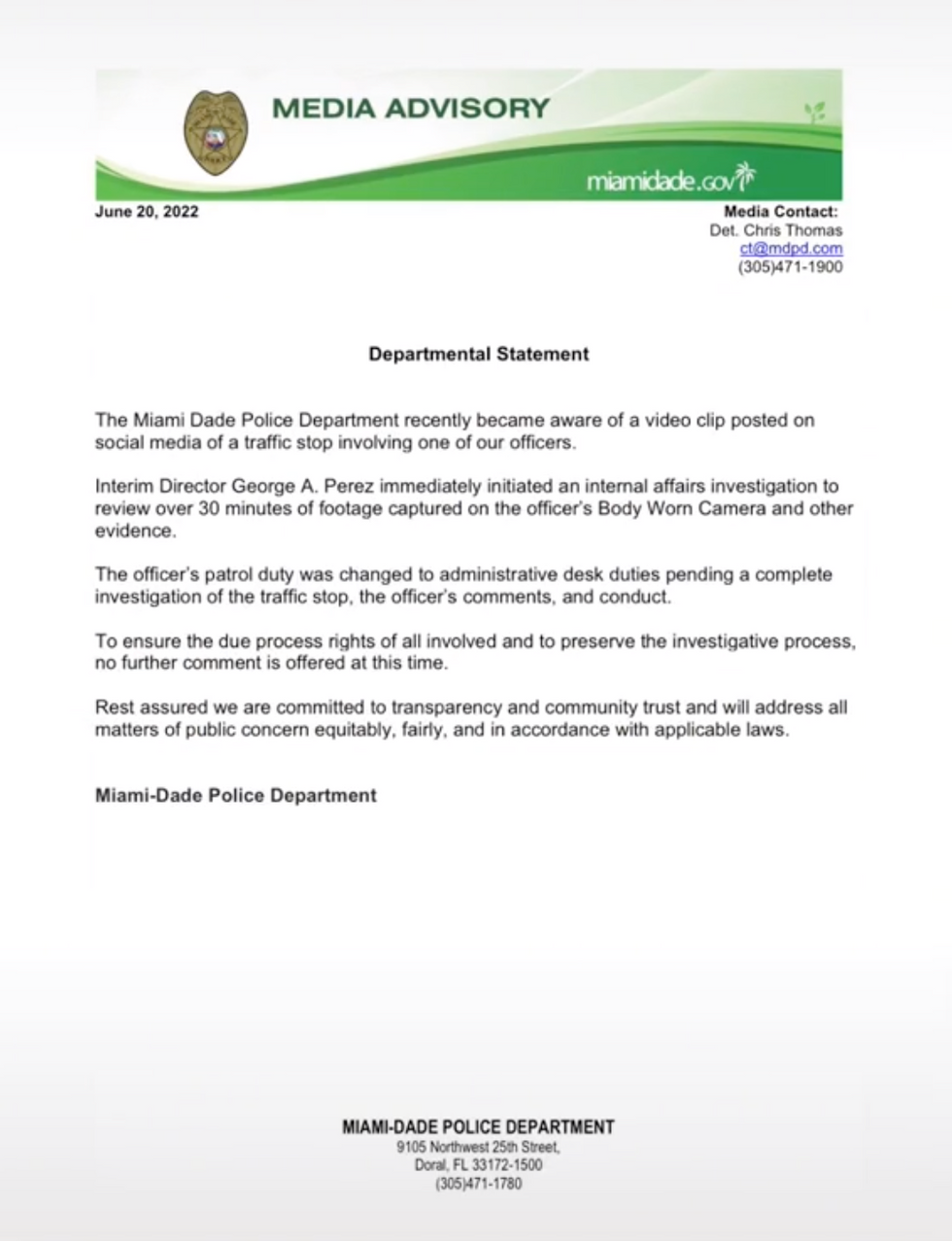 @giliam509/TikTok
Nicolas posted a screenshot of the MDPD's update in a follow-up TikTok post.
@giliam509/TikTok
@giliam509/TikTok

@giliam509/TikTok
Nicolas was not arrested, but he was ticketed for not wearing a seatbelt, not having a proper license tag and insurance, and driving with a suspended license.
Steadman Stahl, president of the South Florida Police Benevolent Association, said he would like to see the video in its entirety before passing judgment.
@giliam509/TikTok
Stahl also said he believes the motorcycle officer's "you guys" comment was not racially-charged, but a general reference to people risking their lives every time they don't buckle up.


@giliam509/TikTok
Perez, however, disagrees.

He said:
"It's exactly what the inference is that bothers me."