Michael Fanone—who worked for the Metropolitan Police Department of the District of Columbia for 20 years until he sustained serious and life-threatening injuries when he was brutally attacked by former Republican President Donald Trump's supporters during the January 6 insurrection—criticized nearly three dozen state troops who posed with Trump following a rally in Wilkes-Barre, Pennsylvania last week.
Trump had earlier shared a photo of himself flashing a thumbs-up sign while flanked on either side by uniformed members of the Pennsylvania State Police.
Trump posted the photo without comment to Truth Social, the struggling social media platform he created after he was booted from Twitter for inciting the January 6 insurrection.
The photo has prompted Pennsylvania Democratic Governor Tom Wolfe to open an investigation because department policy requires prior approval before officers can engage in any activity while in uniform and to avoid making political statements while in uniform.
You can see it below.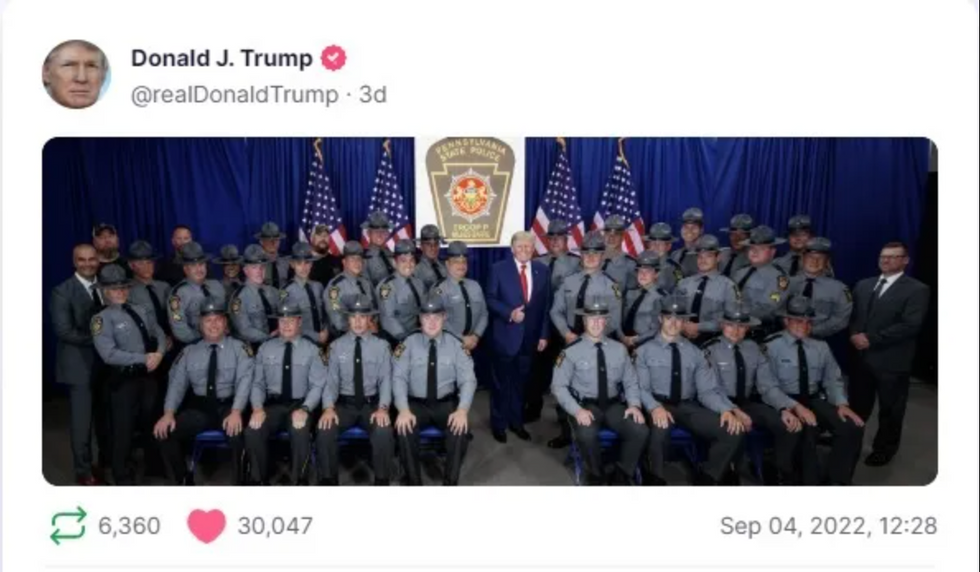 @realDonaldTrump/Truth Social
The violence that erupted on January 6—the day a mob of Trump's supporters attacked the United States Capitol on the false premise the 2020 general election had been stolen—left at least five people dead and resulted in over 100 injuries to law enforcement as well as millions of dollars in damages.
Understandably, the photo of a smiling Trump with members of law enforcement angered Fanone, who called their participation "unprofessional," "improper," and said they "can go f**k all the way off."
A dismayed Fanone toldHuffington Post that he is furious with police unions around the country that continue to support Trump despite the fact that his actions resulted in several deaths and imperiled the lives of numerous police officers.
Fanone's remarks came after Trump held a rally in Wilkes-Barre during which he attacked the Federal Bureau of Investigation (FBI) for executing a search of his Mar-a-Lago estate for classified documents he'd spirited away from the Oval Office and vowed to pardon insurrectionists, including those who were charged with assaulting law enforcement.
To that end, Fanone was clear that Trump's appreciation for law enforcement is strictly conditional:

"He only likes the police that like him. He only likes the law enforcement agencies that do his bidding."
"Does it surprise me that there are still police officers who support Donald Trump? No."
"Does it piss me off? Yes."
Fanone also noted that he "didn't see a lot of Black and brown faces in that photograph," underscoring common observations that Trumpism has largely appealed to those who identify and sympathize with White supremacist and White nationalist ideologies.
Others have joined Fanone in criticizing members of the Pennsylvania State Police.
Fanone's name has become synonymous with the many police officers who suffered horrific and unprecedented trauma as they attempted to restore order and protect the seat of the nation's government on January 6.

In June, U.S. District Judge Amy Berman Jackson denied a request from the legal team for insurrectionist Thomas Sibick that she loosen restrictions she put in place after she released him from a Washington, D.C. prison last October. Sibick had earlier tried and failed to be relieved from a 24-hour lockdown at his parents' home so he can use dating apps.
Sibick faces up to 20 years in prison if convicted of obstruction of an official proceeding, the most serious of the charges against him. Federal authorities have also charged him with robbery, civil disorder, assaulting police and committing an act of physical violence on Capitol grounds.
His face became known nationwide for his involvement in the attack on Fanone, who suffered a traumatic brain injury when he was beaten with a flagpole.
Sibick robbed Fanone of his badge and radio while others tased Fanone and threatened to beat him with his own gun. Fanone's badge and radio were recovered from the spot where Sibick buried them after returning to Buffalo, New York from D.C.
Fanone, who currently works as an on-air contributor and law enforcement analyst for CNN, has described the attack as "the most brutal, savage, hand-to-hand combat of my entire life," adding he "experienced a group of individuals that were trying to kill me to accomplish their goal."