A displeased restaurant owner in Dallas, TX, apologized for a photo that Donald Trump Jr. took with Senator Ted Cruz posing with a giant cookie they assumed was depicting Barack Obama that some saw as borderline racist.
---
@dallasnews Scary Deliverance twins... https://t.co/YkW0NjifzJ

— Pedro Lupe (@Pedro Lupe) 1513745251.0
"With friends like these... some good friends decided that while my birthday is not for 2 weeks that they would get me an early 40th birthday cake," Trump Jr. wrote for his Instagram caption. "And what birthday is complete without an Obama cake? I figured it was so good that I would have to share it with Ted."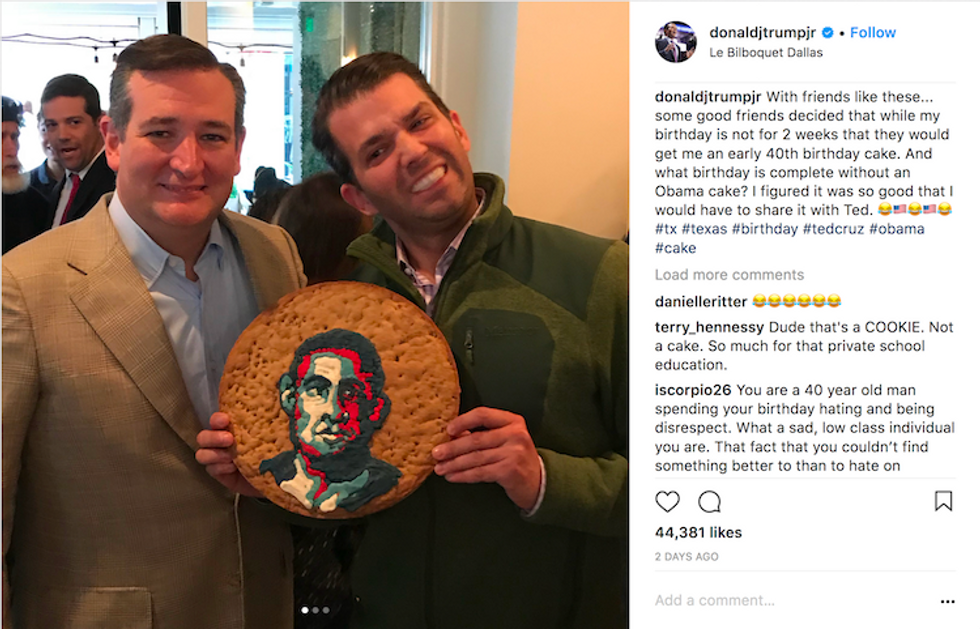 While Trump Jr. thought he was nailing it with his sense of humor, the cookie crumbled when others clobbered his post, calling him "pathetic" and a "big douche."
Not only did he rile up social media for his photo, but he also confirmed that the apple didn't fall far from the tree by posting his fake news on social media. That cookie is not a cake.
The party was also not an early celebration for Trump Jr., which Stephan Courseau, the owner of the restaurant Le Bilboquet clarified on his Facebook and Instagram pages.
"Both Donald Trump Jr. and Ted Cruz were attending a birthday celebration of one of our regular patrons who rented out our venue for a private event," Courseau wrote. "The party was not for either one of them nor was it any kind of partisan rally."
Someone that attended the party brought in an outside cake for Donald Trump Jr.'s upcoming birthday and we are not sure who that was. Both Donald Trump Jr. and Ted Cruz took pictures with the cake and posted on social media outlets.
@washingtonpost Obama who? That certainly ain't Barack Obama on that cookie.

— BubbleTrader [NoWay8k!] (@BubbleTrader [NoWay8k!]) 1513712499.0
@abzTRDR @washingtonpost It looks like Ajit Pai 😕

— Low-level Staffer (@Low-level Staffer) 1513713129.0
Others in the photo appear to find the cookie hilarious.
Dallas restaurant owner 'betrayed and sad' after Donald Trump Jr. and Ted Cruz photographed with Barack Obama cooki… https://t.co/rf92K562UE

— Dallas Morning News (@Dallas Morning News) 1513744112.0
Some of the commenters blasted Le Bilboquet by association and threatened to boycott the establishment. Courseau apologized and emphasized the restaurant's policy towards discrimination.
We at Le Bilboquet feel betrayed and sad. Restaurant business is about creating a hospitable environment for all, a non-partisan, non-politicized, nondiscriminatory and respectful environment. The fact that guests decided to use our restaurant as a platform to promote, disrespect, and spread hatred goes against everything we stand for. On a personal note, I am French and my wife is Mexican. We both believe in universal values of love, respect and tolerance.
Some on Twitter found Trump Jr.'s cookie joke somewhat stale.
@RawStory As others have said #inbreeding

— (((Barbara)))DoNotKnit (@(((Barbara)))DoNotKnit) 1513643328.0
@BarackObama is a SMART COOKIE. @DonaldJTrumpJr is a moron dotard. https://t.co/rqVNcrm3Rw

— hikergal (@ hikergal ) 1513602652.0
@thehill Honestly between those two asshats, that @BarackObama cookie is the best looking thing in that photo.

— Tray Gowdy (@Tray Gowdy) 1513569783.0
Imagine having the face of either Ted Cruz or Donald Trump Jr and yet making fun of how Barack Obama looks on a cookie

— Rachel McCarthy James (@Rachel McCarthy James) 1513570959.0
@wvjoe911 I love that they enjoy showing off their immature assholeness. Yes, that's now a word till #Trump is out… https://t.co/b2AJ2OfgD5

— PorcupineSunday (@PorcupineSunday) 1513704940.0
@IBTimes So much money and societal advantage, so little class.

— Ric Fouad (@Ric Fouad) 1513680575.0
@Defeat_GOP Trying to imagine Don Jr. using that smirk in front of his cellmate.

— Sean McCabe (@Sean McCabe) 1513605531.0
@ashleyfeinberg @joanwalsh Hey Dotard Jr., that's a cookie, not a cake. BTW, you and your family will never have th… https://t.co/Klytz2lLW0

— Jane Glenn (@Jane Glenn) 1513569079.0
Please SHARE this with your friends and family.
H/T - Instagram, Grubstreet, Chron, Popsugar