Alex Denman was born with Bilateral Moderate Sensorineural hearing loss. But thanks to modern technology, the 5-month-old experienced hearing the voice of his mother for the very first time.
The moment after Alex was fitted with the cochlear implant, it was captured on video.
His priceless reaction to the sound of his mother's voice, saying, "Hello, it's mummy," is making the internet very emotional.
---
The video of Alex seen here with his mother's partner, Paul Sang, was shared by Alder Hey Children's Hospital in Liverpool.
The adorable baby is wide-eyed with wonder as the implant works its magic. And we can't help but be smitten by him.
On Wednesday, Baby Alex and his mother Jen appeared for an interview on the British program, This Morning. Jen told Presenters Gok Wan and Rylan Clark Neal she was surprised by the video's viral status.
So far, over 800,000 thousand people witnessed Alex reacting to his mother's voice.
"It was only meant for family and friends. And now I have people saying, 'Oh, it's such a feel good story.' "
She told the hosts about the initial discovery of Alex's hearing loss. After birth, the infant went through a series of tests and everything checked out, but when it came time for the hearing portion, the results came back as a "no clear response."
Jenwas told her son would need a hearing aid and would require further tests and an MRI.

The hosts asked about how Jen's other son, Joe, responded to having a deaf baby brother.
"When you told Joe about him being deaf, what happened?"

Based on her response, it seems Alex has a protective and loving older brother.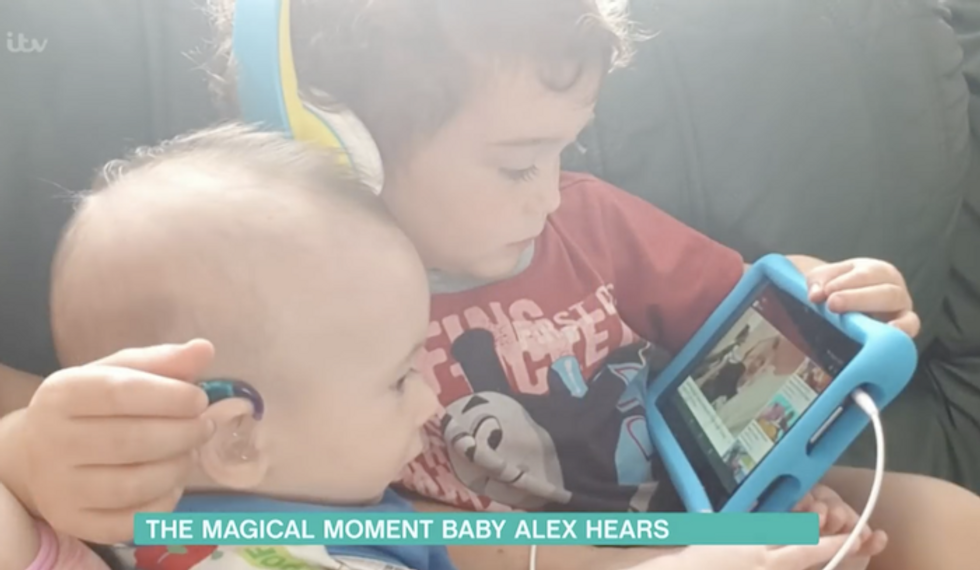 Alex with his big brother, Joe.(This Morning/YouTube)
Joe would ask if Alex is wearing the hearing aid properly and would fetch a screwdriver and exclaim, "I'll fix them mommy!"

In preparation for Alex to communicate efficiently as he gets older, the family adopted sign language as a head start.
The earlier you start it [sign language], the easier.
Every time we say milk, mummy, daddy and brother we use sign language.

The reactions on Twitter were very moving.
Watch the clip from This Morning below.