Working under near-impossible deadlines and intense pressure are challenges familiar to Project Runway season 4 Winner Christian Siriano.

But instead of making the cut to stay in the reality competition show, the fashion designer had more at stake in real life by ensuring his celebrity clients, including actress Melissa McCarthy, had a dress to wear at the 95th Academy Awards.

Siriano told E!that he had to remake McCarthy's dress after his studio was significantly damaged by a flood due to a pipe burst.

He said the in-studio disaster happened six days before the major awards ceremony. So time was short.

"Yay happy Monday to us," he said sarcastically, adding:
"THE WORST EVER! Only a few dresses ruined."
Here is a video of the aftermath.
He said of McCarthy's damaged dress:

"Everything was okay, but it wasn't perfect—and it has to be perfect on a night like tonight or they just won't wear it."

"So we were just freaking out all day."

Understandable.

The Maryland native went on to describe the look he created for the two-time Emmy award winner as "a big moment."

"She's about to be in such an incredible film for Disney playing Ursula in 'The Little Mermaid,' how fabulous."
"So I just wanted to give her a really fabulous fashion moment."

As you can see below, he accomplished his mission.

The actress turned heads at the star-studded annual event in a cardinal red ball gown with a turtleneck satin bodice with puffy Victorian sleeves.

Stunning details included a layered chiffon skirt with ruched panels.
And Siriano made it from scratch in a matter of days.

Siriano said he did not plan on disclosing the mayhem–which he described as "traumatizing to my life"–involving the ruined dresses.
"I wasn't gonna say anything about what really happened because I don't want the actress who's wearing something to know that her dress was fully remade."
Because of the chaos, Siriano had to hand-deliver the reconstructed dress to McCarthy himself.

He shared a video on Instagram following his debacle and en route to the Oscars courtesy of a United flight.

First class, of course.

"Well a Flood in the office won't stop us! Last dress for tomorrow night made it on the plane!"
"Wait until you you see all the beautiful moments on the red carpet!"
Naturally, Project Runway fans chimed in with references to the reality competition show.


@csiriano/Instagram

@csiriano/Instagram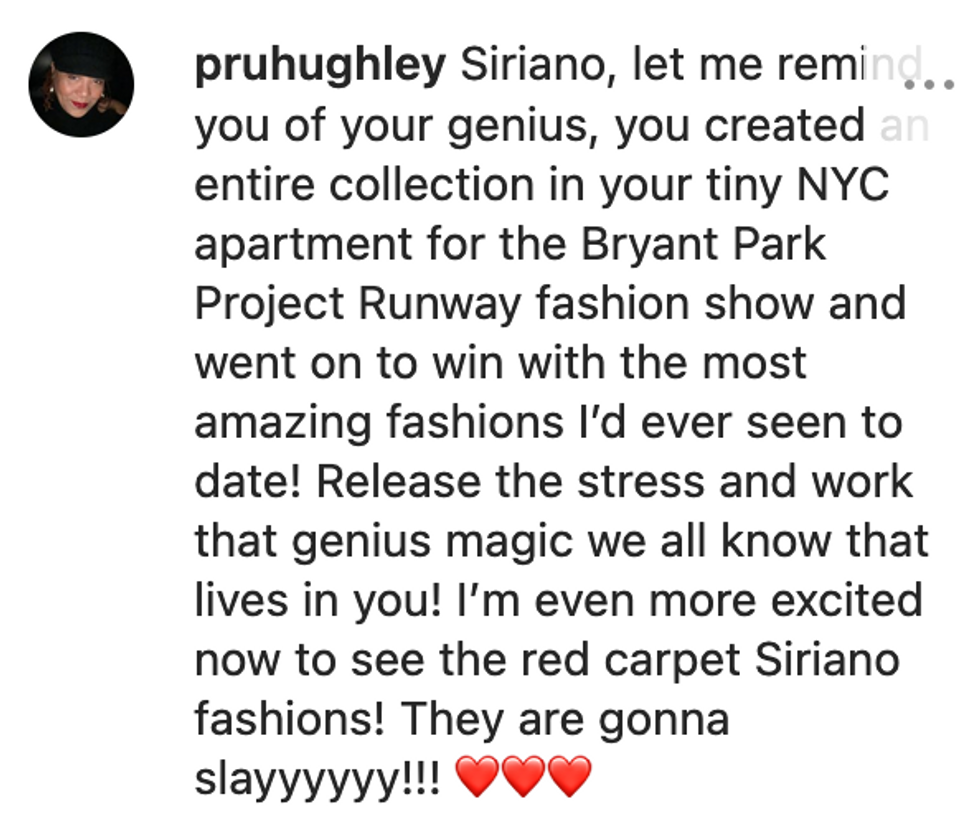 @csiriano/Instagram

@csiriano/Instagram
Despite the major hiccup, Siriano managed to deliver on his goal of making his high-profile clients shine on the red carpet.

He literally kept his head above water, just like the pro he is.