During a segment on Fox News on Monday, conservative pundit Candace Owens made some statements about racism and police brutality that turned quite a few heads.
---
As Laura Ingraham and her guests discussed the election and the previous administrations, Owens, criticized the Obama administration, saying:
"Obama did a lot to tear this country apart. I do not remember, when I was growing up, having all of these race issues, okay? I really don't remember it. And then suddenly towards the end of Obama we start hearing all of this rhetoric drummed up. It became white versus black all over again."
"And I say all over again," she started before catching herself, continuing:
"I shouldn't even say that because when I was alive this was not an issue. It all became about race, and I really do think that they were laying down the ground work for Hillary [Clinton] to run because they had already pre-selected her to be the President of the United States."
When her fellow panelist challenged her statements, asking what Obama had done to drive the race discussion, Owens responded that he had "backed up the police violence stuff," adding:
"He backed up the myth of police brutality. He added gasoline to a fire that was simply untrue."
Despite her claims being outlandish, it was Owens' own history with racism that really had people crying foul.
Many were quick to point out that, in February of 2007, a group of five teenagers in Stamford, Connecticut had called then-high school senior Owens and left her racist messages, repeatedly calling her a racial epithet and "dirty," and threatening to burn her house down and tar and feather her.
One of the teens involved in the incident was the 14-year-old son of Stamford Mayor Dannel Malloy. So, with the help of the NAACP, Owens sued the city for failing to act and won a $37,500 settlement from the Board of Education.
Owens even left school for six weeks following the incident because of the trauma of having to be around the alleged callers.
So for her to say that she "doesn't remember" any race issues growing up seems patently false.
But when you're being paid by a network that actively promotes views that go against reality and truth, apparently that's enough to change your narrative.
A few people were a bit more sympathetic, however, adding that Owens probably suffers from mental health issues stemming from the incident.
Either way, the damage she is causing with her words is helping no one. Especially herself.
But, unfortunately, it has become expected at this point.
Not a good look, Candace.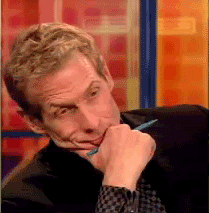 Giphy
The book Healing Racial Divides: Finding Strength in Our Diversity is available here.
"In Healing Racial Divides, Terrell Carter, a pastor, professor and former police officer takes us on a revelatory journey into the abyss of the racial divide and shows us how we've arrived at this divisive place."