"I like to ruin things for people 😂 "
Tiktok user @shellycantsitwithus was, if nothing else, blatantly honest about how she captioned the cautionary video we'll be talking about today.
She's been a bartender for literally as long as Olivia Ridrigo has been alive—that's 19 years for those of us not up-to-date on the current pop star roster—and decided to share some of her industry wisdom with the world.
The result is two minutes and forty five seconds worth of stuff that made people make this face: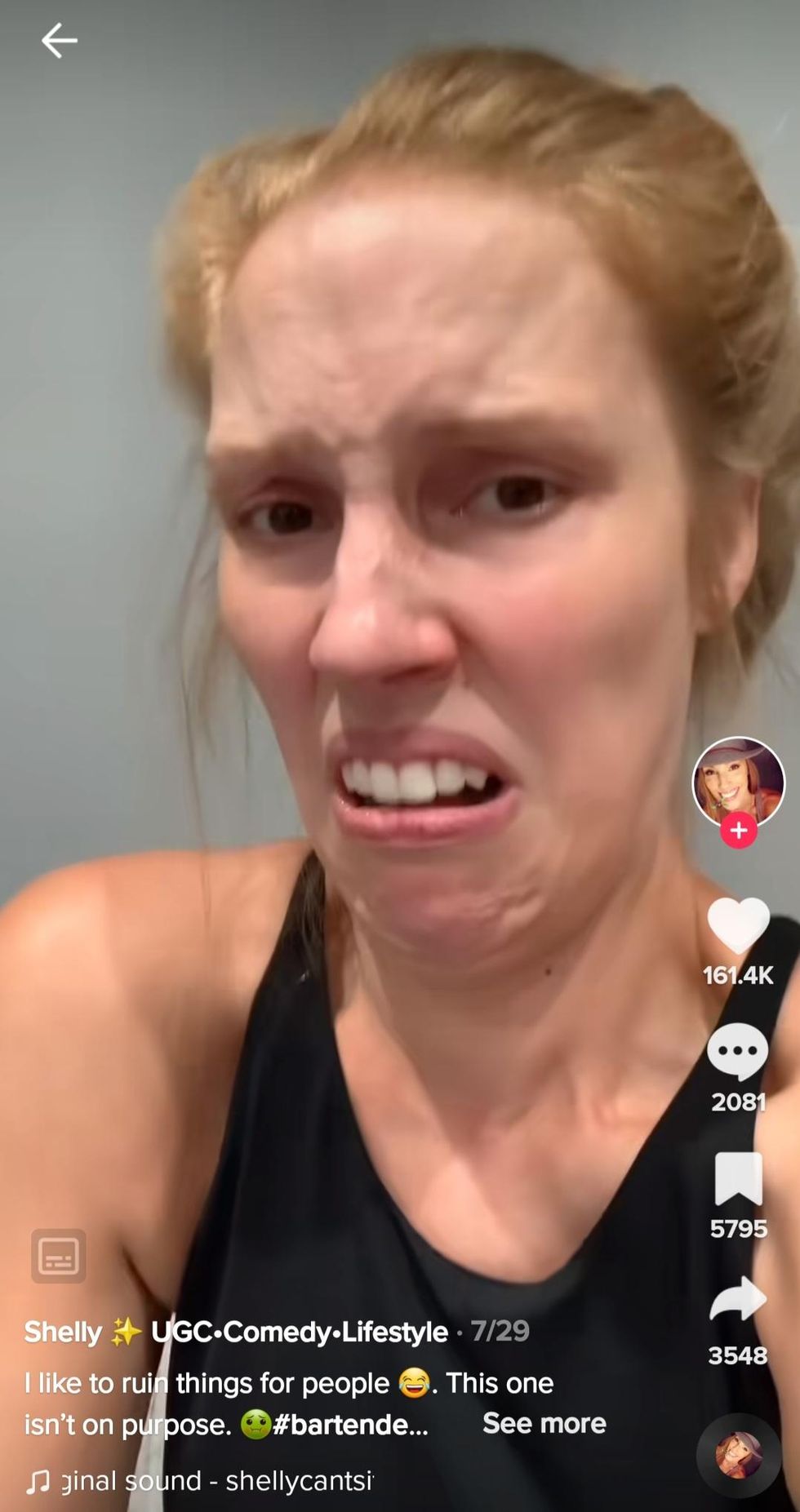 @shellycantsitwithus/TikTok
Yeah.

Shelly shared the five things she, as an industry insider, would absolutely NOT do. Her tips are designed to keep us safe and help us have the best bar experience possible .
They say the truth will set you free, but first it'll gross you out.
First, she cautioned us about draft beer and where we order it from.
Not to give anything away but the phrase "moldy fuzz—it's really cute" gets uttered. It's life changing.
Not in a good way.

Tip two warns us about batched cocktails—including what they are and why you want to avoid them. Long story short, you're probably being sold a delicious and unsanitary lie.
Her third tip hit a little close to home, especially for Corona drinkers. Shelly cautioned against putting the fruit on the side of your drink into the drink itself.
She knows exactly where the bartenders hands have been and there are some things no amount of alcohol in your drink can sanitize away.
She also fully admitted to still sometimes doing it, even though she knows better.
Tip 4 basically boiled down to "be nice ... or else."
And finally, Shelly wants the world to know that spiking drinks is so easy, and people are so smooth about it, that she's seen it happen to people whose drinks were right in front of them.
Obviously don't leave your drinks unattended, but more than that, she wants people to know even attended drinks get spiked. All it takes is a moment.
So yeah TikTok is horrified now.

@shellycantsitwithus/TikTok

@shellycantsitwithus/TikTok

@shellycantsitwithus/TikTok

@shellycantsitwithus/TikTok

@shellycantsitwithus/TikTok
@shellycantsitwithus/TikTok

@shellycantsitwithus/TikTok
We'll likely be drinking at home from now on, thanks.