A woman was called a racist on social media after a TikTok video showed her going off on another woman in a parking lot dispute and yelling at her to speak English instead of Spanish.
Estefani Vizcaya posted a TikTok video of the White woman—whom she referred to by using a common female name colloquially associated with entitled, demanding women.
Vizcaya said she went shopping at a Halloween store and her accompanying mother stayed in the car to watch the kids.
Once inside the store, the TikToker suddenly received a call from her mom, who informed her something was going down outside. Hearing yelling in the background, she immediately dropped everything and ran outside to see what the ruckus was all about.
She said she saw two women railing against her mother and claiming their vehicle was struck by the mother's car door on purpose.
When the mother tried to convey to her daughter in Spanish that wasn't what happened, the frustrated woman, seen wearing an orange Jack-o'-lantern T-shirt, told the TikToker's mother:

"You cannot speak Spanish in front of me because I don't know what you're saying."
@estefanivizcaya

When someone has the nerve to tell me my mother can't speak Spanish in front of them 😓 such ugly people … this was my first racist interaction !
In response to a viewer who wanted to know what exactly happened, Vizcaya posted a follow-up with allegations not seen in the video.
According to Vizcaya, the woman claimed, as she was pulling out, her mother purposely hit their car with enough force that it shook.
When she asked her mom if she actually did hit the lady's car, the mother said the woman actually hit their car first.
"She was getting into her car and when she was getting into the driver's side, her door opened and hit my car," said Vizcaya.
@estefanivizcaya

Reply to @bmomma.1234 if I would of went in her car cussed her out and slammed the door with her kids in there… I would be charged for something smh.
Her mom said the lady then got out of her vehicle, inspected their car without saying anything to her, wiped something off, and jumped back in her car.
That was the moment the mother opened the back passenger side door, where she was sitting with her grandkids, and accidentally hit the woman's car.
That prompted the woman's mother to come charging out of the car. She allegedly opened the TikToker's passenger door and apparently yelled at her to "get the f'k out!" and then closed the door on her.
By the time Vizcaya got to the parking lot, she said she heard the mother of the other woman allegedly calling her mom a "stupid Mexican," among other insults. They also claimed Vizcaya's mother wasn't speaking English when she actually did.
When Vizcaya's mom tried to explain to her what happened, that was when the woman yelled at them to speak in English.

@estefanivizcaya/TikTok
The initial video ended with Vizcaya telling her mother to stop trying to speak English to them until the police arrived.

Vizcaya's post racked up over 200,000 views in a day since posting.
People had plenty to say about the heated interaction.

@estefanivizcaya/TikTok

@estefanivizcaya/TikTok

@estefanivizcaya/TikTok
TikTokers disclosed how they would have been less dignified in their handling of the situation.

@estefanivizcaya/TikTok

@estefanivizcaya/TikTok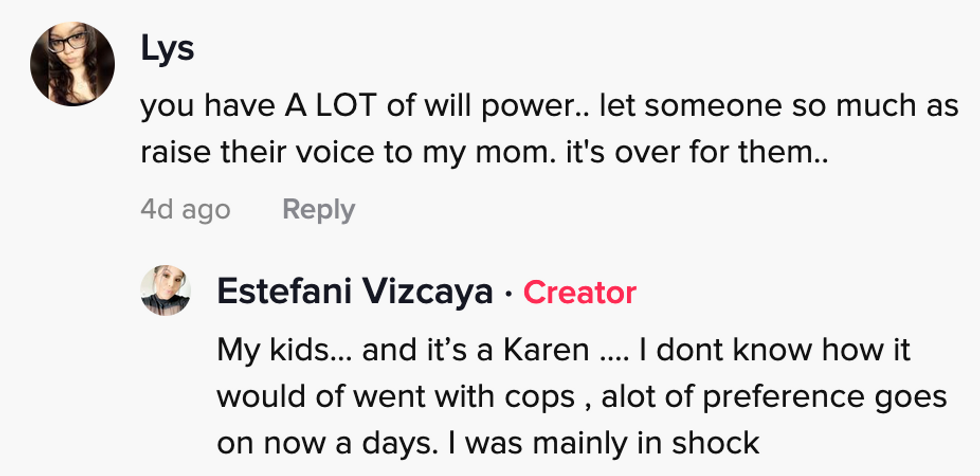 @estefanivizcaya/TikTok

@estefanivizcaya/TikTok

@estefanivizcaya/TikTok

@estefanivizcaya/TikTok
Vizcaya said when the police eventually arrived, they told the woman to leave because "it wasn't an emergency" and "because nothing happened to her car."