A 25-year-old woman with a 50 percent chance of developing early onset Alzheimer's has spoken frankly of her daily agony as she struggles to decide whether or not to be tested for the degenerative brain disease.
---
Not only are sisters Zoe Higginson and Katie Lambert, 17, forced to watch their beloved mom Joanna Lambert's heartbreaking deterioration, after she was diagnosed four years ago at 45 – one of only five percent of Alzheimer's cases to develop before 65 – but they know they could have inherited the cruel disorder, too.
Now, the brave women, of Wickford, Essex, have vowed to wait until Katie turns 18 in January – when she is old enough to choose for herself – before deciding whether or not to have the test.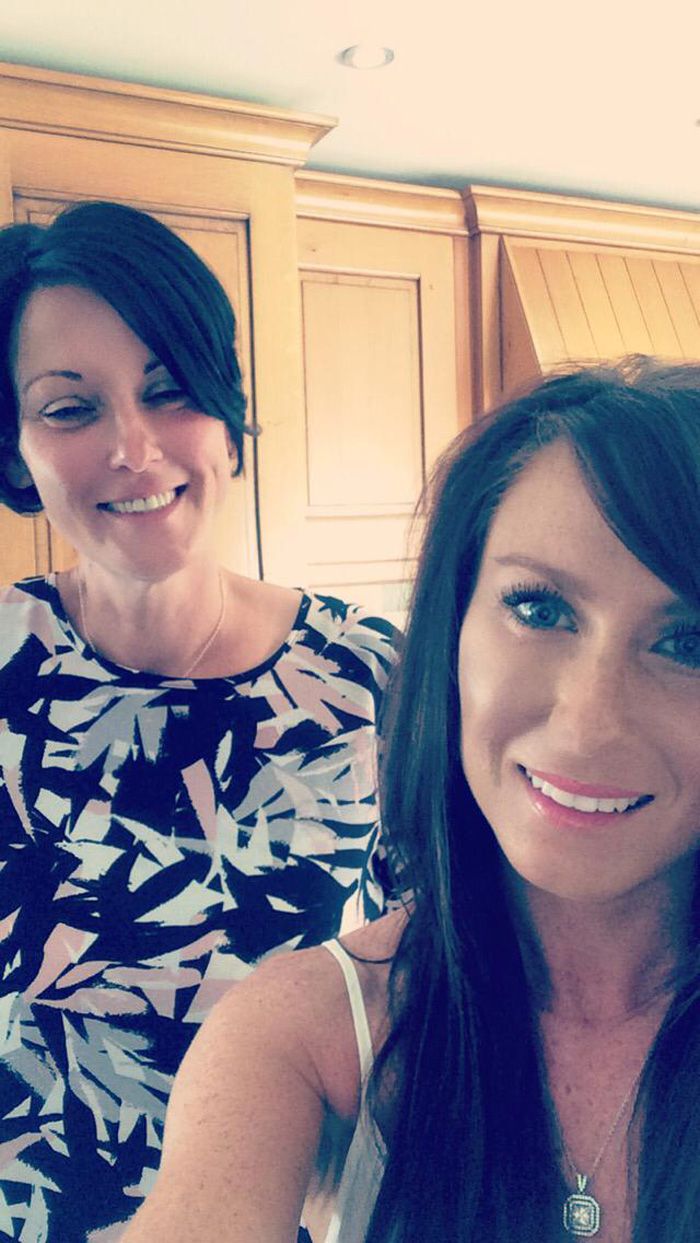 Zoe with mom Joanne (PA REAL LIFE/COLLECT)
Admin assistant and hairdresser Zoe, who is single and moved back home three and half years ago to help with her mom's round-the-clock care, said: "At the moment, I'm just like anyone else walking down the street, not knowing if I'm going to get it.
"But if we take the test and it comes back with a positive result for a particular gene, then that means we will definitely get early-onset Alzheimer's.
"If I knew I had it, I would live my life differently. I probably wouldn't have children, because I wouldn't want them to go through it."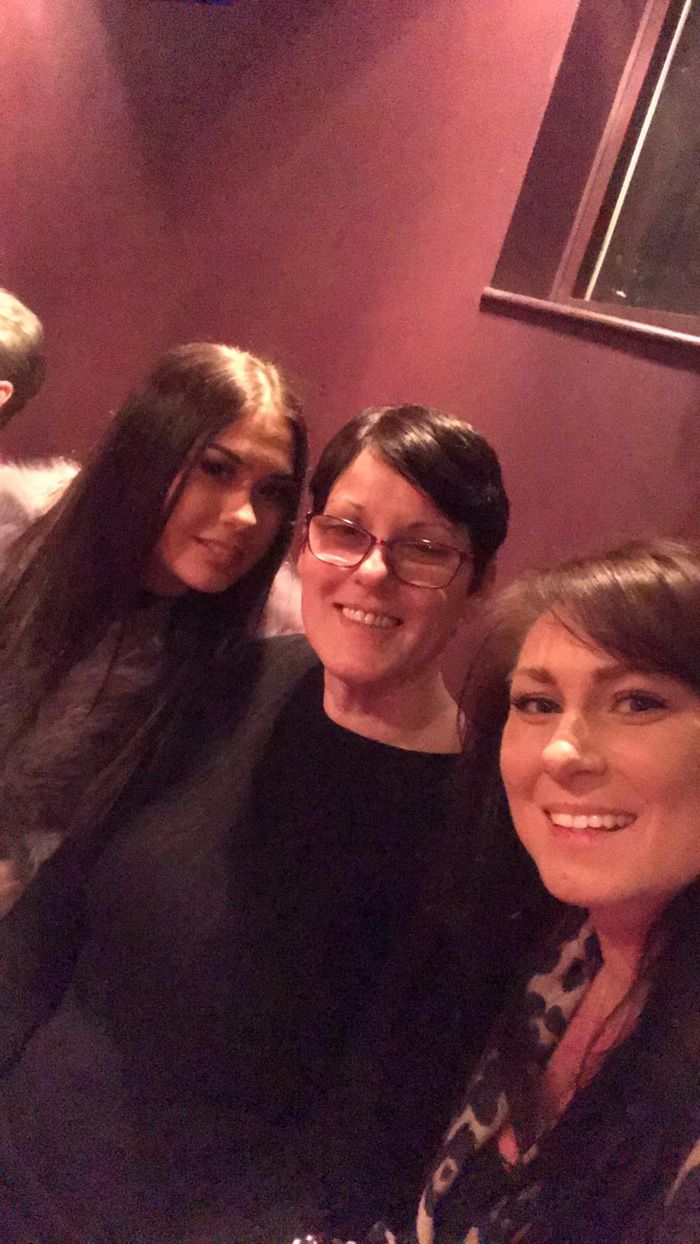 Zoe and Katie with mom Joanne (PA REAL LIFE/COLLECT)
Zoe explained: "If I met someone, I'd have to explain the situation to him. It's a lot for someone to take on, so I would want him to know what might happen and give him a choice of whether to stay.
"Not a day passes when I don't think about it. But I must be 100 percent sure I can cope with the outcome – as does Katie – as once you know, that answer that will never go away from you."
According to the charity Alzheimer's Research UK (ARUK), several genes have been found that play a role in the development of the rare familial form of the condition that the sisters face developing.
And if someone has a strong family history of the disease at a young age, the NHS offers genetic testing – first insisting they have six months of counseling, to prepare them for what could be a shattering result.
"I've always said I would wait for Katie to turn 18 before I make a decision on whether to find out if I will get it," Zoe said. "If it was the other way around and she got tested without me, I don't know how I would cope with that.
"If she says she doesn't want to know, that's okay, and I will make my decision then."
Looking back, Zoe realizes she first noticed her mom – who she helps her taxi driver stepfather, William Lambert, 49, to care for – had become forgetful about a year before she was diagnosed.
She said: "Mum was always a very bubbly, outgoing person. She would do anything for anyone and stop to chat to anyone. Everyone in the town knows her.
"But when she was 44 there were certain signs that kept cropping up, things like repeating questions. She'd ask something, then five minutes later we'd have the same conversation. It was happening more and more often."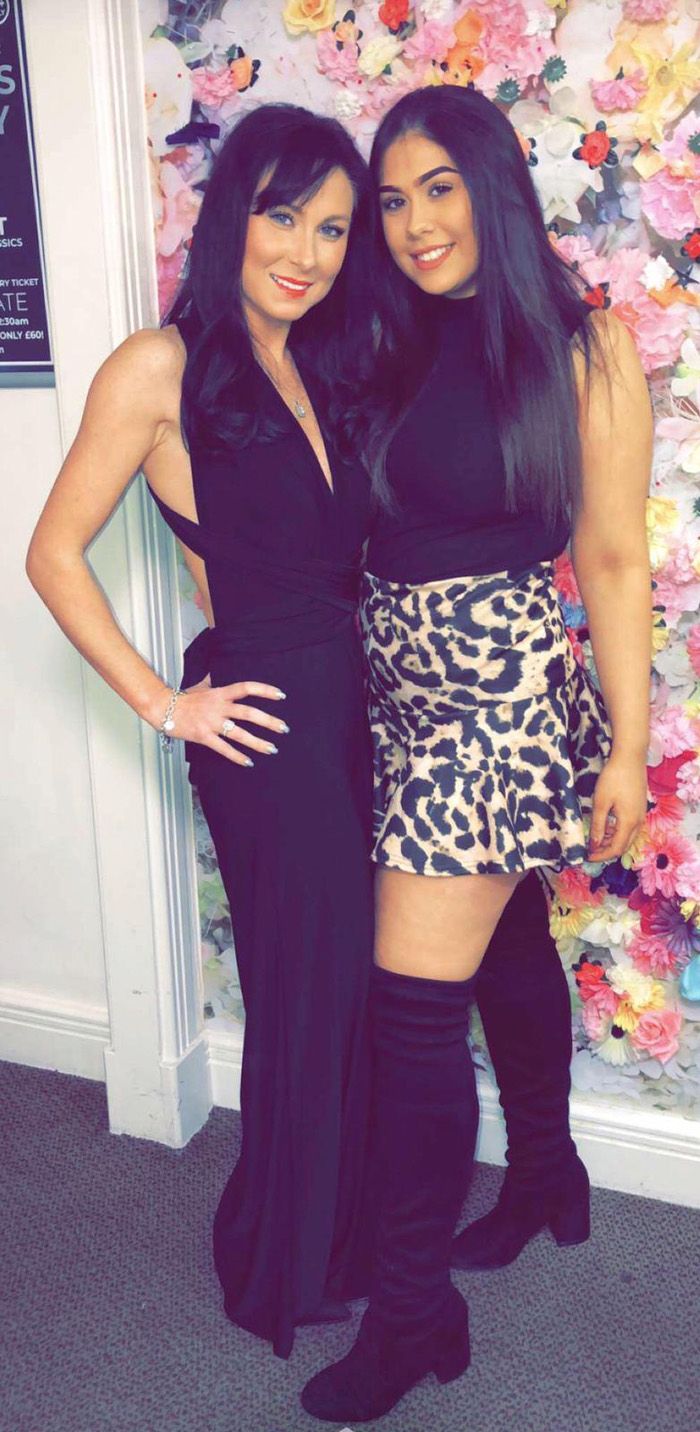 Zoe and Katie (PA REAL LIFE/COLLECT)
She continued: "My mum is my best friend. We spoke every day – even though I wasn't living with her then. She knew everything about me, so I knew things weren't right. I did try and talk to her, but she would say 'No no, there's nothing wrong with me.'"
Concerned, Zoe confided in William, who she calls 'Dad' and has been her mom's partner for 20 years and husband for 10, and the pair agreed to get Joanne to her GP who, in the summer of 2015, conducted the usual recall test given to people with suspected dementia, which involved asking her basic maths and memory questions.
Realizing she was struggling, the GP quickly referred her to neurologist Professor Nick Fox at the National Hospital for Neurology and Neurosurgery in central London, where in August 2015, she was officially diagnosed with early-onset Alzheimer's.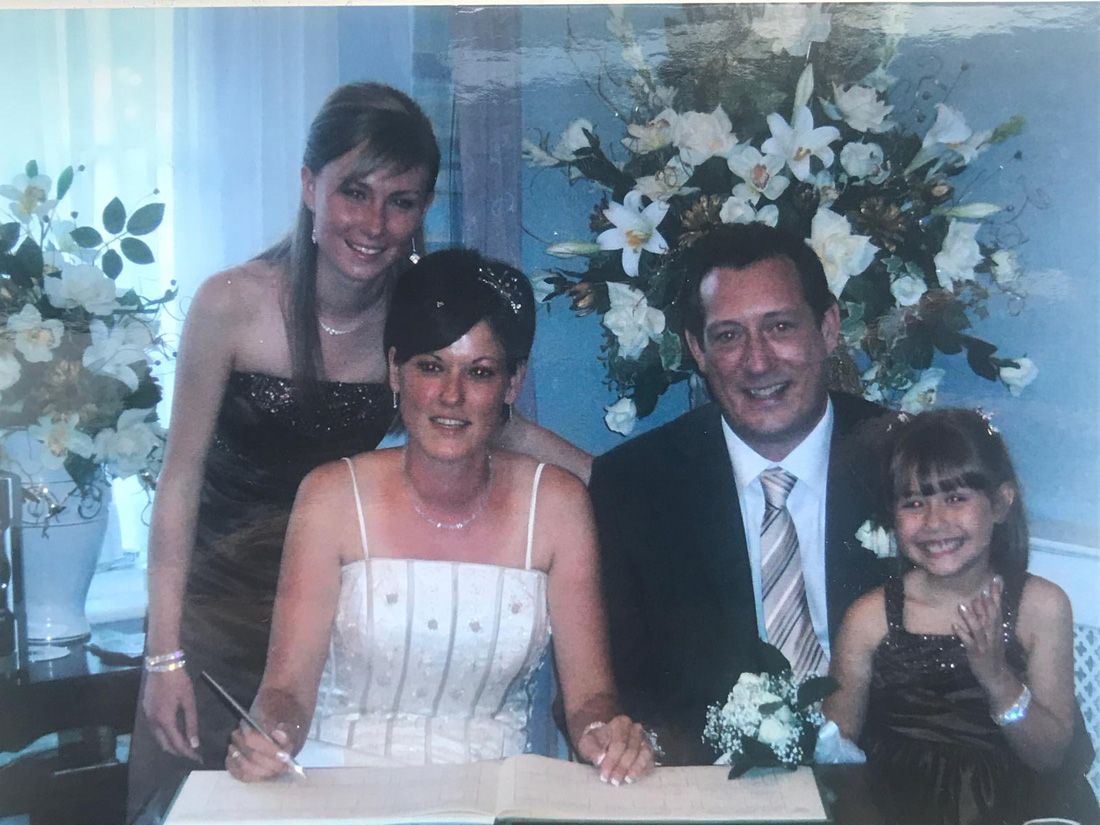 Joanne and William with Zoe and Katie (PA REAL LIFE/COLLECT)
She was prescribed donepezil and memantine which, although unable to cure it, helps to restore the balance of natural substances in the brain to improve memory, awareness and the ability to function.
More typically thought of as a condition affecting people over 65, according to ARUK, Zoe recalls being devastated.
"That was hell, because we knew it was a disease that there is no coming back from," she said. "You know there is going to be a deterioration and no cure, so there is no hope."
Zoe explained: "Following the diagnosis, Mum deteriorated quite quickly to the point where now, she cannot do anything for herself.
"She can't follow a conversation, or tell you what she is thinking or feeling. She has become incapable of doing simple things, like making a cup of tea.
"We're best friends, so to watch her personality fade has been really hard."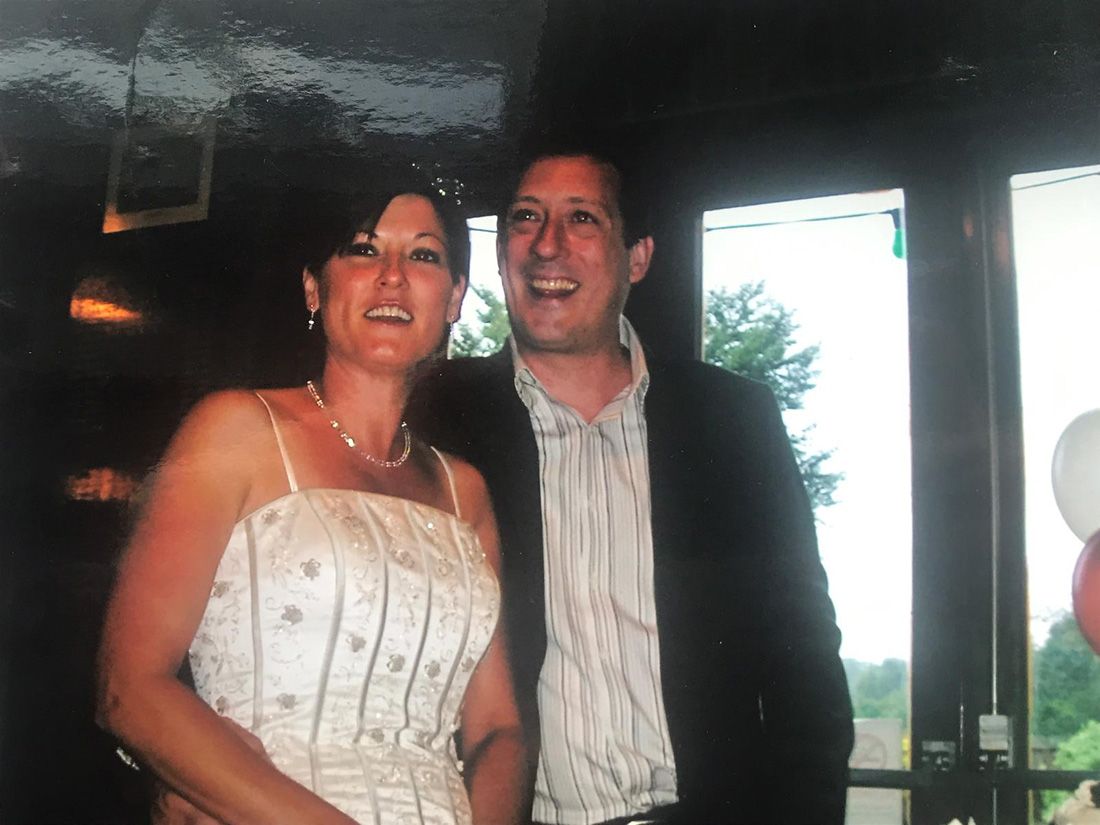 Joanne and William (PA REAL LIFE/COLLECT)
"From my dad's point of view, they should have been able to go away and do things together, but that has been stolen from them. In my eyes, he is amazing the way he's stuck by her."
Now Zoe treasures the odd moments when she still sees glimmers of her mom's familiar personality.
She said: "She is still able to laugh and if she's in a good mood, we can put the radio on and have a dance about."
She continued: "It's not how we would normally have a laugh, but we have to take it for what it is."
Eventually, Zoe, who wants to spend every precious moment possible with the mom she adores, will give up work to help care for her full-time.
At the moment, to make sure she is never alone, Zoe, Katie, William and her grandma, Margaret Kirsch, who is in her early seventies, who is Joanna's mom, but does not have the disease, share responsibility for her.
Most days, Joanna will recognize her family, but can become irritable, which is difficult to cope with.
"She knows who we are, but sometimes she can't say our names," Zoe said.
"Some days, she takes against someone. She will look me up and down, give me the filthiest look and tell me to, 'F*** off,' but I know it's not my mum, it's the disease."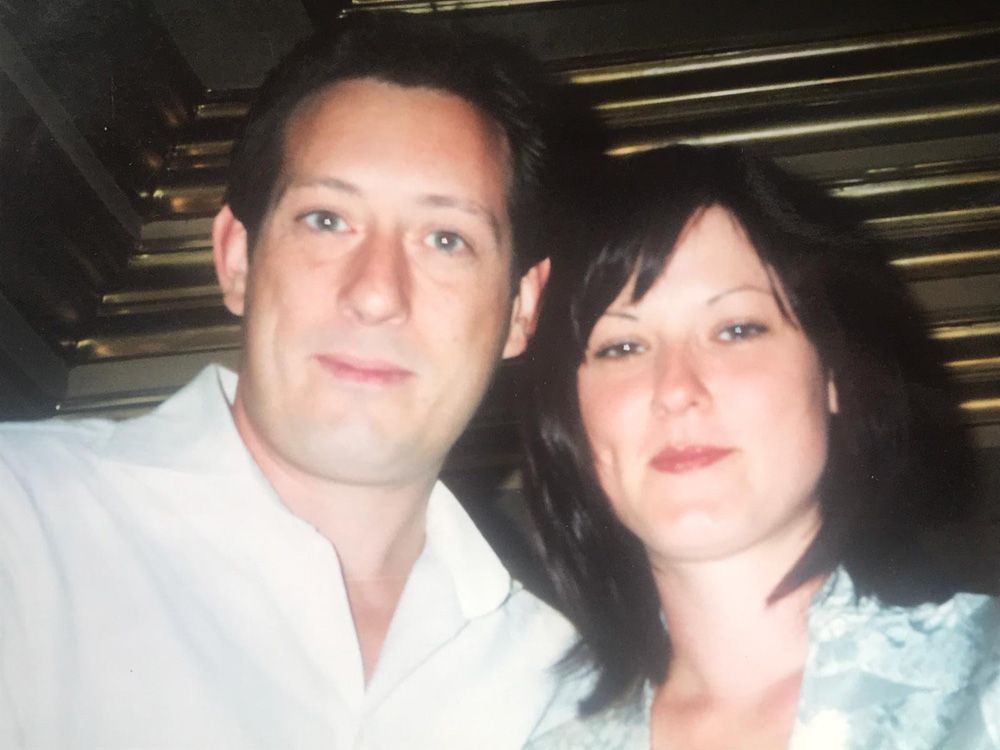 Joanne and William (PA REAL LIFE/COLLECT)
Zoe said: "She gave me a cuddle the other day when I came back from holiday, but before that I couldn't remember the last time she'd kissed and cuddled me, or told me that she loved me.
"For someone who I was always really close to, it's really hard to accept.
"She absolutely adores my dad, though, which is lovely to see. She will follow him around and he can't do a thing wrong. The biggest smile comes on her face when he comes in from work."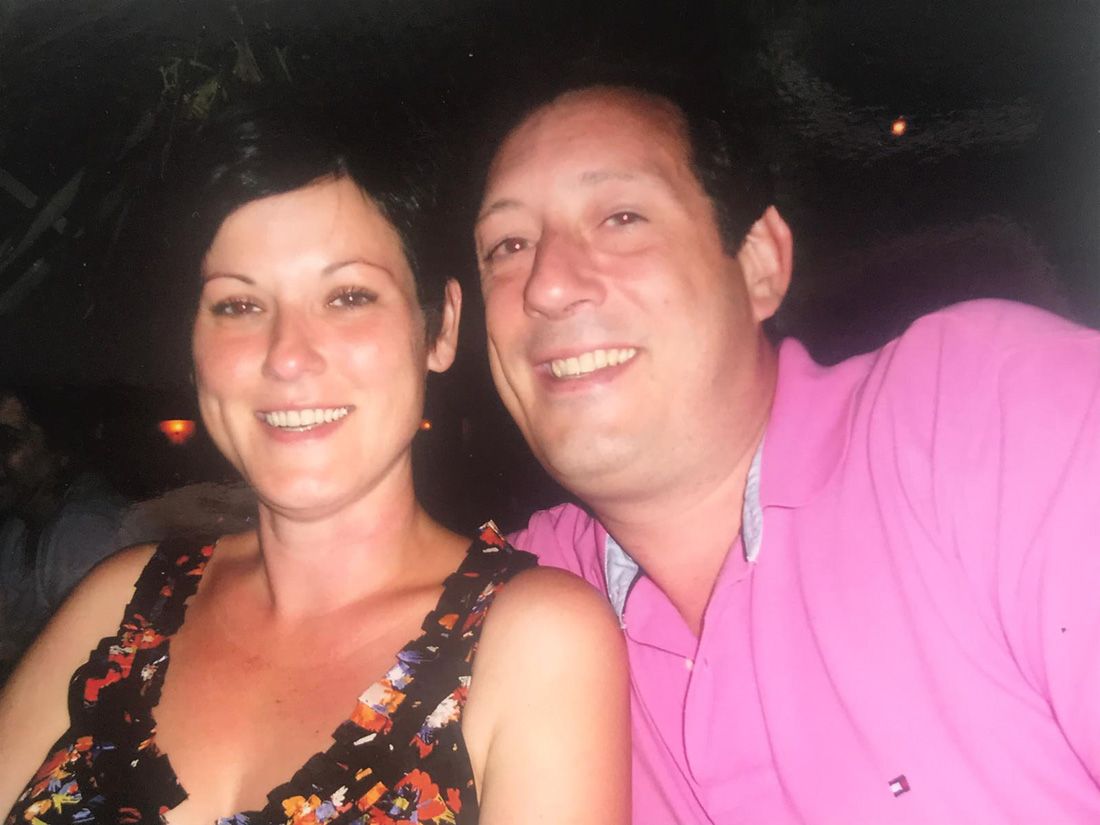 Joanne and William (PA REAL LIFE/COLLECT)
She explained: "She needs around-the-clock care, because she won't sleep unless my dad is there."
Zoe and her family also have to face the fact that Joanna is unlikely to live a long life – although they have not been given a definite prognosis.
Meanwhile, every six months they visit her consultant, Professor Fox, who has been a huge support, to monitor her deterioration.
Zoe explained: "Professor Fox is determined to find a cure for this disease and he makes me feel optimistic.
"There needs to be much more awareness of this type of Alzheimer's, as we always associate it with older people, but it's affecting young people as well.
"I want people to realize it does happen and it's good that people talk about it, as it is not something to be ashamed of."
Meanwhile, every year, Zoe has anonymous testing for early onset Alzheimer's to help with their research," Zoe explained.
Unsure how far back their family history of early onset Alzheimer's extends, Zoe and Katie can't be sure when it developed.
Determined to help increase awareness of the condition and boost funds towards research for a cure, Zoe took part in a sponsored skydive last year, raising more than £1,500 (~$1800) and is also currently organizing a charity ball, in aid of ARUK which will take place in October in Billericay, Essex.
Zoe continued: "I want to know I've done all I can," she said. "If I discover I have the disease and can get a place on any clinical trials to help doctors know whether medication is working, I will be happy to be a dummy and help in any way I can."
For now, Zoe will continue to ride out the highs and lows, making as many memories as possible with her mom.
"We are still able to go out shopping, dog walking and do things together but she gets restless," Zoe explained. "It's important for me to put that smile on and be strong for her and for my family. It's tough, but you have to carry on."
A spokesperson for Alzheimer's Research UK said: "One in twenty of all cases of Alzheimer's disease are defined as early-onset, where the symptoms begin at the age of 65 or younger.
"Only a very small number of these are familial. Fewer than one percent of all cases of Alzheimer's disease are familial.
"With early-onset familial Alzheimer's there is a 50 percent chance of having the gene, and if someone does have the gene then they sadly will definitely get early-onset Alzheimer's disease unless they die earlier of something else."
For information, visit www.alzheimersresearchuk.org