Street harassment is real, terrifying, and dangerous—sometimes deadly. That harassment starts at "innocent" catcalling and people are tired of it.
She's A Crowd is an Australian tech company taking aim at street harassment by allowing victims to report incidents.
The reports don't go to police, who can often do nothing about individual street harassment reports unless laws in their jurisdiction consider street harassment a criminal act.
They stay gathered on their website for all users to see; creating map of harassment that can, over time, highlight potential danger zones or even prove an individual has a pattern of harassment.
Reports can include the date, time, location, and nature of the gender-based harassment along with the ability to explain what happened.
That means a woman who is followed through the streets can give as much detail as she needs to warn others.
It means the queer and nonbinary folk who are fetishized, harassed and attacked on public transportation can report that to other people right away.

It means the man who has been systematically harassed by his supervisor can warn others who may potentially want to apply.
The site even allows users to categorize the harassment into things like flashing, threats, intimidation, etc.
Unfortunately, data laws mean the 11 year-old girl who has an adult man grab her arm at a bus stop and tell her he wants to taste her wetness can NOT put that report out there for everyone instead of it getting "lost" on an officer's desk. (That one is my story, so yes, that really happens.) Users must be at least sixteen years of age.
Creators understand that underaged harassment and violence happen, and encourage younger victims to call the police and have someone older log the incident in the app because they would like to stand against harassment of kids as well.
She's A Crowd aims to use the power of data as a protective shield - or at least a bit of caution tape - for other users. While the name implies that most users will be women, the app is clear about welcoming all users of all genders to report harassment.
Their TikTok video is simple enough.
But has sparked some heart wrenching conversation about the need for this sort of thing.

@shesacrowd/TikTok

@shesacrowd/TikTok
@shesacrowd/TikTok

@shesacrowd/TikTok

@shesacrowd/TikTok

@shesacrowd/TikTok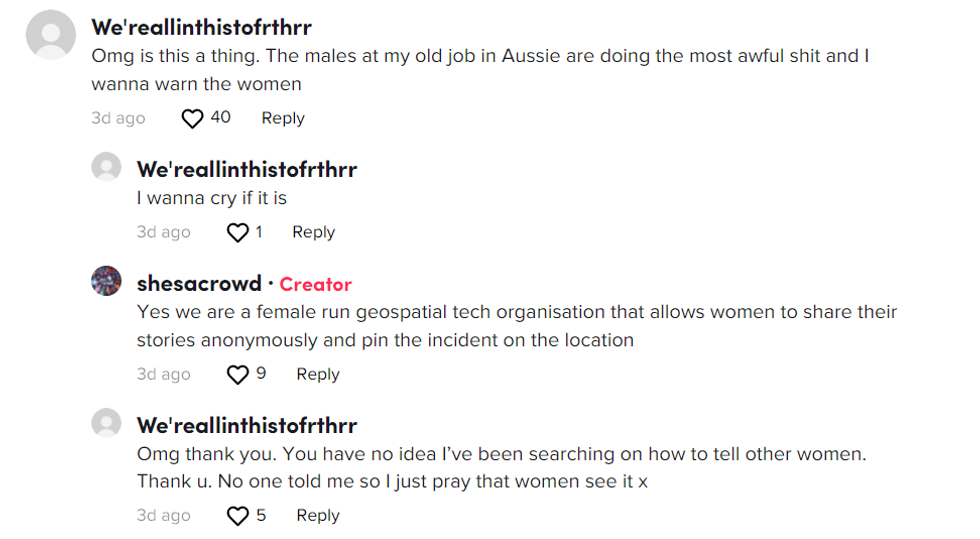 @shesacrowd/TikTok

@shesacrowd/TikTok
CEO and founder, Zoe Condliffe, says the idea for the site came after she spoke at a Melbourne town hall. Her talk, about her experiences with harassment and the guilt and shame that came with it, opened the floodgates.
Sharing her story gave others the confidence, and contextual ability, to share their stories as well. The number of people who came to her for years after that one talk was staggering - and life changing.
As she got deeper into working with gender-based violence, one of the major road blocks she witnessed for those in power who did want to help, was that they just didn't have the data.
Who was harassing? Where was it happening? Was it a repeated thing that people are just not reporting to authorities.
She's A Crowd was born from a desire to gather that data and use it in a way that could protect others and assist authorities. It's available globally and built to be used by all genders.
We know TikTok loves it, but we're curious about how you feel?