NBC's Today show was forced to abruptly cut to a commercial break when an allegedly naked jogger ran past the window of the studio during the live broadcast.
Anchors Hoda Kotb, Savannah Guthrie and Craig Melvin were presenting live when the man whose lower half was obscured by Today show barricades jogged past behind them.
It's hard to tell if the man was or wasn't wearing a pair of dark-colored running briefs. The skimpy bikini-like bottoms are favored by some runners.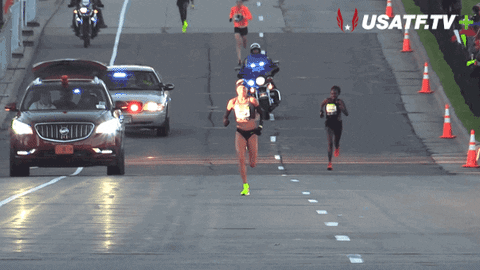 Giphy
Regardless, the sighting caused quite a reaction in the studio.
It gave the presenters an extra jolt of excitement in their morning routine.

WARNING: NSFW
"Oh, there's a, there was a naked runner," Melvin casually told viewers.

When Melvin tried to continue, saying, "Brand-new from Hoda Kotb, a new podcast...," he was interrupted by Guthrie when the jogger came into view from the Studio 1A window that looks out onto Midtown Manhattan.
"There he goes!" exclaimed Guthrie.
"Bye!" Kotb shouted at the jogger before insisting he should "Get your clothes on!"
Melvin eventually turned towards the sprinter and yelled, "What're you doing? What're you doing?" as his co-hosts frantically threw their hands up in the air.

Twitter had a field day making wisecracks.
"What is happening? Oh my gosh, Hoda," said Savannah before producers decided to cut away to commercial in the event the prankster retraced his steps for a second appearance.
For New Yorkers, it was just another ordinary day in Manhattan.
Kotb's weekly podcast—Making Space With Hoda Kotb, which Melvin tried to promote prior to the interruption—is comprised of eight inspirational episodes meant to encourage listeners to "make space" in their lives for positivity.