Theme and amusement park rides have been having a grim media moment lately.
Tragic losses like 11 year old Michael Jaramillo and 14 year old Tyre Sampson, both of whom died on amusement park rides, have people on edge and questioning ride safety procedures.
TikTok user Morgan Scott is adding more questions to the conversation after their family was temporarily trapped on a ride in Dollywood. Everyone is okay, but there was a major mistake in communication during their time trapped.
That miscommunication left riders with a brief moment of earnestly believing they might not make it.
In the first clip Morgan and the family are harnessed into their seats on the Tennessee Tornado roller coaster. Their ride car is stuck at the top of the big drop, leaned back on an incline, and in direct sun.
As Scott narrates, the camera pans—as much as one can pan a camera while harnessed down—to other riders. Some laugh or wave, but others seem distressed.
At this point, it's estimated they were already about ten minutes into the misadventure.
Speaking to the camera, Morgan said:
"This is not how I saw my Dollywood trip going. We are literally stuck on a roller coaster in midair. It's terrifying. No telling how long we're going to be here, but it's a little scary."
Someone off camera makes a joke about getting a suntan, after which Morgan casually shrugs and ends the video.
Here's that first clip:
Just a few minutes later those same riders would be in very real fear for their lives.

Overhead speakers assured the harnessed, uncomfortable and terrified group Dollywood employees were heading up the roller-coaster to get them out and help them back down to safety.
Believing things would be over soon—and not really having any other option—the riders waited.
The rescue they were promised never happened.
What did happen after approximately 20 minutes of being stuck and while expecting to be rescued by Dollywood employees, was a loud bang followed by a 128 foot drop at 70 mph.
The roller-coaster sprang back into operation and sent the cars to finish the ride and return back to the station. That is normal.
Unfortunately, nobody told the riders who were strapped into the ride and expecting to be removed from the coaster it was going to happen. That is not normal.
For those guests, that 128 foot drop felt like it might be a fall to their death.
As the Tennessee Tornado was now operational, ride cameras caught the groups facial expressions as they plummeted.
Morgan shared the rest of the story along with that ride picture—which the family did have to pay for—in follow-up videos.
The full story has people reeling.


@morgancscott83/TikTok

@morgancscott83/TikTok
@morgancscott83/TikTok

@morgancscott83/TikTok

@morgancscott83/TikTok

@morgancscott83/TikTok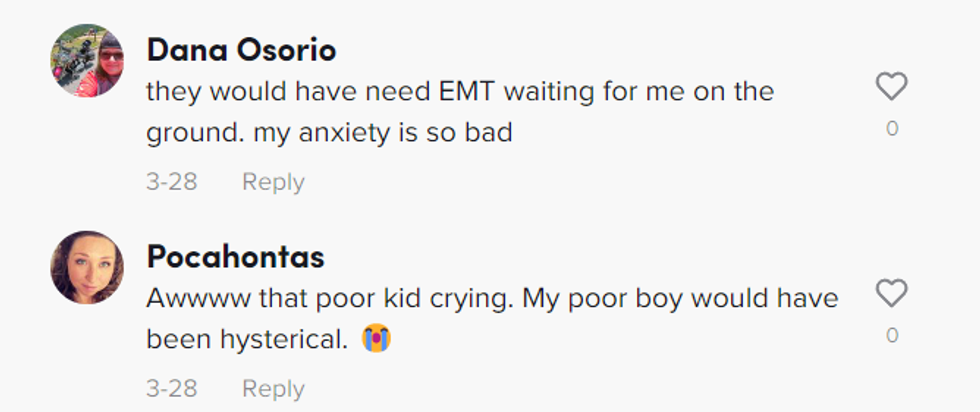 @morgancscott83/TikTok
As Morgan explained, employees at the park never apologized or explained the terrifying miscommunication.
They were never offered any sort of voucher, discount, etc... The group even had to pay for the picture taken on the ride so they could show people their genuine panic.

That callous detail also has people confused and up in arms.

@morgancscott83/TikTok

@morgancscott83/TikTok

@morgancscott83/TikTok

@morgancscott83/TikTok
Dollywood has not reached out as of this writing to apologize, comment or otherwise offer to make it up to the riders in any way.