In the weeks leading up to a new semester in the United States' public school system, friends of teachers will often see pictures and videos as proud educators decorate their classrooms.
It's already frustrating enough teachers typically have to decorate their classrooms with money coming out of their pockets, but it's shocking when a teacher shares what they're doing to also make their classrooms safer from an active shooter.
High school Spanish teacher Carly Zacharias shared how her concern began when her metal classroom door was replaced with a wooden door with a large window in the middle.
Zacharias explained in a video she shared on TikTok she already had several safety plans in place with her students, including jumping out of the classroom window and running across the neighboring parking lot or hiding out of view of the classroom door.
But the teacher decided she wanted to be able to give her students one more safety measure that would help them fight back and increase their chances of exiting the classroom alive in the event of a school shooting.
You can watch the video here:
@crzachar

This video is unavailable. Visit TikTok to discover more trending videos.
Zacharias decided to supply each of her students' desks with a hockey puck, which she thought could cause injury to someone who was being hit with thirty of them at once.
To prevent distraction, she taped the pucks under each desk, so they are out of the way but easy for the students to grab in an emergency.
The video has been liked nearly 500-thousand times and it's received more than 7000 comments.
The comment section proved to be an eye-opening experience for people in the education system across the world.
Some commenters were not phased, because they grew up in the United States' school system.

@crzachar/TikTok

@crzachar/TikTok

@crzachar/TikTok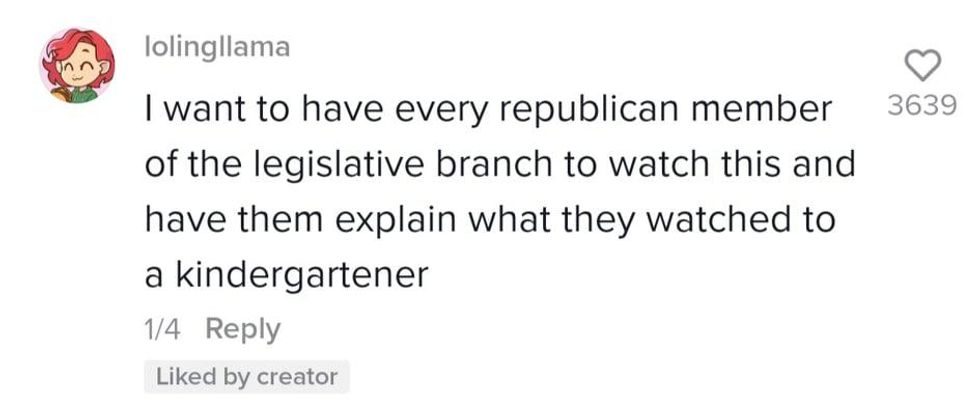 @crzachar/TikTok

@crzachar/TikTok

@crzachar/TikTok
Others were shocked because they never had to plan for an active school shooter.


@crzachar/TikTok

@crzachar/TikTok

@crzachar/TikTok

@crzachar/TikTok

@crzachar/TikTok

@crzachar/TikTok

@crzachar/TikTok
Though it's important for United States' school teachers to do what they can to prepare for possible terrible events, we wish they didn't have to think about these possibilities at all.
But even worse, we wish students didn't have to be expected to defend themselves from a gunman while trying to learn.