Taylor Swift had an important message for fans in Nashville reminding them to go out and "speak now" and make their voices heard by voting.
The Grammy Award-winning singer/songwriter was in Denver, Colorado for her hugely popular The Eras Tour–which pays homage to all of her studio recordings–but made a special trip back home to vote on the first day of early voting for Nashville's Metro election.
Swift has called Nashville her home ever since her teens when she and her family left Pennsylvania in support of her budding music career.

On Instagram Story, the "Lavender Haze" singer posted a photo of herself holding an "I voted today" sticker and wrote:

"Hi Nashville! Early voting for our city officials and some statewide seats begins today."
"We have the opportunity to choose those who will represent us for the next four years."
She continued:

"I voted today and I urge each and every one of you to do the same and make your voice heard."
She concluded her message by adding a link to vote.org.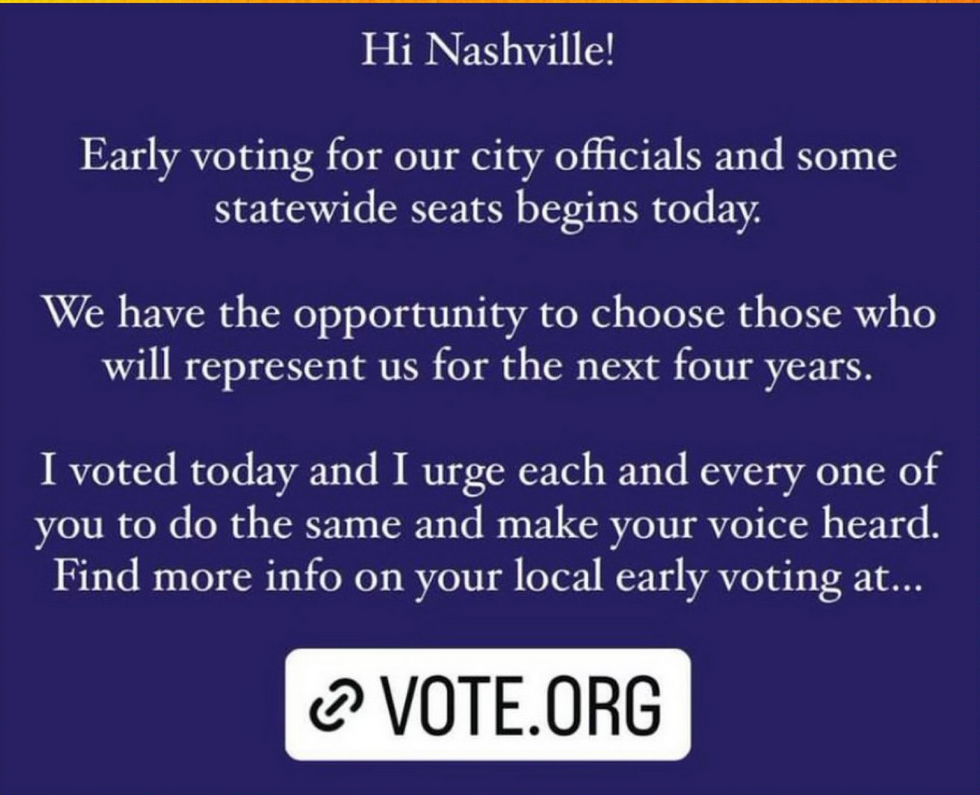 @taylorswift/Instagram
Social media users were here for it.
Swift has increasingly become an advocate of the importance of voting and has been encouraging fans on social media to participate in local and national elections.

In a 2018 Instagram post, Swift endorsed two Democratic candidates for Tennessee Congress, Phil Bredesen for Senate and Jim Cooper for House of Representatives.
She also denounced Republican incumbent Senator Marsha Blackburn–who eventually won the race.
Swift reflected on her former apprehension of discussing politics.
"In the past, I've been reluctant to publicly voice my political opinions, but due to several events in my life and in the world in the past two years, I feel very differently about that now."
"I always have and always will cast my vote based on which candidate will protect and fight for the human rights I believe we all deserve in this country."
"I believe in the fight for LGBTQ rights, and that any form of discrimination based on sexual orientation or gender is WRONG."
"I believe that the systemic racism we still see in this country towards people of color is terrifying, sickening and prevalent."
"I cannot vote for someone who will not be willing to fight for dignity for ALL Americans, no matter their skin color, gender or who they love."
The Tennessean reported that after 24 hours of the singer's recent posting, more than 65,000 registered to vote.

Early voting in Tennessee began on July 14 and runs through July 29 before election day on August 3.